The money space is not a land of equal opportunity or access. Personal finance is and has always been a white, male-dominated, heterosexual space and those who don't fit the traditional archetype find it harder to reach their audiences, regardless of the quality of content they create.
It can also be significantly harder for people within the BIPOC community to find financial advice tailored to their needs and experiences or see representation by people who have similar backgrounds.  
I started Budget Girl back in 2014 because I didn't see anyone out there I could identify with talking about their money. At the time it was a few big gurus like Dave Ramsey, and some dual-income families with kids on YouTube. I was on the poverty line, single, female, and had no family. I was very fortunate to find a community online who supported me and said they could relate to me because I didn't fit the mold of what was predominantly shown (single, low-income, a woman, etc.)
Seeing people who have been through what you're experiencing is important. Now, there are so many more people in the money space to relate to and help inspire. It's incredible and absolutely what we need. 
I'd like to make it clear that this is not a comprehensive list of BIPOC personal finance creators.
These individuals are all people I personally follow and adore because they are incredible people and create amazing content. They all want to teach, learn and pull people up with them as they rise. I think so many people can learn from them and identify with their experiences and missions, regardless of race or background. They inspire me greatly and I think you'll love them too.
Personal Finance/Money
Nika is all about helping you pay off your student loans and the other debts that are holding you back from achieving your financial goals. She's currently on her own debt journey after accruing $200k worth of student loans (which she finally got forgiven!) and personal debt, so follow along as she shares her progress!
Formerly The Budget Queen, Clarissa is on a mission to help women take control of their finances so that they focus more on growing them. She's a single mom of two that managed to pay off $38k worth of credit card debt and get her credit score to 822!
Cindy is a former lawyer and just released her first book, Overcoming Debt, Achieving Financial Freedom. Her work is dedicated to helping fellow millennial women reach financial freedom.
Yanely is a financial educator and serves as the Director of Educational Outreach at Next Gen Personal Finance. She wants to educate young people on the importance of investing, saving for retirement, and building up an emergency fund.
Chris is the host of the award-winning podcast Popcorn Finance that's aim is to deliver bite-sized financial advice and tips in the amount of time it takes to make a bag of popcorn. Episode topics range from how to negotiate your medical bills to how you counteract inflation in 2023.
Talaat and Tai McNeely are the married couple behind His and Her Money! One of the OG's that was around when I started my journey, they want to change how couples talk and manage their finances together. They share how to create generational wealth and break free from bad money habits and cycles of debt.
Quinton is a finance coach and host of Next Level Money, a personal finance podcast that shares people's personal finance journeys, including what they did to level up and change their path toward financial freedom.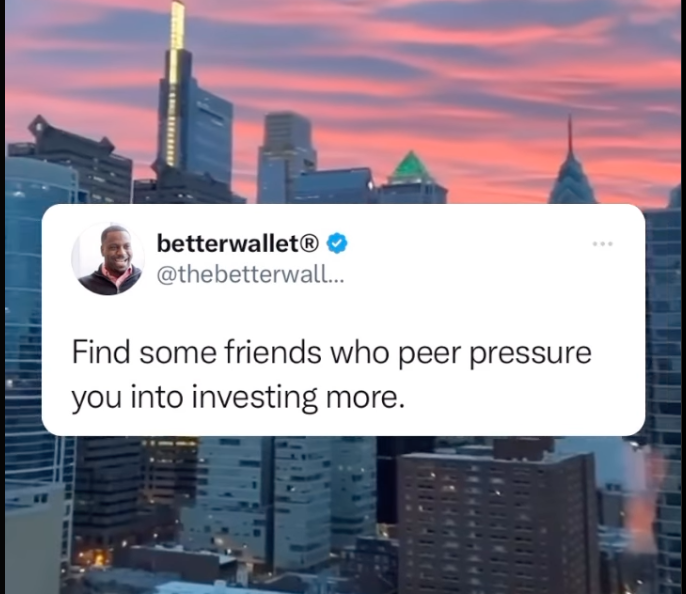 If you're curious about how to grow your money for retirement by playing the long game in investing, then Marc is your guy! He wants to help people retire comfortably with his simple personal finance and investing tips.
Berna is a self-proclaimed financial hype woman aka your cheerleader to help you on your personal finance journey. Her book, Money Out Loud is set to release in April 2023 and gives the down-lo on all things you weren't taught about personal finance growing up.
Scarlett just published her new book, It's Not About The Money which is a step-by-step guide to help you manage your money with confidence! She believes that becoming a millionaire and growing your net worth doesn't have to be complicated.
An anonymous account that follows an African-American family sharing their journey toward work-optional living! They share the real numbers of their net worth and investments and how they match up to their goals.
Jamilla wants to help launch you into financial independence! Her own journey started in 2016 with a blog post, which led to her leaving her job in 2018 so that she could devote all of her time to helping other people on their personal finance journeys.
Naseema knows firsthand that even if you make a six-figure salary, it doesn't mean you know what to do with it. She's since changed her ways and has managed to stop living paycheck to paycheck, pay off almost $1 million worth of debt and share the tools and lessons that helped her achieve her financial dreams.
Renita is a financial journalist and correspondent for Bloomberg Radio, TV, and Quicktake. She's also the host of the Instagram Live show, #YourMoneyStory where she interviews your favs in the personal finance space about their stories and tips to get ahead financially.
Katia is a Latina that is passionate about women recognizing that they DESERVE to build wealth. She has a background working in corporate finance but it was her consumer debt that led her to pursue a career in personal finance.
Dasha is a financial activist that is passionate about educating black women about personal finance. She wants to make financial education more accessible so that more women of color have the tools to build wealth now and for their future.
Are you a budding entrepreneur? Then you'll love Alisha and all her content surrounding entrepreneurship, including how to grow an online community and navigate business finances.
Bola created Clever Girl Finance as a mission-driven company that wants to empower women to take control of their finances. She's created a welcoming and supportive community that helps to keep you on track with your money goals.
Tiffany is a former preschool teacher turned financial educator and author. She's passionate about educating people about personal finance, so much so that she was part of the process for signing a bill into law that makes it mandatory in New Jersey for financial education to be integrated into all middle schools.
Melissa is your gal whether you're wanting to pay off debt, find a remote job, create passive income or invest. She wants you to grow your money AND know how to manage it since you can't achieve one without the other.
Paula is a financial journalist that is fascinated by the psychology of money, how we develop our spending habits and what can we do to change them. She wants to help you with your relationship with money and understand your behaviors with it so that you can reach financial independence.
Who else is drowning in student loan debt? Carmen knows how you feel after getting her B.S. in Finance in 2009 and graduating with loads of debt. Since then she's learned a lot about money, none of which she learned in school. Hence, she's wanting to share all those lessons with you so that you can learn from her mistakes!
Wealth care is self-care, according to Marsha! Taking care of your finances should be a part of your self-care routine and Marsha is teaching you how to do it.
Tonya wants you to stop acting like you have it all together and actually get your life together! She knows what it's like to feel shame when it comes to your finances, so instead of pretending like you know how to manage your money, follow her for tips on how to actually get your finances together.
Want a one-stop shop to see what all your fav black personal finance creators are up to? Then follow Jasmine, the founder of @blackpfcommunity whose helping to highlight creators of color in the money space.
Real Estate
Curious about how to run a tiny home rental business? Keep It Tiny has the answers whether you're curious about glamping, tiny homes, domes, etc…!
Homeownership and real estate investing are always hot topics and Ogechi wants to help you figure out if owning investment properties is for you!
28. @richandregular – Julien and Kiersten Saunders
Julien and Kiersten Saunders are a married couple that wants you to start having those tough conversations about money with your partner and family. It's through those conversations that real change can happen in your life. They want you to start tackling your money problems as a team rather than as opponents so that you can both grow from it.
Monick wants to help you start a real estate investment portfolio so that you can create passive income. She's a mom, wife, and coach who shares almost daily tips and tricks about how to make it as a real estate investor.
Michelle is the Landlord in Stilettos and wants to show you how she does it all! She's a real estate investor that wants to help you get on the property ladder so that you can start making more money and spend more time with those you love.
Tony is a short-term rental aka Airbnb investor that shares the behind-the-scenes and real numbers that it takes to run his successful side hustle. He shares tips on how to be the best host and where to spend and save in your rental.
Who are your favorite BIPOC creators? Let me know who we all should be following!
Want more Budget Girl? Read the articles linked below:
Free ways to help with money stress right now
8 things to know before starting your personal finance journey
The power of having a little "mad money!"