Here's your guide for what to remember to budget for in September including some budgeting challenges to partake in, what produce is in season, what's on sale this month, and more!
Don't forget to budget for:
Labor Day – If you're traveling for the early September holiday or hosting/ attending any celebrations, make sure to budget for the long weekend including food, excursions, travel, etc.
School lunches, fees, activities – If you have school-age kids, school lunches can be $3-4 a day, which adds up to hundreds of dollars a month! Make sure to budget for this expense, or to buy supplies to brown bag it. A couple weeks back into school can mean unexpected sport and activity fees, field trip fees and more. It's better to have a small budget set aside and not use it than need it and not have it!
Family photos – Fall photos are a popular family tradition, make sure to budget for the photographer, outfits, props and food/ travel. Facebook is a great place to look for affordable photographers offering mini-sessions!
Halloween – Costumes are out now and likely won't be re-stocked, so if there is decor or a particular costume you have to have, put it in this month's budget because it may not be available in October. Don't forget to check secondhand shops online and in person to save money and the environment.

Fall Festivals – As cooler weather looms, heat-sick people are eager to get outside and spend money while they're there. There may be pumpkin patches, hayrides, or other fun things in your area. Check your community calendar for free events and don't forget to budget for snacks, treats or handmade goods you can't live without.
Tailgates & football games – Whether you are hosting a tv-watching party at home and need food, drinks, and activities for the kids, or headed to the game in person, and need money for overpriced stadium food, tailgating, travel if you're going out of town, team merch or gear, make sure to make room in your budget (and don't forget a little extra for the unexpected like a rain day poncho or umbrella.)
Cool weather/ transitional clothing – See Money challenge #3
September Money challenges

Challenge 1: Check your emergency preparedness
It's emergency preparedness month! The Federal Emergency Management Agency (FEMA), National Preparedness Month encourages Americans to take steps to prepare for emergencies in their homes, businesses, schools and communities. When an emergency hits, it's too late to prepare, so take some time this month to begin (any step is positive), check your preps or improve them!
And as this is BG, I've got some great resources on how to do it on a dime!
Part 1: Make a plan:
Talk to your family and friends about how you'll communicate during an emergency or disaster. Have contact sheets, places to meet set and that everyone knows where to go and what to do in the case of fire, natural disaster, etc. This is a scary thought, but its scarier to NOT know what your loved ones are doing in an emergency. Make the action plan.
Consider what types of weather emergencies happen in your area. Hurricanes? Tornados? Earthquakes? Winter storms or summer floods? Get prepared first for what is MOST likely to happen to you and your family.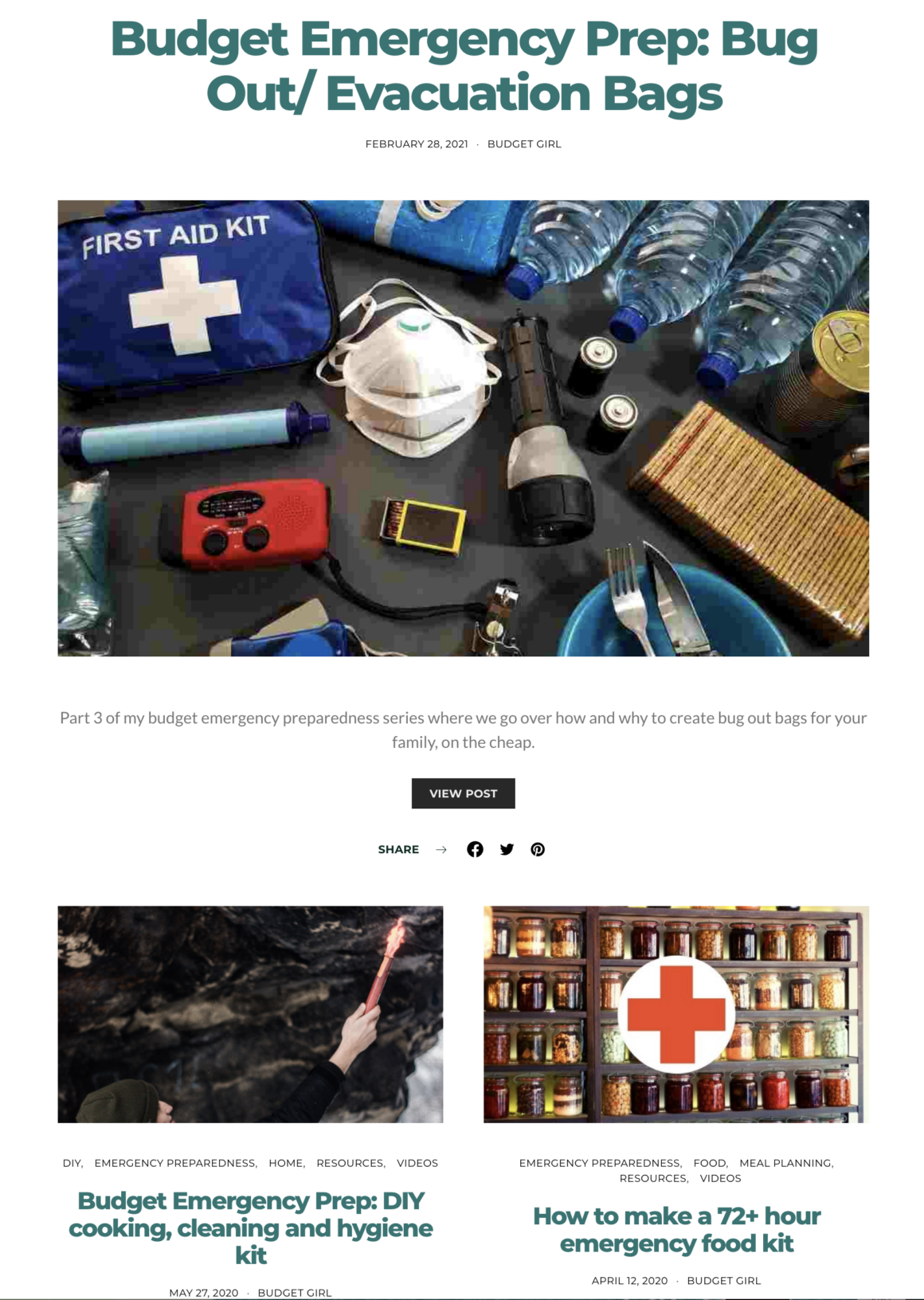 Part 2: Build a kit:
Power or water outages can and will happen. Create and keep a basic kit of clean water, non-perishable food, and other basics to get everyone living in your home (including pets) through a 3-day or less emergency.
FEMA recommends EVERY HOUSEHOLD have one of these kits, and I have a DIY guide to create your own for under $30 here!
Check out my Emergency Preparedness series here to get started on a budget.
This three-part article series will walk you through starting a basic $30, 72 hour emergency food kit, a safety, hygiene and cooking kit, and finally supplies for if you need to evacuate or leave your home.
$30 Homemade 72 hour emergency food bucket kit
Budget emergency prep: DIY cooking, cleaning and hygiene kit
Bug Out/ Evacuation Bags and other Prep
You can also watch my Emergency Prep video series on YouTube.
Part 3: Upgrade your preps:
Once you have the very basics down, consider how you can do to improve your preparedness. Some simple upgrades can make a huge difference to be more comfortable in an emergency situation!
Similar to savings, you will never regret being prepared for an emergency. I highly recommend checking out Ready.gov for more information on how to prepare and why.

Challenge 2: Check your insurance coverage and benefits usage
Most companies have fiscal years that reset in January or September. Whether or not it's open enrollment time to change your benefits, make sure you know what you're paying for and if you're utilizing all your coverage!
Oft forgotten/ utilized benefits

Vision care
Have you recently used your vision coverage? Many policies cover an eye exam, new glasses or contacts, etc. every year but most people don't utilize it.
If you don't have any symptoms or vision problems, doctors recommend getting regular eye exams based on your age:

Ages 20 to 39: Every 5 years.

Ages 40 to 54: Every 2 to 4 years.

Ages 55 to 64: Every 1 to 3 years.
Gynecological care
Women between the ages of 21-29 should see the gynecologist/ OBGYN every year.
Women 30 and up are recommended to get checked every other year If they are in good health, not pregnant, and not being treated for a disease.
Women around age 66 and up, who have had 3 or more clear pap smears can stop annual visits if they wish. (source)
*Women of any age who experience any negative symptoms, changes to their menstrual cycles, unusual discharge or odors, or severe pelvic pain should arrange to see a gynecologist right away, as those may be signs of something more serious.*

Company retirement match
If you're not taking advantage of your company's retirement match, you're rejecting part of your compensation package and FREE money that could compound into millions at retirement.
Check your benefits or contact human resources to to learn about how to enroll and what you need to contribute to get your the highest possible match.

Challenge 3: Clothing audit
Before you order order new clothing for cooler weather, do an audit of your closet and see what you have and what you need.
If your boots were busted by the end of winter last year, shop with no guilt for the perfect replacement before models get sold out. But if you already have 30 sweaters (guilty), consider listing your non-favorites on Poshmark or Mercari before ordering new ones.
Learn how to easily sell your stuff here!
What's on sale in September?
Everything goes on sale eventually! If you shop smart, you can save big. Please don't allow this list to encourage you to buy things you don't want or need! instead Let it educate you and allow you to plan better!

September sales
Mattresses and Linens – Labor Day sales kick off the action early in September. This is one of two times a year mattresses clearance, the other around Memorial Day. You may also find some better-than-normal deals on bedding, bath and towels over Labor Day weekend and throughout the month.
Airfare for holiday trips – The best deals on flights usually happen about 8 weeks before departure. For Thanksgiving, that would be during the third or fourth week of September, but start looking (on an incognito browser so cookies don't track!) now.
Large appliance – For stoves, washers, dryers and dishwashers, September is a good month to buy as new models are starting to arrive and last year's new, perfectly good models will go on discount. *This ramps up in November/ December, so if you can wait you could save more!
Apple Products – iPhone generally launches new items in September and previous generations are on sale as new models come out.
Plants – Summer plants are dirt cheap this month! And take advantage to fill out landscaping with perennials for cooler temps.
Summer products – Lawn mowers, grills, swimsuits, and other summer gear discounts will go higher in September. Sales on yard decor and outdoor furniture also heat up this month and continue into October. But the longer you wait, the thinner the selection will be on this stuff!
School supplies – School items will be at their cheapest this month, though selection may be less available after the August rush.
Denim – Back to school is so closely associated with jeans that they go on sale to offload overstock.
*Special food discounts! September is National Chicken Month, National Potato Month, and National Rice Month. Food holidays honoring bacon, cheese pizza, guacamole, cheeseburgers, and lobster also fall in September. Be on the lookout for deals on these items at the supermarket and local restaurants.
Wait to buy

These items will be at or near their top prices in September, wait if you can! You can find better deals if you wait until later in the year.
Android Products – Android usually launches new phones in October, wait until then or Black Friday to get deals.
TVs – Wait for Black Friday
Fall clothing – Fall clothing will start to show up in stores in July, but will be at peek prices. Labor Day weekend will be when sales start, but you still won't get the best deals on cold weather clothing until after December.
What's in season in September?

Save money in September on groceries by shopping seasonally. Here's what's in-season and therefore likely on sale, nutritionally dense and super fresh in stores!
Fruits
Apples
Apricots
Blackberries
Cantaloupe
Corn
Figs
Grapes
Melons
Nectarines
Pears
Plums
Peaches
Pomegranates
Raspberries
Tomato
Watermelon
Vegetables
Artichokes
Brussels Sprouts
Butternut Squash
Celery Root
Cucumbers
Eggplant
Green Beans
Chives
Carrot
Potato
Okra
Onion
Peppers
Pumpkins
Sweet Onions
Summer Squash
Winter Squash
Zucchini
What are you making sure to remember to budget for in September? Did i miss anything?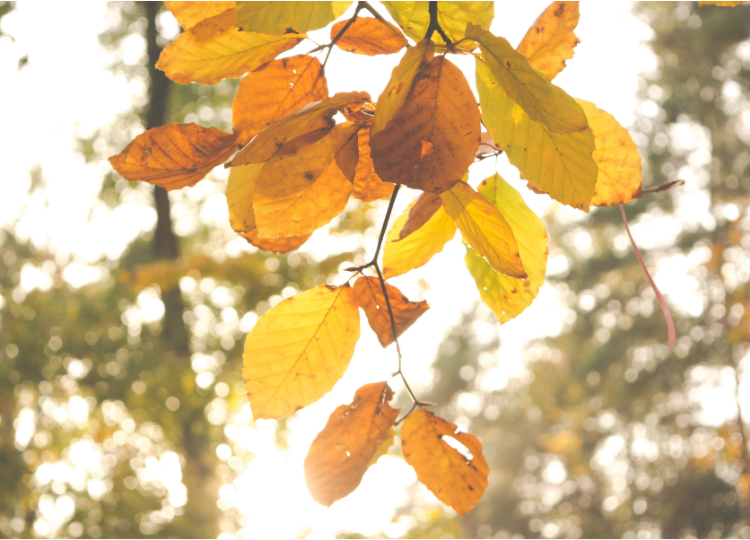 Also check out:
Can you do FIRE? (Financial Independence Retire Early)
How to Find the Budgeting Method that Best Works for You