My dog Rory is my favorite animal on the planet, of course. She is an almost nine-year-old, super-snuggly Mountain Cur and still acts like a puppy. She enjoys being both on top of and under a blanket and is completely and totally spoiled. 
Pets can get expensive, but there are a lot of ways to save money that won't affect your or your furry friend's health or life. I got the comment regularly when I was in debt to get rid of Rory to save money. Let's get this straight right now, Unless it comes down to a choice of feeding your family or them, I would never in my life tell you to get rid of a pet to save money, regardless of how much debt you're in. 
Pet care is a multibillion dollar business, and like all businesses, they are out to convince you to buy things you do not need for your pet. But pets do not have to be a budget breaker. 
Here's how to save on every aspect of your pet's care: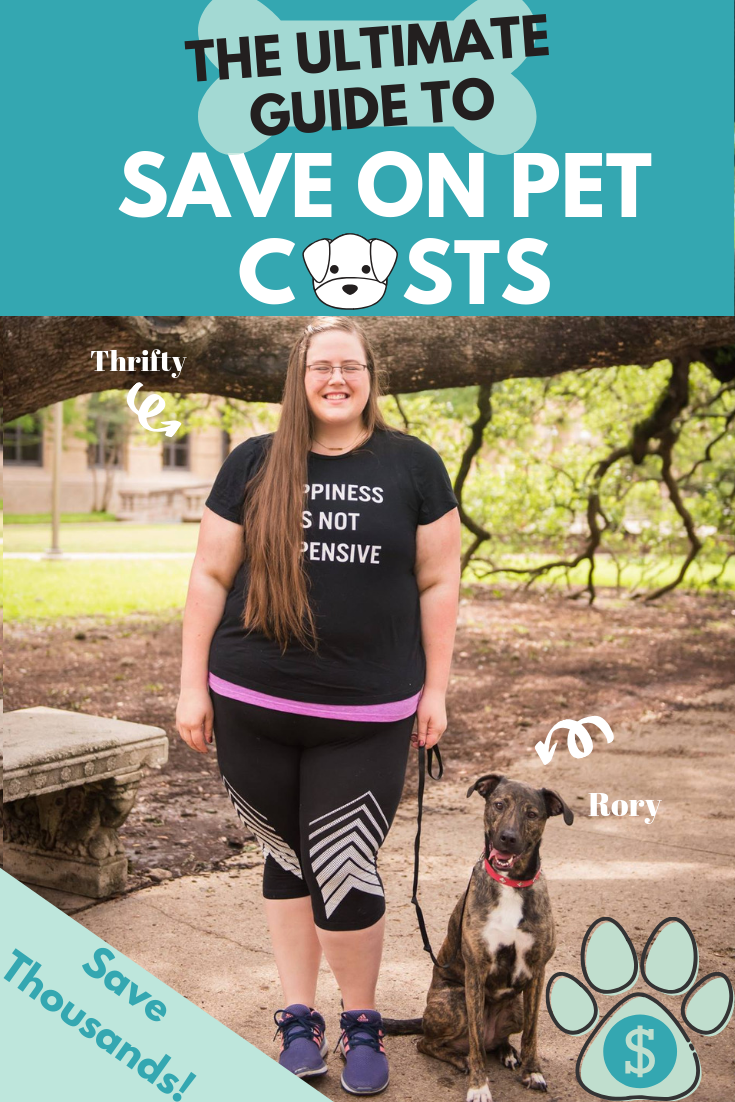 Food
I'll admit that I did not always make the best choice when it came to Rory's pet food. I used to buy Trooper dog food at Walmart for $5 for a 20 pound bag. It probably did not have the best, most high quality ingredients, BUT my dog is in excellent health and every vet she has ever met has been shocked at her age. 
That said, I purchase better pet food now but still don't buy the crazy expensive $50+ food. I think at a certain point, food is food and buy in the midrange, which has ingredients I understand and agree with. And don't worry, Even if your pet has a special diet, you can use some of these tips to save big. 
To save money, I buy the largest dog food bag I can afford and carry. It's more than twice what my food container will hold and I store the extra in the bag, sealed with tape behind my coffee bar. Check the unit prices and if your dog doesn't have an easily upset stomach, consider switching it up between brands/ flavors depending on what is on sale. 
If you don't want to wrestle a giant bag into your car every month, consider ordering pet food online. This post is not sponsored, but I know people who swear by www.chewy.com, which advertises 5-10% off autoshipped pet food, which will make sure you never run out if you set up the delivery schedule properly. 
If you use an online delivery, from a service or from Petco or Petsmart, both of which offer free delivery over $49, you can also use a cash back browser like Ratuken/ formerly known as Ebates. On all of those sites, you can get 1-5% cash back, just by enabling that browser. I  have it installed on every computer I use and have gotten hundreds of dollars back on things I was going to purchase online anyway over the past couple years. There's no reason not to do it.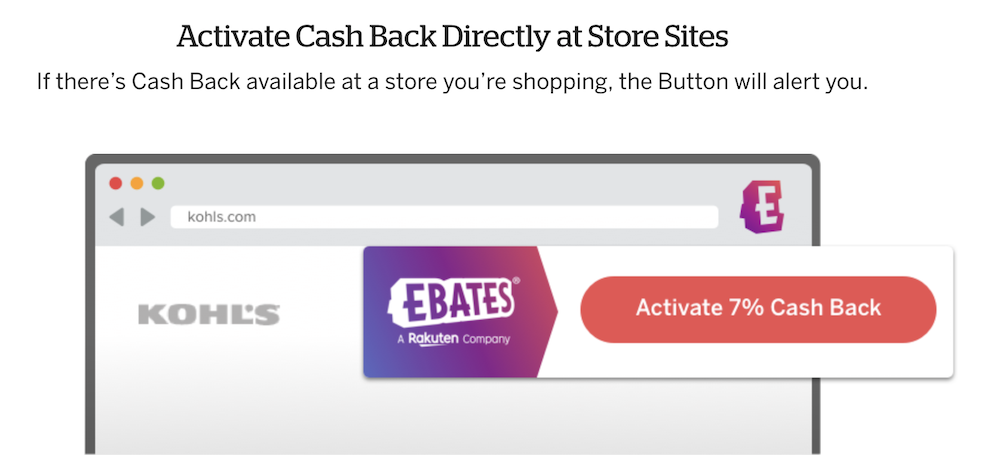 Use my link here to get $10 FREE when you install the browser and buy anything online! (AF)
I also got cash back on the Omega 3 oil I put in her food for shedding since I ordered online (where it was the cheapest!). Farm and garden shops online often have better deals on supplements than pet stores. Just do a google shopping search and consider shipping when cost comparing. 
Veterinary Bills
I saved over $100 on planned pet costs last month by going to a local mobile pet vaccination clinic. It ended up being easier, faster and ridiculously cheaper than doing an annual vet visit.
I didn't even know about this amazing frugal option until recently.. For all of Rory's life I've saved money each month for an annual vet visit where we would get a check- up, shots, etc. The cost, not including heart-worm preventative and flea meds was usually about $125.
At the mobile clinic, I was able to get her a rabies shot, a full check up by a vet, advice on adding supplements for shedding and her age, and a nail trim for $25 total. She also got totally fawned over by the techs, amazing students from our local vet school who won her eternal loyalty with endless Beggin' Strips and spray cheese.
You can find these clinics, usually held one weekend a month in a big box store parking lot, by searching "mobile pet vaccination clinic" and your city.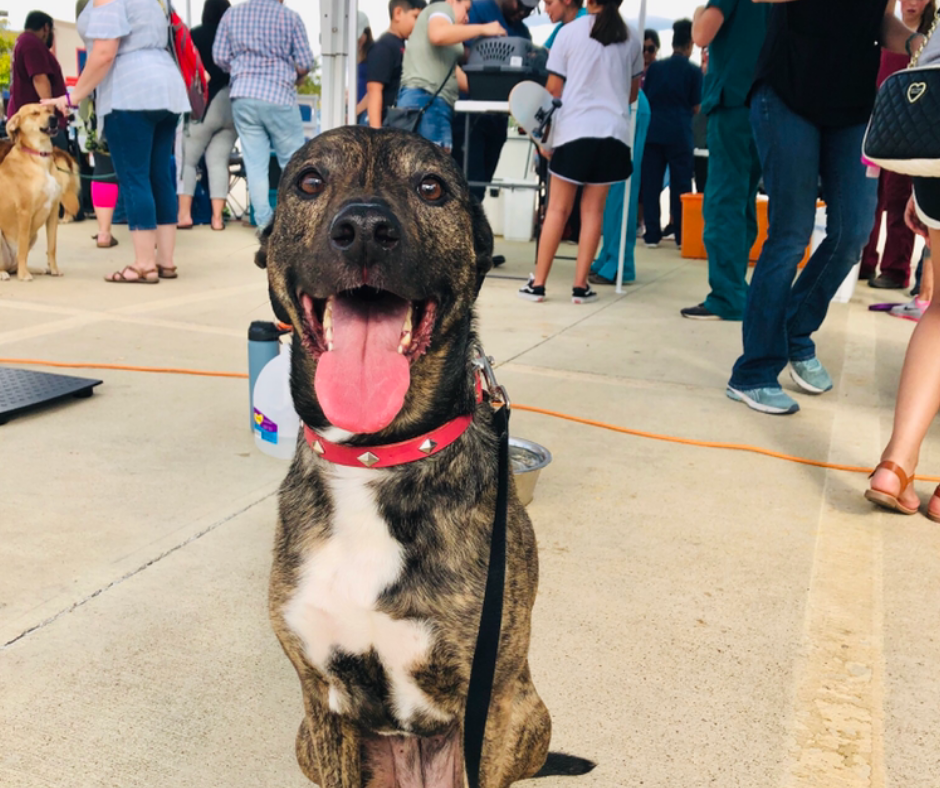 Here's the skinny on the details:
Pros –
A HUGE cost savings
Great personal attention from a large on-site staff
Fast appointment (30 min total time including waiting)
Convenient weekend afternoon timeslot, so I didn't have to take off work
Also I wasn't upsold any unnecessary tests or treatments like I was the last time I went to a new vet.
Cons –
You do have to stand outside to wait. Signs said to expect a 45-60 min wait to be seen but I pre-registered online and was in and out in 30 total.
They also had tents, fans and water bowls out for the pups. It's hot in Texas but this was easy and fast. 
This is absolutely the way I'll be doing her non-emergency medical care in the future and I hope you have it in your area! 
Medications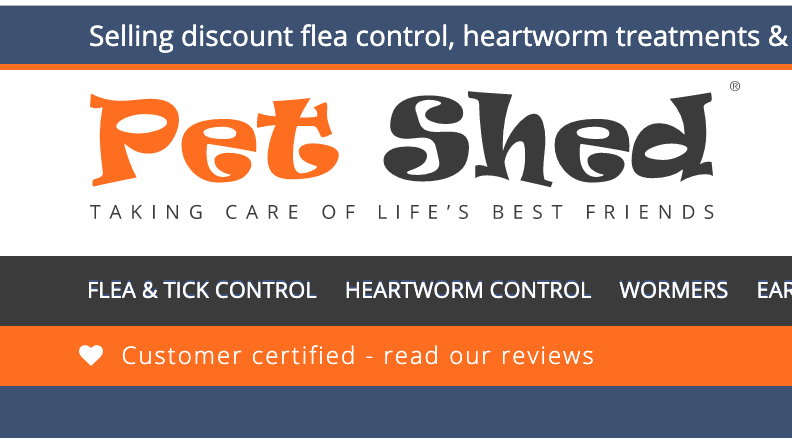 By the way, I get Rory's monthly flea and heart-worm preventative online – which also saves me bucketloads.
I've used www.petshed.com for years (not affiliated) to get generic meds, that do the exact same job as name brand. It's the same concept as getting generic Tylenol from the drugstore, and you don't need a vet's prescription to fill it online.
Shots/ Vaccines
Also, some states, such as Alabama and Mississippi, allow you to purchase annual or regular vaccines and administer them to your animals yourself. Many people with farms or working animals do this, and it's not as big of a deal as you might think. I've always brought Rory to a vet, but I have family and friends who would never bring their dog in just for a shot. Check your state's rules and regulations and do what you are comfortable with. 
Medical Procedures
Next, when you are quoted for a procedure your animal needs, get a second quote. 
One budget girl viewer said she shopped around when her dog needed dental work and saved $500 with just one call.

Grooming
Grooming costs can bust your budget fast, but a one-time cost for the appropriate tools and some practice could save you tons of money year after year.
Rory is short haired, but my family's dogs get a summer shave every year with a $60 very nice trimmer that was a one time investment. If you have floofier dogs, it might take practice and some youtube tutorials, but I believe you can learn to do it yourself. 
I used to trim Rory's nails with a trimmer, but it took years off my life because she hated it and I had to pin her down. We both ended up crying. Now I pay $14 every few months to get a professional to do it, but I still have the clippers if I ever wanted to cut that cost. 
I also bathe her myself in the tub or with a hose outside depending on the weather, and have a $25 Furminator I got on Amazon that I brush her undercoat out with. 
These tools cost double in physical stores, so I would absolutely recommend buying them online.
I've assembled cost-friendly and effective dog tools that I actually use and love in my Amazon Store here. Nothing costs more than $30.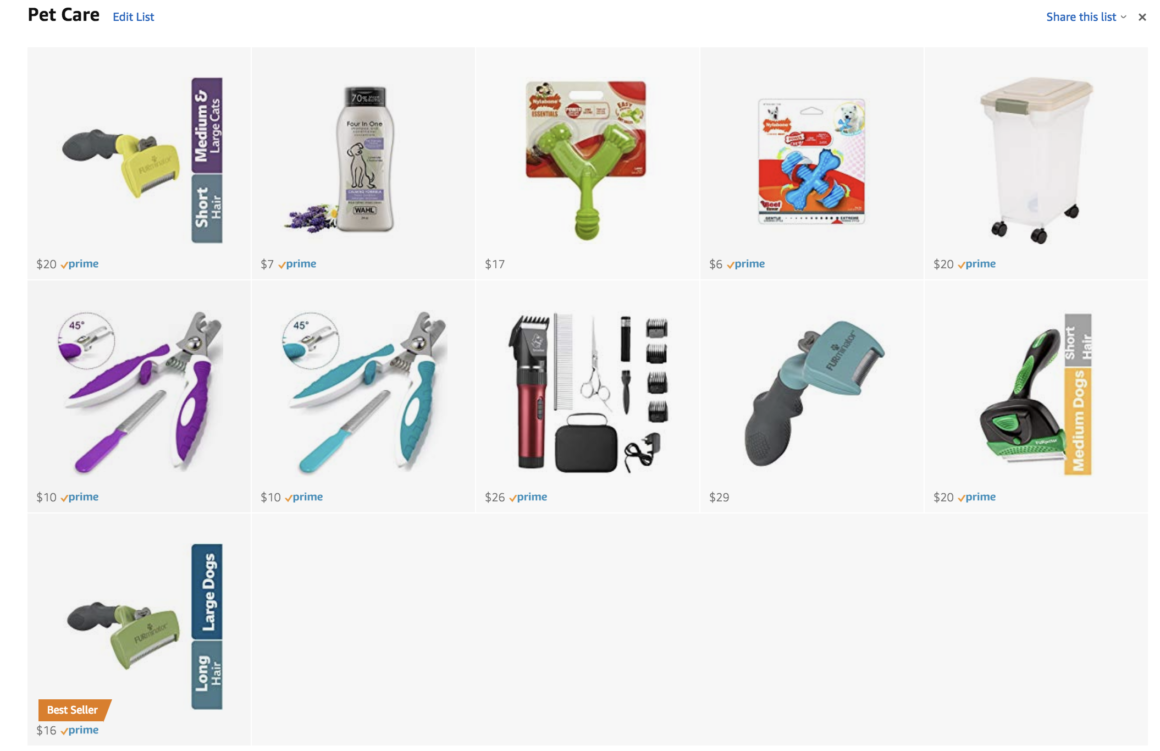 www.amazon.com/shop/budgetgirl
My local groomer charges $45 to Furminate dogs just one time – that's nuts, as are their bathing costs. I could buy the tool twice over for that and I can keep her brushed out weekly, which is great doggy/ momma time and she LOVES it. 
Toys and treats
For the love of god DO NOT BUY a subscription box for your dog. I hate those things. Your dog doesn't know it gets a monthly treat box and it doesn't need new toys every month. Yes she's a very good dog. No she doesn't know the difference between that new overpriced toy and one you've pulled from the bottom of her overflowing toy bin (I see you, I am you.) 
A bark box will cost you $300 per year, put that money into a sinking fund for pet expenses instead and be prepared for the day your dog gets a UTI or tries to eat a bee. You need money saved for that kind of pet emergency, and unnecessary toys and treats are the perfect place to get them. 
Now my dog is a chewer, she can't have plushes, they are instantly destroyed. I have a couple high-quality Nyla type bones that she can't chew through, and a lot of tennis balls and old leggings/ tights/ tank tops cut up and knotted. My dog is also the happiest in the world. 
As for treats, I buy in bulk packages, the same as with food. That $14 bag of big box Beggin' Strips is vastly overpriced. Your local farm and garden store likely carries bulk treats sold by the pound that are insanely cheap and good quality. You can also make your own.
Rory loves rawhides and little hard bones, but I also trained her using just regular food as treats. They're happy to just spend time with you. Animals are so wonderfully uncomplicated.
How do you cut costs on pet care? Make sure to send this article to a pet-loving friend who would love to save a bundle!