Have you ever experienced decision fatigue? Studies show that we actually have a finite number of decisions that we can easily control each day. It's why big (male) CEOs wear the same thing daily. They say it frees up some of their mental space to be more creative. (The privilege there, ugh. Yes some women do this, but societal expectation is for us to be made up and put together daily – jeans and a hoodie just won't fly in most workspaces.)
So how do you hack your brain/ system into making more positive decisions?
Create rules for yourself.
High performers and productivity experts say when they make a hard and fast rule (I always do X), it takes the decision part out of the progress. Things like brushing your teeth or putting your keys in the same place daily don't activate the same decision-making mental process or tax your daily allotment because they're habits.
So if we can elevate our money processes to habits or hard and fast rules, we're more likely to do them consistently. And we all know that with money, it's the long-term that makes all the difference.
Here are 20 women on the #1 money rule they follow to keep their financial lives solid.
1: Commitment to intentionality. I am a spender and don't consider myself frugal, but I've always known exactly where all the money went. – Natalie E.
2: Use only Cash. When it's gone, no more spending – Jo O.
3: Don't buy it just because you have the money to buy it… – Jennifer A.
4: You can have anything you want, but you can't have everything – Claire M.
5: Never borrow from family or lend to a friend. Give your friend a gift if you give them money, don't expect it back. If you borrow from your family they will nitpick every single financial decision you make, and feel entitled in doing so. If it's a friendship, you're likely to lose the friend. Just don't. – Kywa H.
6: Budget! Pay attention! – Terri C.
7: Always take the company match. – Susie M.
8. Separate needs from wants so I can stay dedicated to my big goals. – Sarah K.
9: Spend less than you make – Sara H.
10: To have a plan for my money. Knowing what needs to be paid and their due dates help a lot. This way, At least I know ahead of time how tight my budget is. – Jasmine K.
11: Pay myself first – Tracy D.
12: Was it worth how many hours I had to work to have it? – Alichia O.
13: If you can't buy it 2x you can't afford it. – Yari S.
14: I don't go grocery shopping without doing an inventory of what I have & using as much as us reasonable fir the next week – Donna K.
15: Track my expenses daily. It has become a habit. I never thought it would. If you want it badly enough, you will put your mind to it and make huge changes. – Amber J.
16: Always pay your bills on time and if you for any reason are late, call when you pay. Most late fees are waived. I learned this when I had an emergency and had to be out of town for a bit. – Tracy C.
17: Don't spend money you don't have. – Suzette S.
18: It's not ours, it's the Lord's and we just manage it! – Antonia T.
19: Reward myself for milestones! It keeps me motivated and keeps me from thinking I'm being deprived. – Cara G.
20: Don't let my husband go to the store alone. – Tara H.
What is your number 1 personal money rule? Do you think it helps you avoid decision fatigue?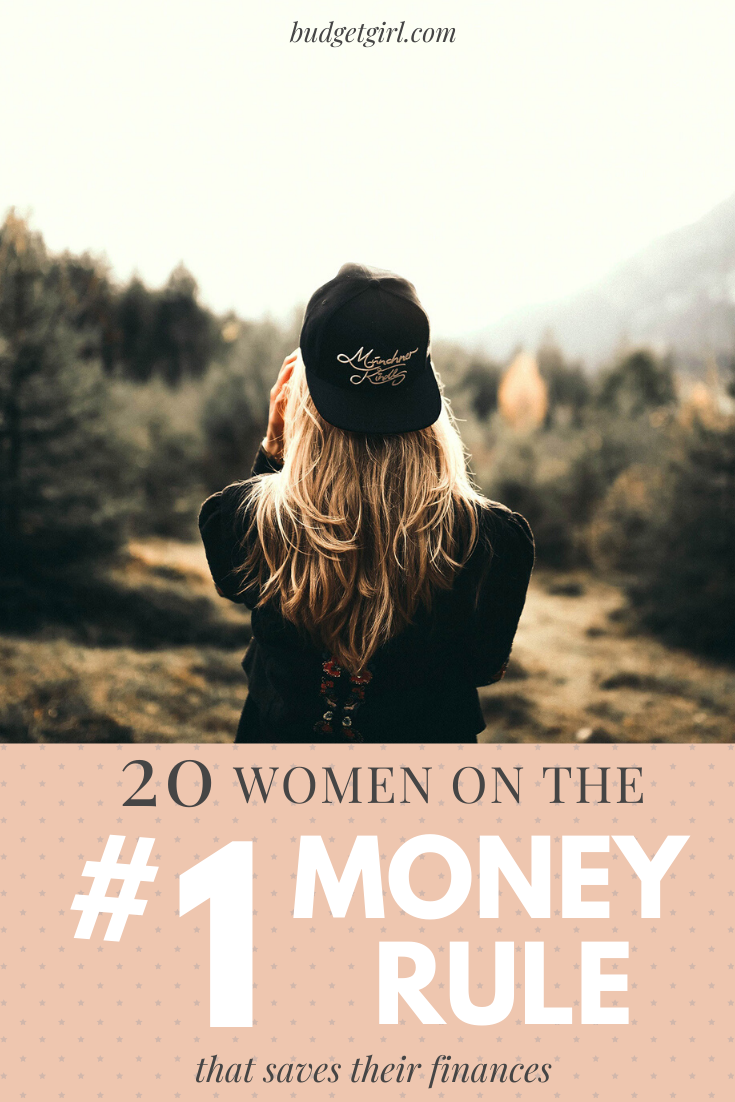 $ Need daily money inspo? Join my FREE Facebook group: The Budget Club. These awesome women and their money rules came from the group. Join in on all the money friends excellence.
More Ways I Save:
*afflinks These are platforms and services and genuinely use, love and recommend. I may recieve commissions at no cost to you if you use my link.