Trigger Warning: This article will involve candid discussion about sensitive topics including depression, PTSD, anxiety, domestic abuse, and divorce. Resources and help for these topics will be below.
Mental health issues can affect every aspect of your life, and can make managing your finances significantly harder. In this article, we'll cover resources and help for dealing with mental health issues.
Budget Girl is partnering with Vee Weir of Weir Digital Marketing and Vee Frugal Fox, someone who has dealt with mental health issues (Major Depressive Disorder, Generalized Anxiety Disorder, and Post-traumatic Stress Disorder) and is an expert on how she has been able to manage her issues while also being on a personal finance journey.
Who is affected by mental illness?
In the United States, almost half of adults (46.4 percent) will experience a mental illness during their lifetime.
5 percent of adults (18 or older) experience a mental illness in any one year, equivalent to 43.8 million people.
Of adults in the United States with any mental disorder in a one-year period, 14.4 percent have one disorder, 5.8 percent have two disorders and 6 percent have three or more.
Half of all mental disorders begin by age 14 and three-quarters by age 24.
In the United States, only 41 percent of the people who had a mental disorder in the past year received professional health care or other services. (SOURCE)
Like money, mental health is often considered a taboo subject. Why is that?
Vee: I always find it funny that this is such a 'sensitive' and 'taboo' topic of discussion in any social circle or industry setting. The stigma is in the silence, which is why I chose to live my 'mental health life' out loud. When almost HALF of Americans suffer from a mental illness in their lifetime, we cannot afford to be silent. That is how people are suffering and dying. Opening up and being transparent about money and mental health is how we change the way people are treated, their access to treatment and gives us a chance to address the stigma and systemic ways that people are oppressed when it comes to both topics.
Why is it important for us to recognize that mental health can make personal finance different/ difficult?
Vee: Personal finance is personal.
I've said this my entire journey, and it's no different for people that struggle with mental health disorders. Money isn't everything, but it affects everything. It's the same exact idea behind depression. My depression doesn't define who I am, but it affects every aspect of my life – including my personal finance.
Depression, Anxiety, PTSD — these disorders warp your brain and make you feel like you can't do anything right, like you're not doing enough, like you aren't enough, and so on. When you add a career and finances – it takes the form of a new monster.
How financial problems can make treating your mental health difficult:
Vee: Basically, if you don't have health insurance, seeing a therapist can cost you anywhere from $150-300 PER SESSION. So if you don't have health insurance, you're not rich, and you need that care, how do you handle that?
Unfortunately, resources can be extremely limited.
In my experience, you have to call your local government and ask about any programs that they offer the public. These will probably be free or reduced cost – HOWEVER, they are probably not going to be one-on-one care, but more likely group therapy.
If you're looking for a more 'traditional' therapy experience, search for a sliding scale therapist. I had a sliding-scale therapist located in Longmont, Colorado. She charges me $75 per session.
Still, If you go once a week that's $300 per month. Some people simply cannot afford treatment.
Cost is the true barrier to receiving help and our system is fundamentally broken.

Vee Weir
I also want to point out that finding these resources when you can barely take care of yourself is a tall order. This information isn't easily accessible in some geographic locations. 'Free' or 'reduced cost' resources depend on the financial resources of your local area.
It also takes energy, time, and motivation to call around and research what you can afford. When, in my opinion, you should just be able to go and get help.
It also means facing that you have a problem – which isn't something that is easy, and can deter people from doing the 'leg work' to find care when they're in a sensitive place in life.
If I hadn't had the support system I do, I doubt I would have gotten the treatment I needed when I was in my low points.
How do you escape the cycle of financial trouble and mental health problems vying for priority with your money and time?
Vee: Your mental health should always be a priority. End of story.
If you have to make the choice between paying off debt and seeing a therapist, see a therapist.
At the end of the day, if you don't address your health problems, you will suffer in the financial department of your life. You must learn how to cope with what's in your heart and head or else, you will cope in unhealthy ways which could involve money.
What steps should people take if they're suffering mental health issues that they can't afford to treat ?
Vee: You have to take stock of your priorities and be very candid with yourself. Learning to live with any mental illness is a journey, with many twists and turns; ups and downs. Mental health is a priority for me and my medication is a necessity in my life.
I don't have health insurance, because unfortunately, I can't afford any at this time. That means that I plan and save. I put in the work up front and reap the rewards later.
When my health insurance stopped, I paid almost $200 for a month's supply of Lexapro. I found GoodRX the next month and paid around $12.
I called my GP and asked how much a check up would be for someone without insurance. It was something like $87. Once I had that quote, I saved and paid out of pocket for that check up.
Be honest and explain your situation to your GP. My doctor wrote a prescription for a YEAR for me.
Hot Tips:
Use GoodRX to help you pay less for medications, regardless of your insurance situation.
Ask your doctor to prescribe annual prescriptions, for samples, etc. Explain your situation.
Try to find sliding scale therapists and community resources for group help. (Check your local health and human services website)
Look at online therapy like Betterhelp
Call your local mental health organizations or government run mental health facilities
If you live near a 4-year university they may offer therapy at low cost as training for their psychology departments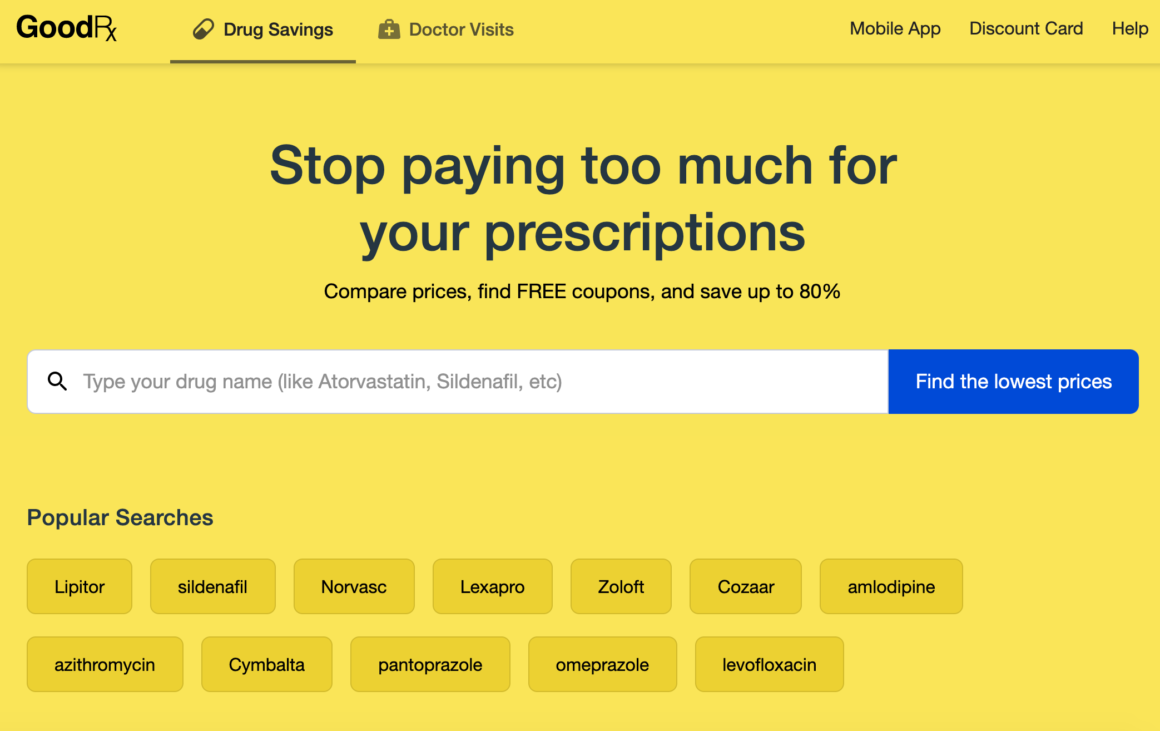 What about non-drug/ doctor based treatment?
(A reminder that Vee, Sarah and Budgetgirl.com are NOT licensed physicians and these suggestions should not be considered medical help.)
Vee: A few of these holistic resources and ideas have helped me:
Do you have hobbies that relieve stress?
Can you reduce the stressors in your life?
Can you put boundaries in place to protect your mental health?

Saying 'no,' for example, is one of the best boundaries I've enacted in my own life

Do you exercise?
Are you eating healthy?
Are you sleeping the appropriate amount?
Do you have a support system you can reach out to?
Do you have an emergency fund?
Be INTENTIONAL so that you aren't triggered and you have the resources available when you need them.
What else do people with mental health issues need to consider on a personal finance journey?
Vee: You're more than likely going to have lower lows than people with no mental health issues. You're going to be harder on yourself and more frustrated. My biggest piece of advice is to stay the course.
Write all of the positive things you are doing to improve your life when you aren't in a depressive or anxiety driven episode.
WHY are you trying to get out of debt?
HOW far have you come on your journey?
WHAT are you going to do when you reach your goals?
Take out that paper when you're going through a rough time. When you have the strength to be strong for yourself, make sure to capitalize on that. On 'rainy' days, you'll need it. Learn to rest, not to give up.
Watch my interview with Vee here:
What resources are available for people needing mental health help?
Helplines:
National Alliance on Mental Illness: https://www.nami.org/find-support/nami-helpline
National Suicide Prevention Lifeline: 800-273-8255 OR https://suicidepreventionlifeline.org/
Financial Abuse:
https://www.verywellmind.com/financial-abuse-4155224
Budget Girl's Financial Abuse Page
Organizations that can help:
Sources:
Mental Health Statistics: