Ever wonder how my spending stacks up against the amazing Dave Ramsey's and his recommended percentages? I decided to find out. I plugged all my numbers into EveryDollar to get this handy chart breakdown.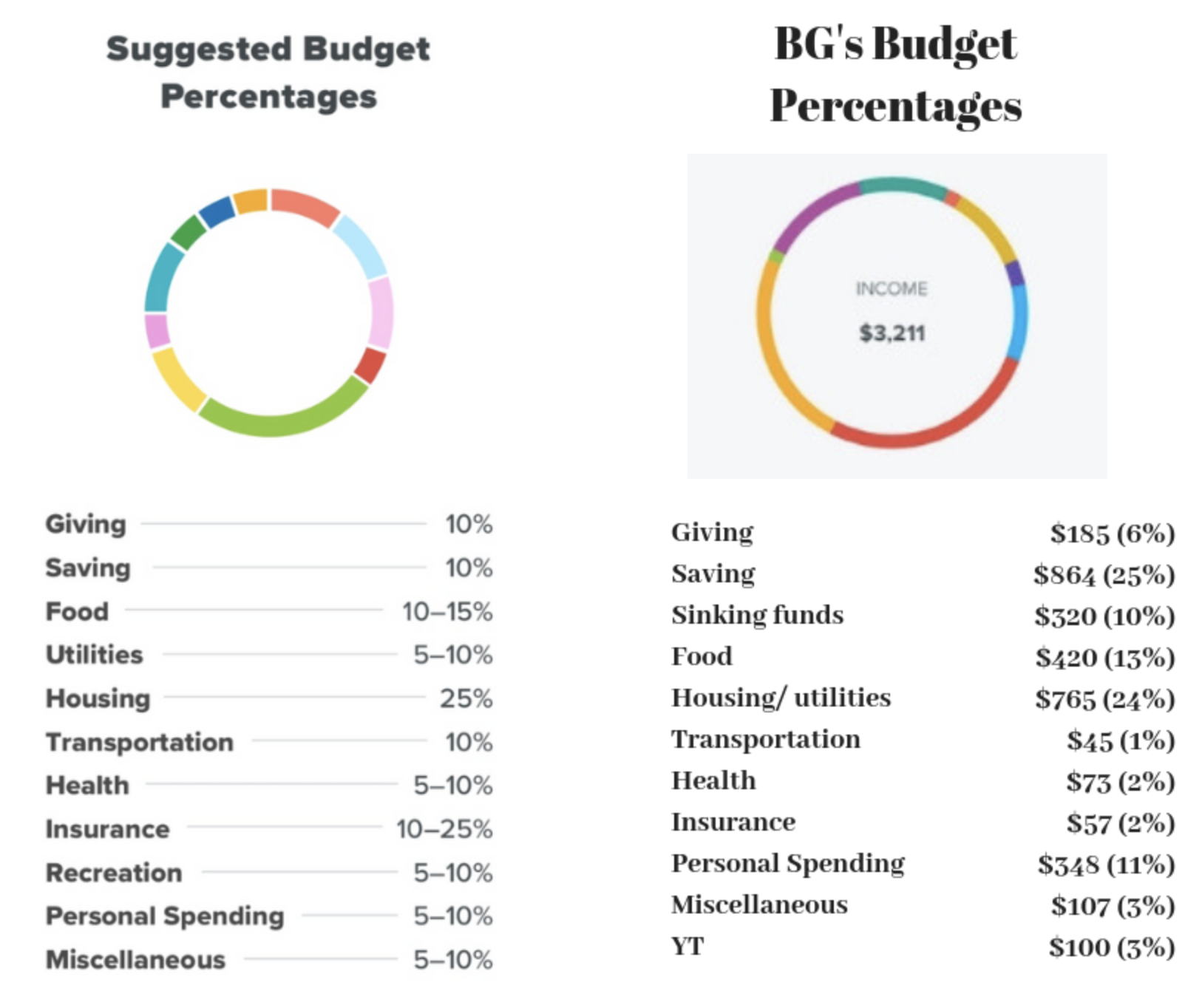 Let's go over how my monthly breakdown stacks up in a few categories.
Savings: Dave 10% vs Me 35%D
So my top "expense" as seen above is actually savings, which is well above Dave's recommended 10%.
As I don't have any debt anymore, so I've funneled most of the money I used to send to debt to my personal savings accounts, which I'm thrilled by.
Between regular savings and my sinking funds, which is just savings for eventual future expenses, my savings rate is 35% of my budget. This budget is also for October, which is a very small YouTube month, adsense and sponsorship-wise, so my side-hustles are at a minimum. Anything above the $400 YT income outlined here would also go to savings, often making about 40% savings rate on a busier month.
Food: Dave 10-15%/ Me 13%
My food expenses, including groceries, household and restaurant stack up to 13% of my income, which is right in the middle of Dave's recommend 10-15%.
Housing and utilities: Dave 25%/ Me 24%
are recommended to be no more than 25% of a person's income, which I fall right under. This is mostly because my new apartment, while well priced, is terrible on energy efficiency and I have to pay way too much to heat and cool it.
Transportation: Dave 10%/ Me 1%
The only transportation costs I have are gas and tolls, as my car is paid for. I do have car insurance, but that is under the Insurance category. I also have a sinking fund for car repairs and eventually a new car that I save for monthly.
Insurance: Dave 10-25%/ Me 2%
I'm incredibly lucky to have health insurance fully covered through my work, and I also pay life and disability insurance pre-tax so those come out before these numbers. My only insurance after that is car and rental, which is just $57. I have them bundled and pay every six months for the cheapest rate, but auto draft that amount out each month to a savings account so it's there when I need it.
I also only keep liability and roadside assistance on my car since it isn't worth much and I could buy a new car with savings if something catastrophic happened.
See the full video breakdown here:
Things mentioned:
My full budgets: https://www.youtube.com/playlist?list=PLH0k0rlQA6DYT_zn5Xh6axtTskuxxgScO
Check out everyone else participating below!
How do you stack up to Dave's recommended percentages?