I had to spend $525 on dental fillings over two appointments this week (two of which were redos as a previous dentist screwed them up and they've been hurting me since January).
More bad news? My medical sinking fund didn't have enough in it to pay for it.
And yet, I didn't worry about the cost of this procedure one bit. It's not because I'm rich or make a ton of money (nope and nope), but because I have trained myself over years to save for a variety of things so that when life kicks me in the teeth (or drills into 6 of them in one go), I can spend my energy worrying about recovery, not the money.
To cover this specific cost, I pulled from another sinking fund. (I leave my emergency fund as a last resort.) I reviewed my accounts and pulled the money from my pet sinking fund, which hasn't been tapped in a long time and therefore had excess funds.

This isn't a flex on how much money I have. (I moved my emergency fund to a higher interest bank btw). The money in these accounts will be used for their intended purposes over the next year (for the most part.)
I tell you this because…
This one practice will change your financial life
These accounts (Car repair, Pet costs, Insurance, Christmas, Taxes, etc.) are sinking funds that help me save for things that everyone has to deal with paying for. They aren't just savings, they're planned and intentional accounts that get funded a little at a time and on automatic deposit so I never forget.
They're also MEANT TO BE USED, so none of that guilt that comes with depleting your savings on yet another thing that came up. Instead of feeling like a failure because you had to tap your emergency fund, you get "I was prepared for this."
This is key to my mental financial peace. Because when I use sinking funds, I don't suddenly have to scramble to come up with a six month insurance payment, all the money for Christmas at once, or a car repair that will happen eventually because cars break down.
Sinking funds help you avoid costly surprises.
A few years ago I just wouldn't have had any options other than to take on debt (or avoid medical care) if I was suddenly faced with a $500 bill.
And I wouldn't have been alone.
Nearly 4 in 10 Americans would have to borrow money to cover a $1k emergency.

2020 @bankrate survey
And even the luckiest people in the world are going to have some sort of unexpected financial expense, emergency, etc. at least every few years.
It could be dental work, car repair/ replacement, technology fail (laptop, phone), accident, natural disaster, fire, flood, loss of job, move, pay cut, medical issue, death of friend of family member… the list goes on and on and on.
When I was at my lowest financial points in college and after being laid off, I remember thinking, "I'll be able to get by until payday/ tax refund/ etc. if nothing else bad happens." And then OF COURSE something did.
Being poor, out of work, low income, etc. DOES NOT EXEMPT YOU FROM EMERGENCIES. In fact, it makes you MORE susceptible to them!
And once things start going bad, it's very hard to get back on track.
The interest and fees accrue and compound. One trip to the hospital can land someone in insane medical debt that can lead to bankruptcy, permanent marks on their credit and significantly and negatively impact their finances long term.
Payday loan places pay highly predatory fees that keep the unlucky in the paycheck to paycheck poverty cycle, constantly paying for previous expenses and not being able to get, not just ahead, but even back on track.
A cushion against emergencies is NECESSARY. Savings to avoid or mitigate financial disasters should be a working goal of every adult.
Okay, not helpful, What if I'm struggling NOW to just get by, how am I supposed to save a bunch of money?
How to get started with Sinking Funds
It took years and lots of intention to make myself save rather than just spend based on if I had money in my account.
But now I have contribute nearly $1,000 per month to these accounts, over 30% of my take home pay from my day job.


Please don't panic. I'm not asking you to do this. That's a LOT of money. And I can only do that because I STARTED with THIS: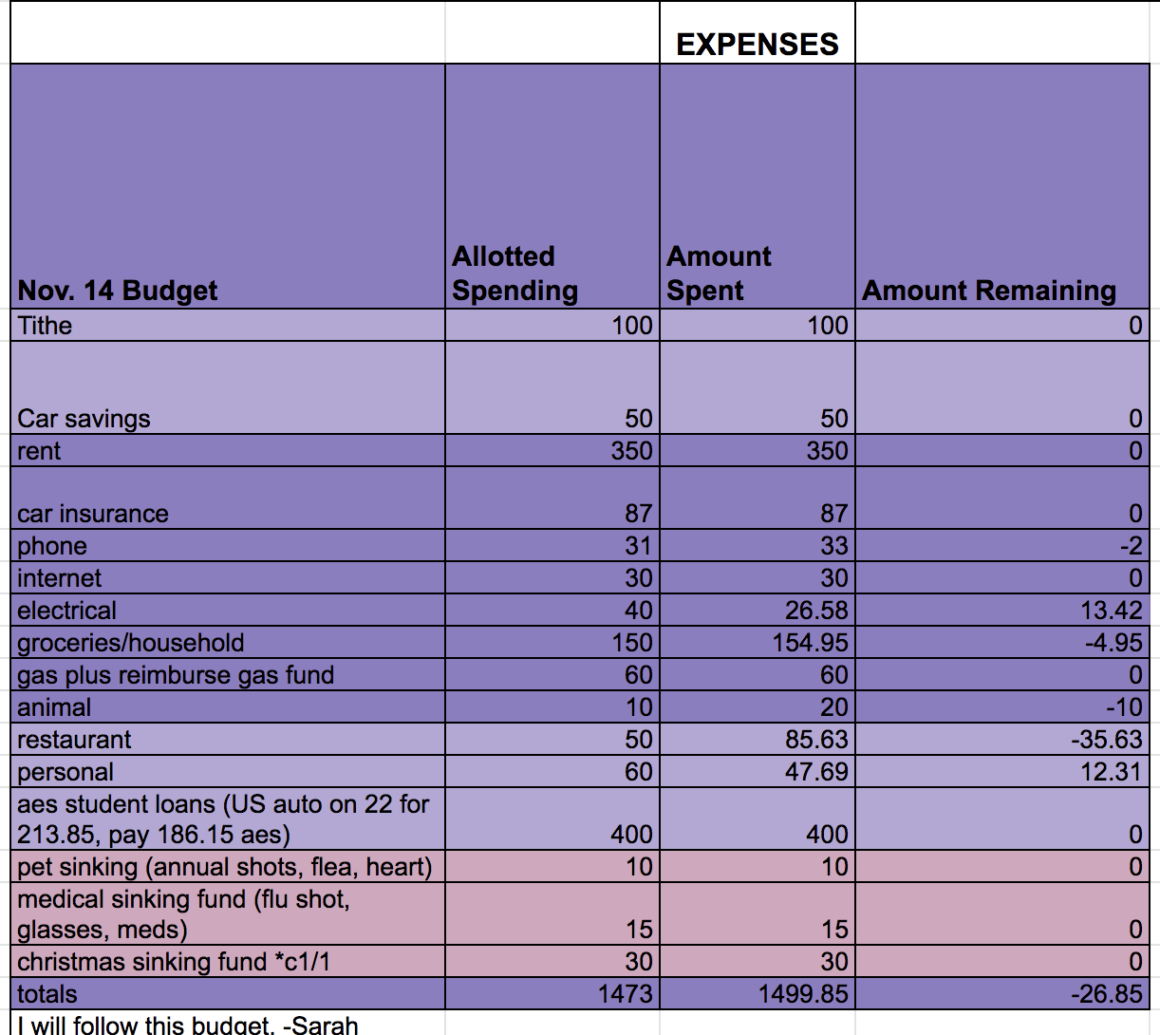 This was my November 2014 budget. I was paying off my student loans as aggressively as I could, and saving just $55 per month for sinking funds.
I started the practice by adding them into my budget as necessary when something screwed up my month.
For instance Pet Savings began after a $140 vet bill for Rory's annual vet check up. After that appointment, I started putting $10 per month into a sinking fund just for that and then that money was there the next year when I had to take her in again. It didn't mess up my budget that time.
When my total take home income was less than $1500, I had to weigh every money decision against paying a little extra to debt.
I wasn't saving for travel, replacing my car, etc. out of the gate. I started small, with costs that come irregularly but that I deemed necessary, like new glasses (I was wearing an old prescription), pet care and my one trip home per year. These were 100% worth it to save for because I'd pay those costs anyway.
A forcefield of money options
And as I did this week, you don't HAVE to spend those savings pockets on only the thing they're labeled. When life comes at you, its all your money. You can use any and all of it to avoid debt.
Together they make what I mentally envision as a shield against the world. They're a way for me to borrow from myself rather than at a high interest rate from a credit card company or setting up a payment plan that would follow me for months or years.
Why separate savings out into individual funds?
Our brains are a funny thing. I had a savings account all through high school and college and would put some money into it whenever I had any kind of windfall (birthday, Christmas, Summer job paycheck, student loan refund, etc.) But then inevitably, that money would dwindle down any time my checking account got low, which was often. I'd transfer a little money out of savings and spend it. No clue where it went.
A big pot of money is tempting. It screams "abundance" and invites you to take just a little for X, Y, or Z.
By having individual names, goals and plans for each of these accounts, its no longer just a big amalgamation of money that could or could not pay for an emergency or expense. It's money that I will have there when I get a flat tire, my dog eats a bee or, now that I am debt free and have dedicated savings for travel….. that I feel NO guilt using for a vacation, relaxation or for self care.
I don't have to worry about not being able to pay for Christmas if I take a vacation. There are funds specifically for both.
It gives me the freedom to spend on wants and needs, and to be prepared for a variety of unexpected issues… which happen FAR less often when you can pay for them btw.
Where to keep your sinking funds
I ONLY use online banks because instead of charging me fees to keep my money there, they pay me interest on the amount I have in there. I have accounts with several different banks, but I've kept my sinking funds in a CapitalOne360 account for years. (NOT SPONSORED OR AFFILIATED)
I do this because they allow customers to have up to 25 savings accounts for free. I'm able to label them and set up automatic deposits from my checking account to them. I can also access the money immediately by transferring it from the savings accounts to my checking (for which I have a debit card/ checks. (My CapitalOne360 set up is shown in the photos above)
Ally Bank does the same thing except they let you save into "buckets." I also recommend them (unaffiliated). There may be other banks that allow you to do the same thing. But I do recommend you separate your sinking funds somehow where you can automatically deposit funds and access them when needed. Ideally, you should also be earning some interest on these accounts.
Having savings is absolutely a privilege. But it's one you can give yourself.
Here are some FREE resources to help:
See how to start your first budget:
Get a free budgeting template to get started.
How to start a side hustle to increase your income to begin saving:
DISCUSS: Do you use any sinking funds currently? What kind are your budget missing?
Pin this for later!