I've also updated the resources below for 2022 so get shopping!
I spent hours doing research and hope to save you from spending too much or getting something you'll change out of as soon as the photo is done.
–
Did Christmas even happen if you didn't take a near-professional photo shoot of your whole family in matching pajamas?… YES. IT TOTALLY DID. Christmas PJ's, presents, trees, Elf on the Shelf – none of them are the the reason for the season and if you cannot do them, you should feel zero guilt.
That said, any tradition that brings you joy has value. Personally, I LOVE the idea of matching Christmas PJs. My boyfriend and I have two dogs, and we're our own little family. We spent last Christmas just hanging out around the apartment and made sushi instead of the traditional Christmas feast. It was a wonderful holiday and exactly what we wanted. for this stage of our lives.
A lifelong cheapskate, I balked at the idea of shelling out big bucks for matching pj's in 2018 (photo below) and we ended up getting some flannels from Old Navy for about $45 total (still way too much for two pairs of pants and one top that I knew we'd wear only once or twice).
We also live in Texas, so flannel pajamas are good for about 3 days out of the year. We have never worn these again and they were not a good use of money. More on Old Navy pjs later.
I knew I could do better, but I waited until the last minute and had the worst time finding the sizes we needed at a decent price.
In 2019, I used the guide below to find these ADORABLE yeti pjs above for just $18 each from JCPenny. MUCH better, comfier and surprisingly better quality.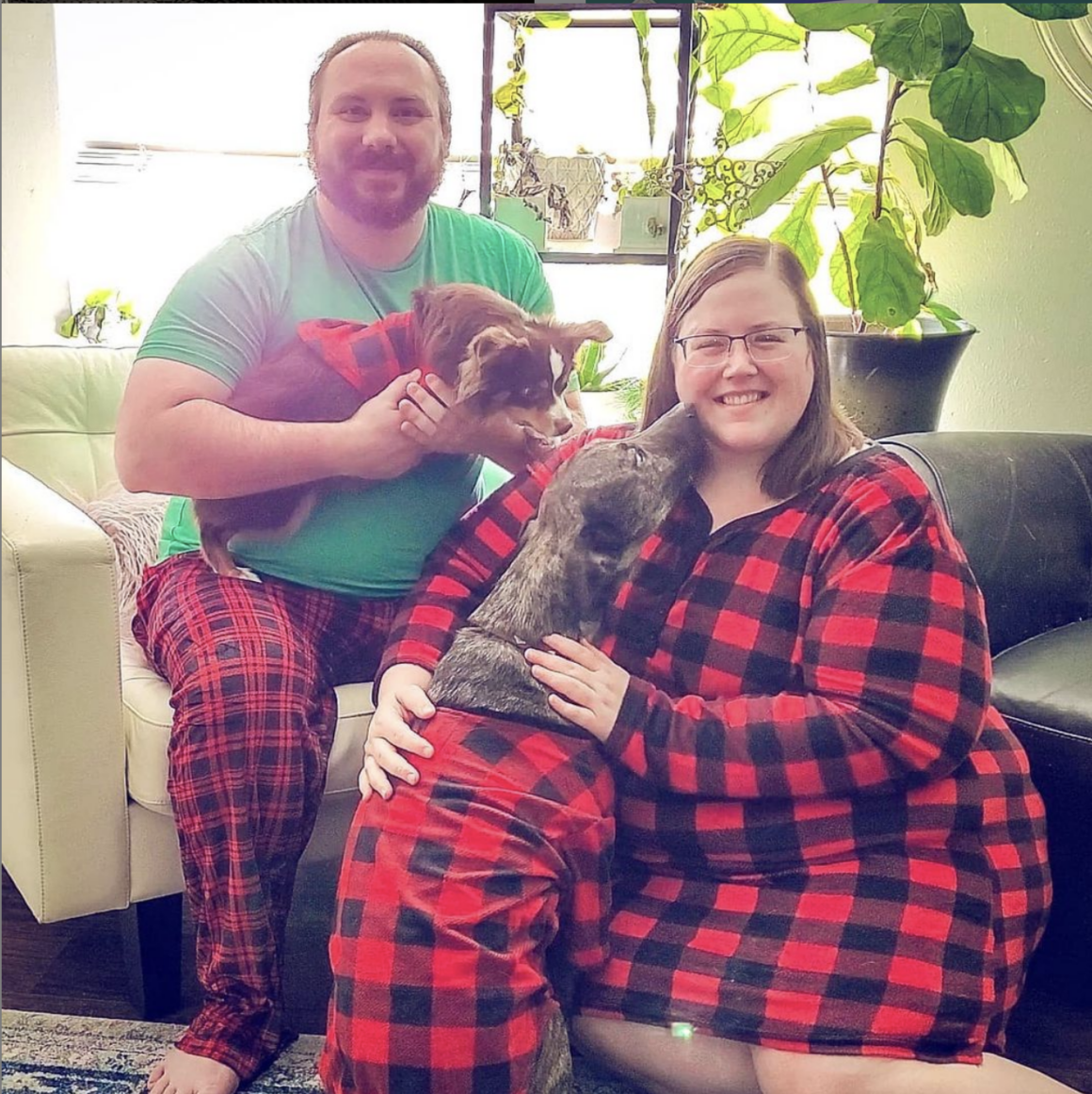 In 2020, I did a combo method! The black and white buffalo check is such a ubiquitous holiday theme that you could easily mix and match from places and styles. I got Jacob's pants and the dogs' outfits from Walmart and my cozy dress from Amazon.
This ended up costing $24 for my outfit, $15 for his pants, which are thin enough that he re-wears! and $5 each for the dog sets. I will say, these swim on both the dogs because i chose the wrong size and when I came back the next day they were sold out! I literally checked all three Walmarts in my area and came up empty. Be good at returns and buy multiple sizes if you're unsure!
In 2021, We went full out WALMART – I stumbled upon the in store displays early in the season and couldn't resist how easy it was to pick up affordable sets for all of us. Huge kudos to Wally World for stocking plus sizes right in with the straight. Since all our sizes were there, for less than $40 we got some super lightweight and cute blue suits and dog outfits. Because these were so thin, they were perfect for our Texas pseudo-weather. This year we shot our family photo in front of The Ag Wagon – my giant project for the final quarter of the year.

In 2022, we're not buying any new items, instead doing an assemblage of previous Christmas pjs! Photos to come!
I also show how to get great Christmas pics with your phone in this TikTok video! Follow me @budgetgirl
TOP TIPS:
SHOP EARLY
Retailers stock up around Halloween on family Christmas pajamas and THEY DO NOT RESTOCK.
So you end up finding the CUTEST sets and they don't have the sizes you need. I was only looking for him, regular XL men's size, and a plus size women's option for me, and it was near impossible. This year I want to get matching ones for our dogs, a 7 pound mini Aussie and a 50 pound Mountain Cur.
GET CASHBACK
Ratuken (formerly Ebates) is offering 2-9% CASHBACK on several of these sites. I've gotten hundreds of dollars back on stuff I was already going to buy by installing it on my browser.
It also searches for coupon codes for you and just generally saves you money.
Install it here: You won't regret it. I got $7 back on my PJ purchase, which I consider a great discount!
Here are the best options I found through my research.
Easiest/ Best Quality Option
PajamaGrams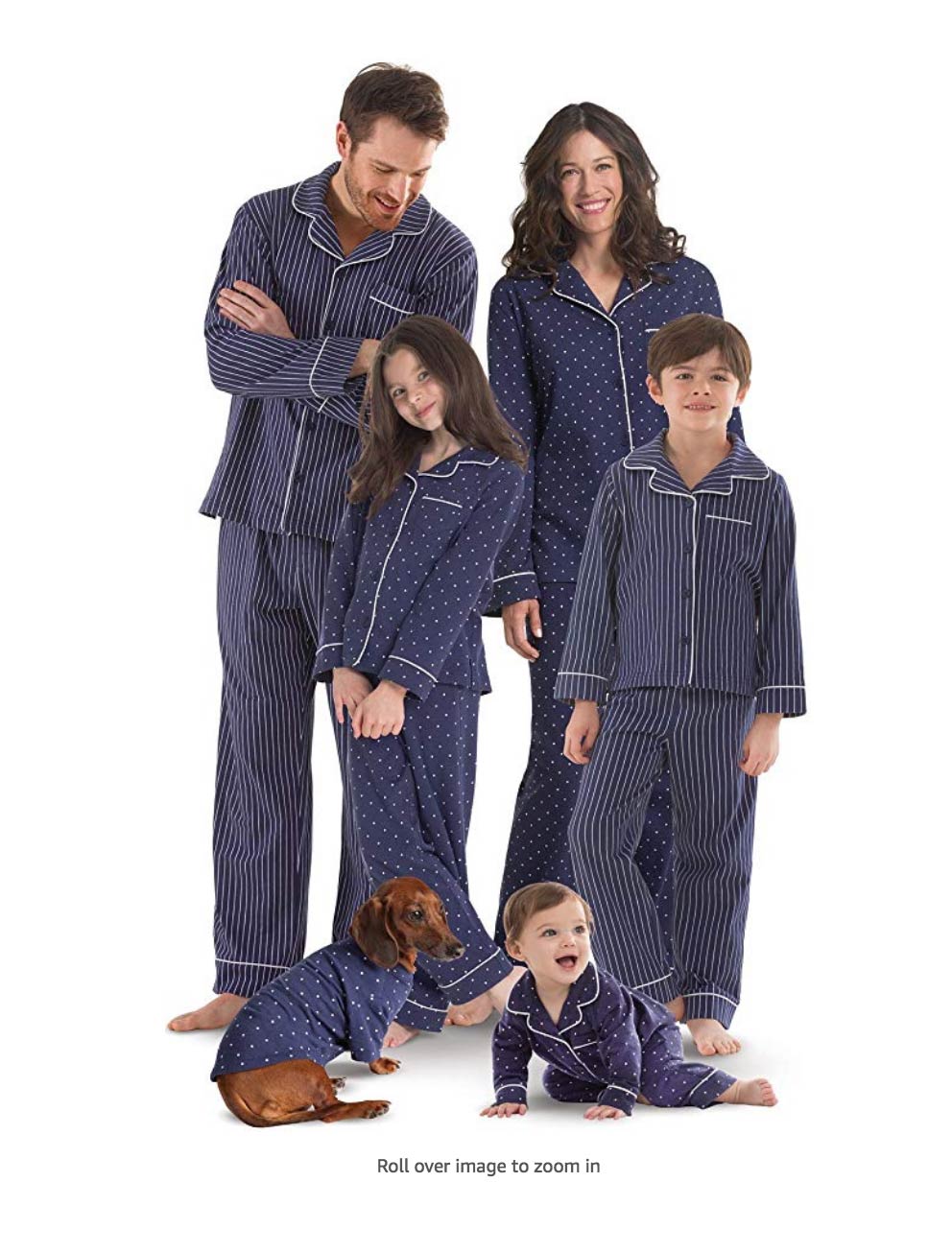 My favorite set: https://amzn.to/31T6Tas
PajamaGrams has a ton of adorable options on their site and also on Amazon, where you can get free 2-day shipping for all the procrastinators out there. But they are by far the most expensive option.
Pros:
Wide size selection (XS-3X)
Options for pets
High quality flannel and cotton sets
Great reviews
Can order for the whole family from one page
Free returns through Prime
Cons
Adult sizes are $50 each (though if you search for the adult sizes individually they go down to $40-$45)
Pet/ Kid sizes are $15-20 each (which adds up fast)
Similar sites: Hannah Anderson is similar to PajamaGrams with similar pricing but no plus size or pet options.
Cheapest Option
Patpat.com is the cheapest option I found online. Wish runs a close second. Before I ordered the Old Navy Pjs last year, I tried a wish pair, paying special attention to the sizing, but what came in fit neither of us and we ended up donating them.
BEWARE OF SIZING AND QUALITY ON THESE SITES. The ethical production of these is also suspect.
Pros
Decent selection of cute styles
Under $20 sets, many around $15 each
Cons
Suspect quality
Few sizing options for kids and adults (no plus, limited kids)
Sizing runs way off
Reviews generally bad
Long shipping period
Long and short, I'd spend a couple extra bucks on another place just to ensure you get the pjs and they don't die in the wash.
Good Options Worth Considering
Walmart
Walmart used to exclusively source their PJs from third party retailers and have it available only online – but things have changed the past couple of years!
They now have a couple racks or displays in limited patterns and sizes, and I think they'll likely expand more this year!
Last year they also stocked various holiday tee's, which could easily be combined with a matching pant to make a family set that matches, but leaves room for individuality!
I ended up buying my family plaid pants in 2020 and got everyone a funny Christmas tee that matched their personality and it was a big hit!
I was also able to get silky, stretchy and soft buffalo check pants for our group from the mens and women's pj sections, which were much more comfortable over the traditional fleece sets. You can absolutely mix patterns and have fun at Walmart if you're trying to source a unique set! Highly recommend!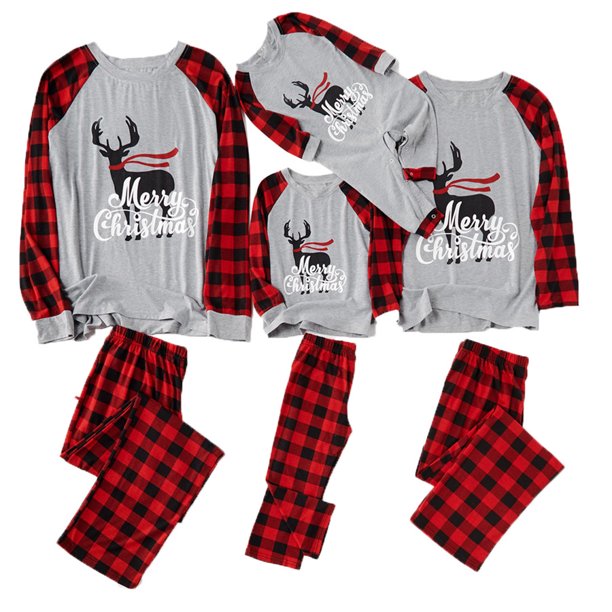 Pros
Size inclusive up to 3x and some stores may have pet options (1/3 of mine had pet stuff)
Decent quality
GREAT PRICES! Under $20 sets, many $5-15 each!
Cons
They do not restock the displays, once your size is gone, its gone!
These deals do not exist online for the most part. It's in-store only for the patterns they stock and they only have 3rd party site stuff available online.
While they have a variety of tees, the traditional sets are usually only available in 1-2 styles.
Long and short, If you don't want super unique stuff at a really good price, and can move fast, Walmart might be perfect for you!
Target.com
Target is an easy place to source Christmas pajamas with a decent selection and a moderate price.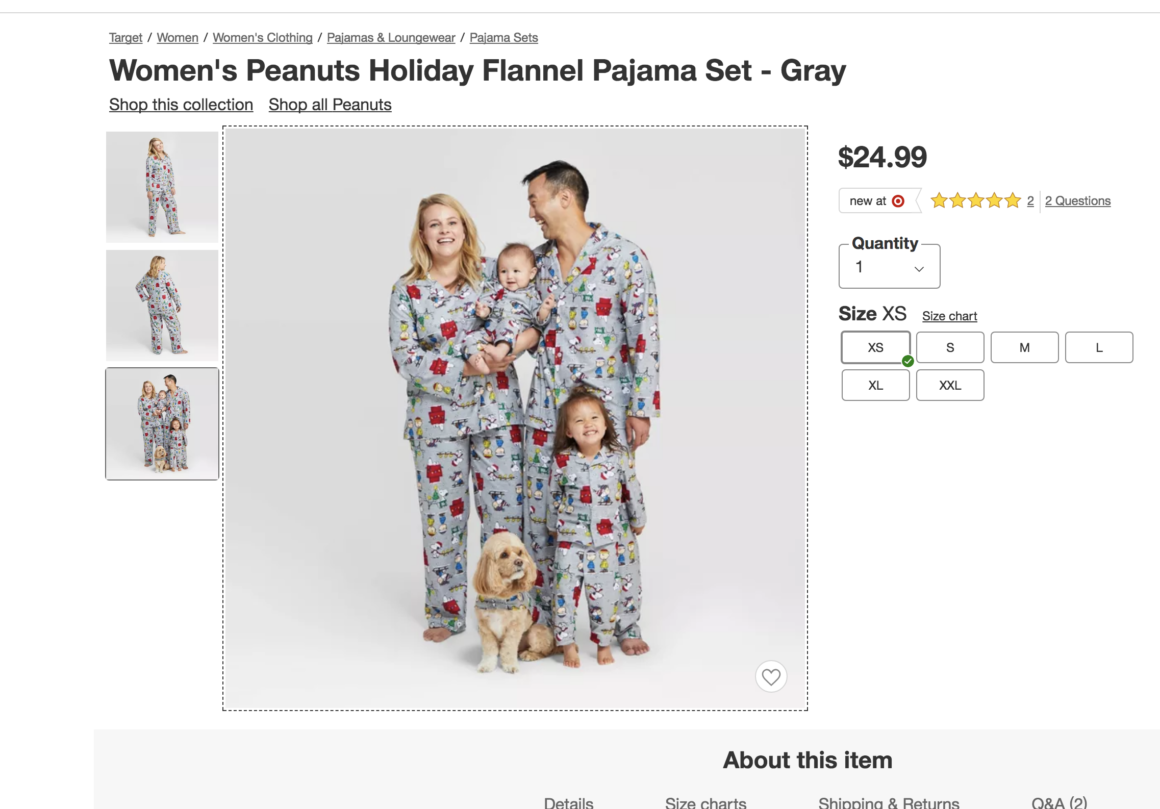 Pros
Decent selection of styles
Has some specialty partnerships like Peanuts, Grinch and Star wars
Some plus size options
Some in-store availability
Moderate pricing at around $25 a set
Cons
Terrible website options for navigation (it is impossible to find the sets together and you have to tab through all pjs to see them)
Pet costumes, if available are on a completely different area of the site
Picture unavailable options – such as pet costumes for sets or plus that aren't out of stock, they just don't carry them
Mostly flannel options
Just okay quality – not stretchy, frays, weird fit according to reviews and personal experience
Old Navy is easily accessible and fine, but not my fav option.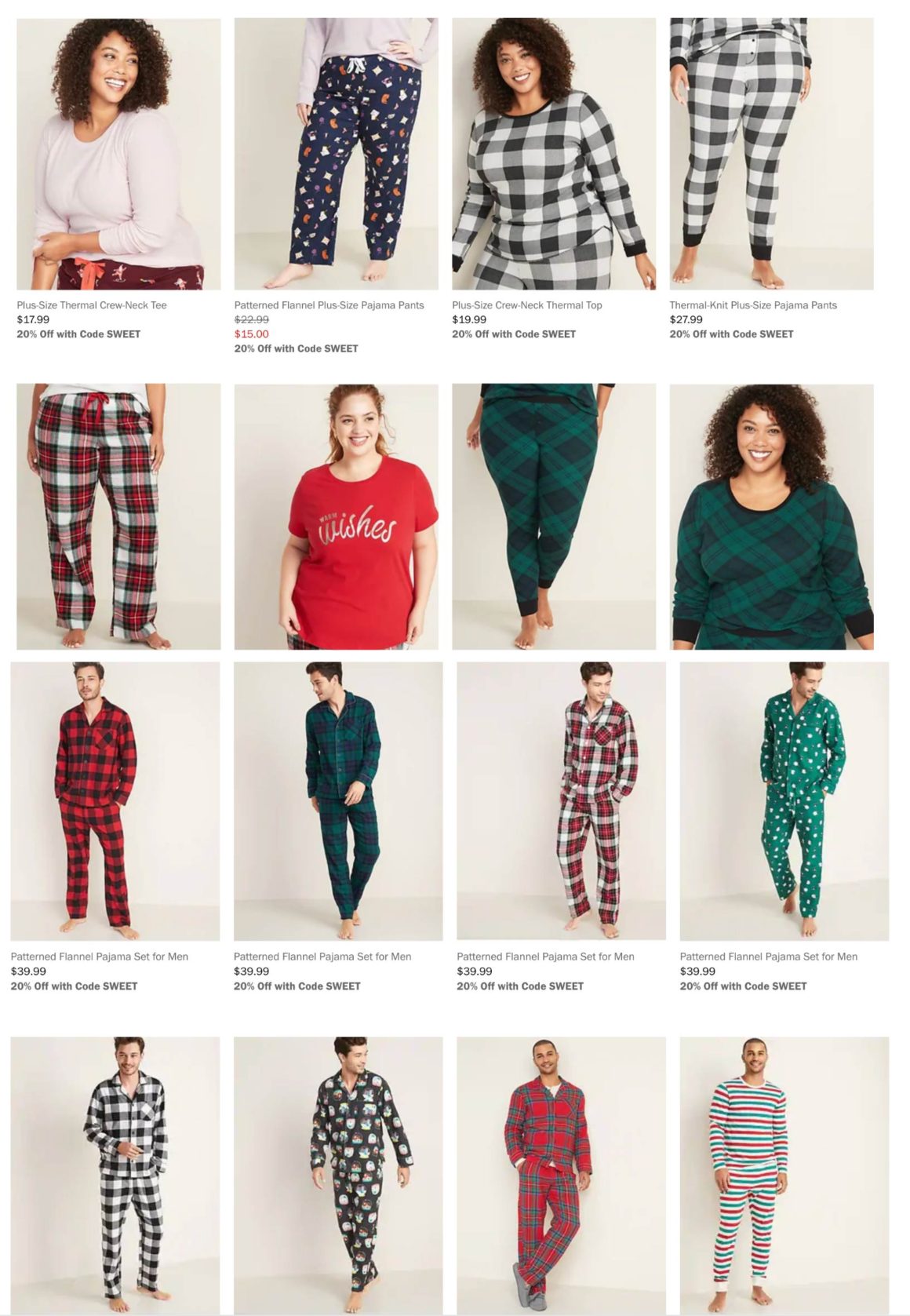 Pros
Wide size range for adults and kids (XS-3X)
Simple but cute patterns
Thermal options
Can buy pieces separately, pairing tees and pants or full sets for most
Moderate pricing with coupons
Good quality
Cons
Limited patterns, and many don't translate well to photos
Only Thermal or Flannel options
Hard navigation – sets aren't listed together but you have to go to each gender's loungewear tab and compare to see if its available.
Many styles only available for men or women or kids
Stiff fabric, not stretchy
JC Penney
JC Penney comes THROUGH year after year. They didn't show up in any of my searches for "Matching family Christmas Pajamas" but when I went directly to their site, I found the largest selection at the cheapest price. I ended up buying two full adult sets of pjs in the most adorable style for $45 after shipping to my local store and a coupon. Original price for these was close to $90.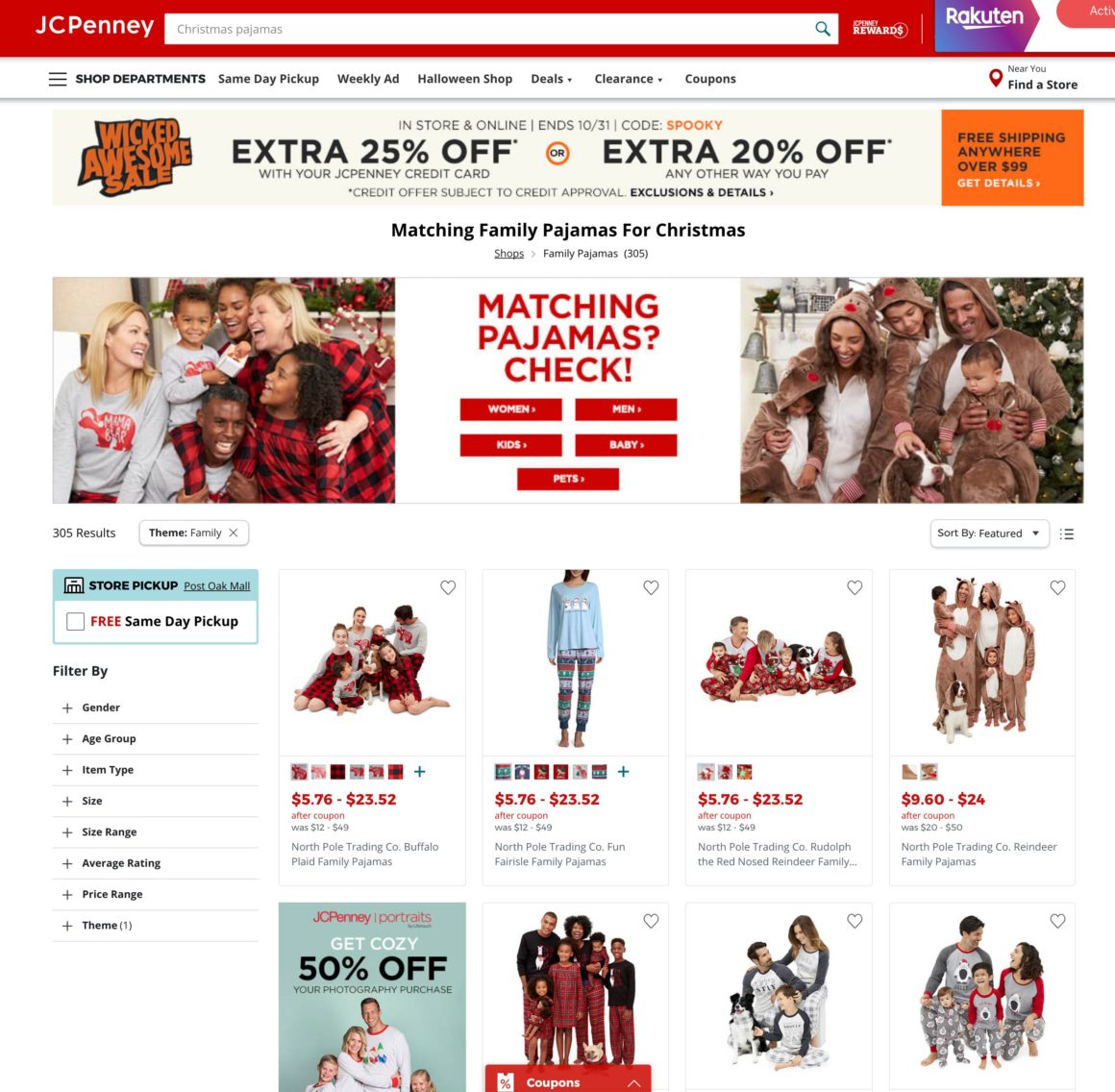 Pros
The MOST options out of all the sites, with nightdresses, leggings, onesies, pets, etc. for each style
Easy to navigate, with costumes grouped and searchable
Unique styles I didn't find anywhere else
Flannel and cotton options
Wide size range for adults kids and pets
Cheapest for good quality
Everything is already on sale
Extra 20% off with code "spooky"
Cons
I ended up buying the adorable YETI Christmas set which is photo matchy matchy but still unique between the gendered costumes. It looks comfy, is cotton so we won't overheat and should be perfect to lounge in all day. I spent $45 for both, but it's two full sets and I'm certain we will wear these far past Christmas. I also got $7 back by using Ratuken. Try it here! It's free and saves you money!
Similar sites: Kohls also has similar sales and styles, with slightly less selection.
Options I wouldn't Recommend
Lazyones
Lazyones.com is a mid-range online option with a LOT of accessories like bear shoes, hoodie dresses, mugs, toys and books that are on theme with the holiday pajamas they offer.
Unfortunately, they are not very size inclusive, only up to a 2x and only on some items, and many of the styles are offered in lumped sizes such as S/M or L/XL. The quality appears along the lines of Wish or PatPat, likely made internationally. At a $40-average price point for items, I think you can probably do better.


If you want to match from robes to keychains and notepads to dog toys, this site does have a LOT of options and does some cute pattern matching.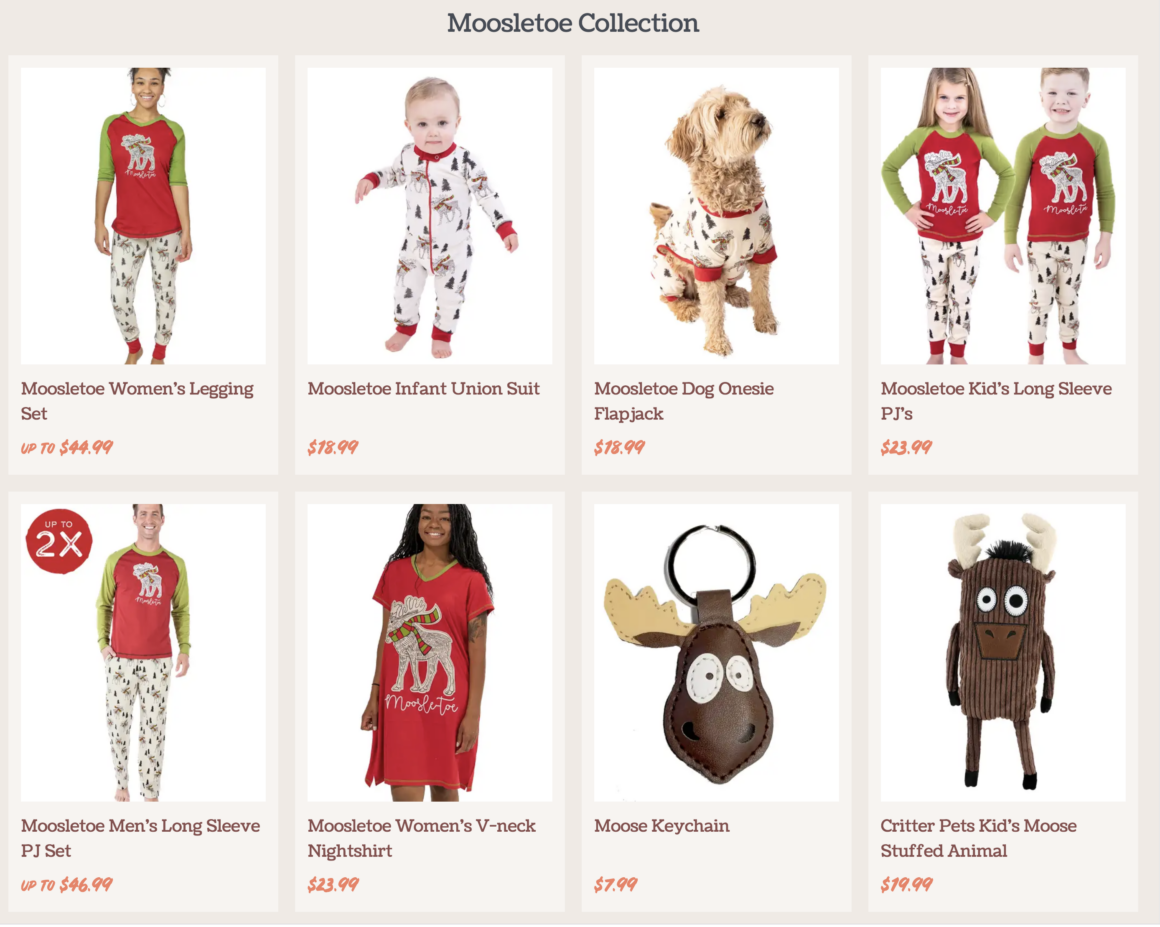 Pros
Decent selection of cute styles
Many additional options for accessories

Cons
Suspect quality
Only up to a 2x and only on some items, plus size beware!
Website isn't very intuitive and you have to click several times to get to what you want
Reviews generally bad
Long shipping period
Long and short, Likely more expensive than is worth it, but you may end up with some slightly more unique pjs than at other sites.
Similar sites: Walmart.com, PatPat, Wish
Amazon
Ah good ole Amazon. It has gotten a little better but finding complete sets for families is a bit of a crap shoot.
While there appears to be a LOT of cute options, nearly all of Amazon's offerings are from third party sources and of suspect quality.
But the biggest reason I avoid shopping for holiday pj's at Amazon is that it is very hard to find a full set, even for a small family.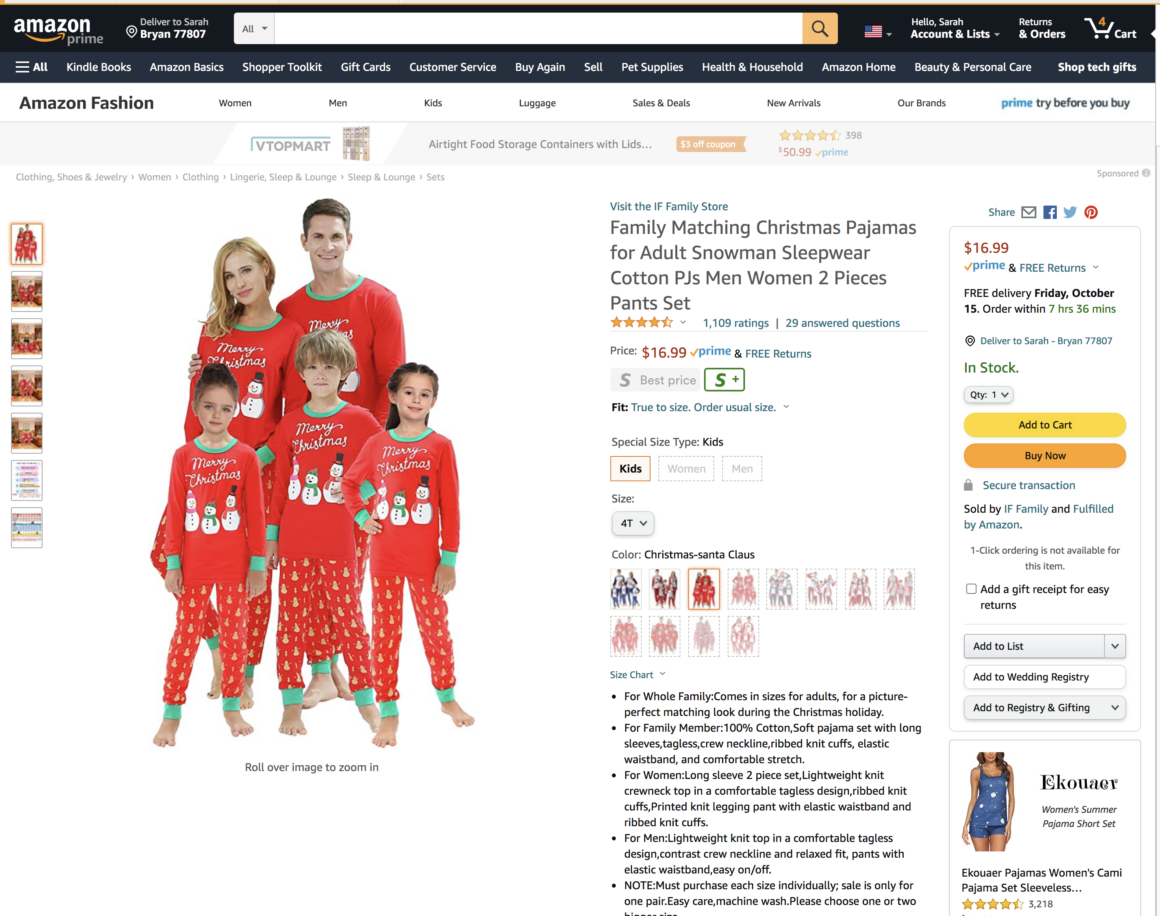 This set is available in 12 patterns and one offers adult sizes. If you're searching for a specific generic pattern like buffalo check, or red pj's, you may be fine, but it's definitely easier to search for multiple sets on other sites.
Pros
Lots of options
Fairly fast shipping
Options for gowns, pets, accessories
can be affordable
Cons
all third-party sellers
suspect quality and sizing
very difficult to find sets for families
Takeaway: I'd use any of the other sites on this list before spending another afternoon disappointed on amazon.
Other options
Mix and Match
I bought our adult pjs from JC Penney one year but plan to source our dog costumes elsewhere in the future. We already have these adorable elf pjs I got on clearance last year for $1-2 each (remember to look for steals after the holidays for pet stuff!). We'll either use these or get simple red dresses for the girls through Amazon. Rory already has one, also gotten on clearance last year, so it would just be one for Maggie.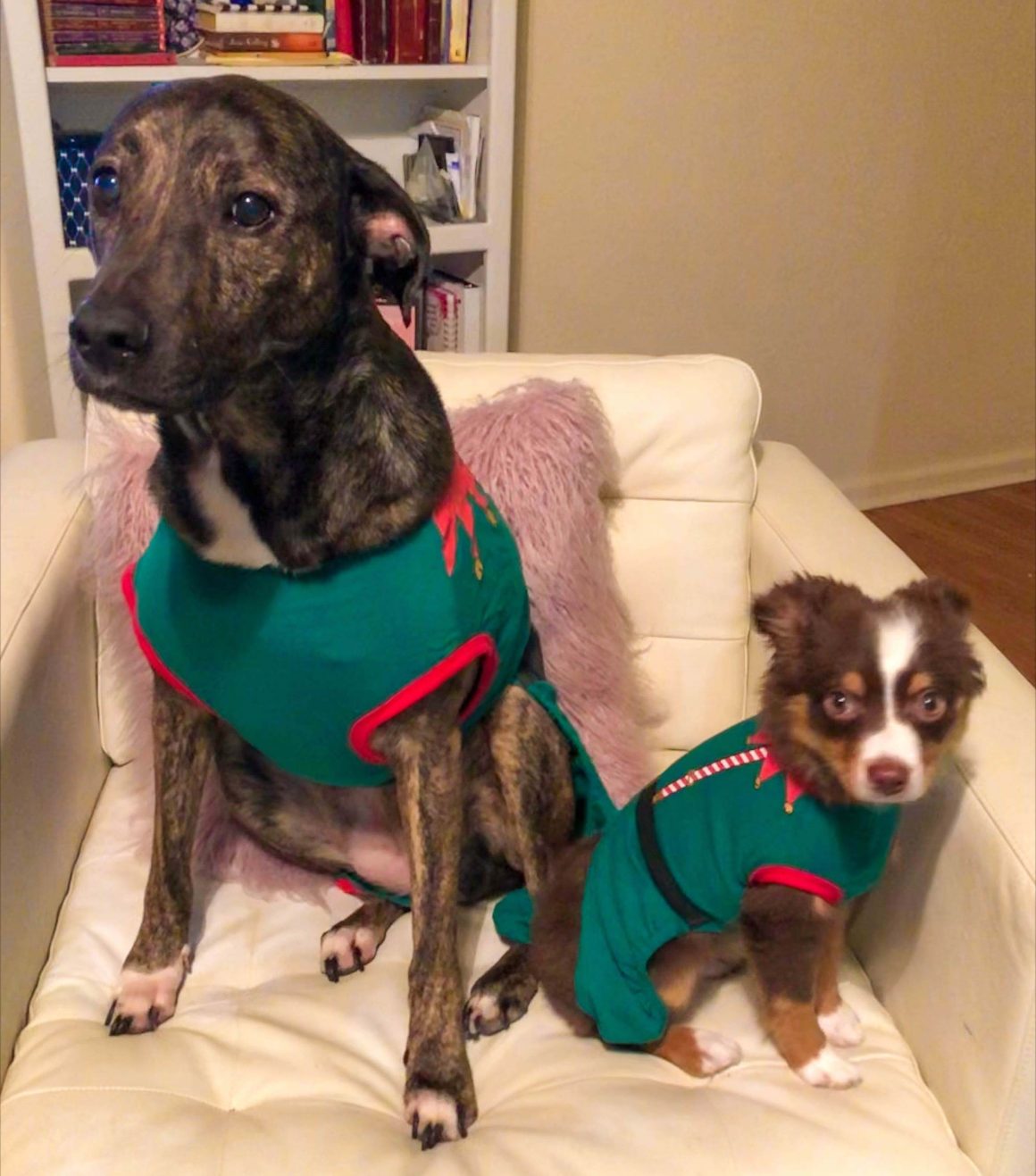 ONE MORE
Update: My friend Lydia Senn at Frugaldebtfreelife.com recently talked about some adorable matching Christmas PJs she found at Dollar General for just $10. They also sell online and offer plus size options. if you can find these in your local store, they might be the steal of the holiday season!
I've been looking, but have not seen these in store or online for Family Dollar or Dollar General yet this year (2021).
Shipping issues will be rampant this year, so shop early and snag sets as you see them!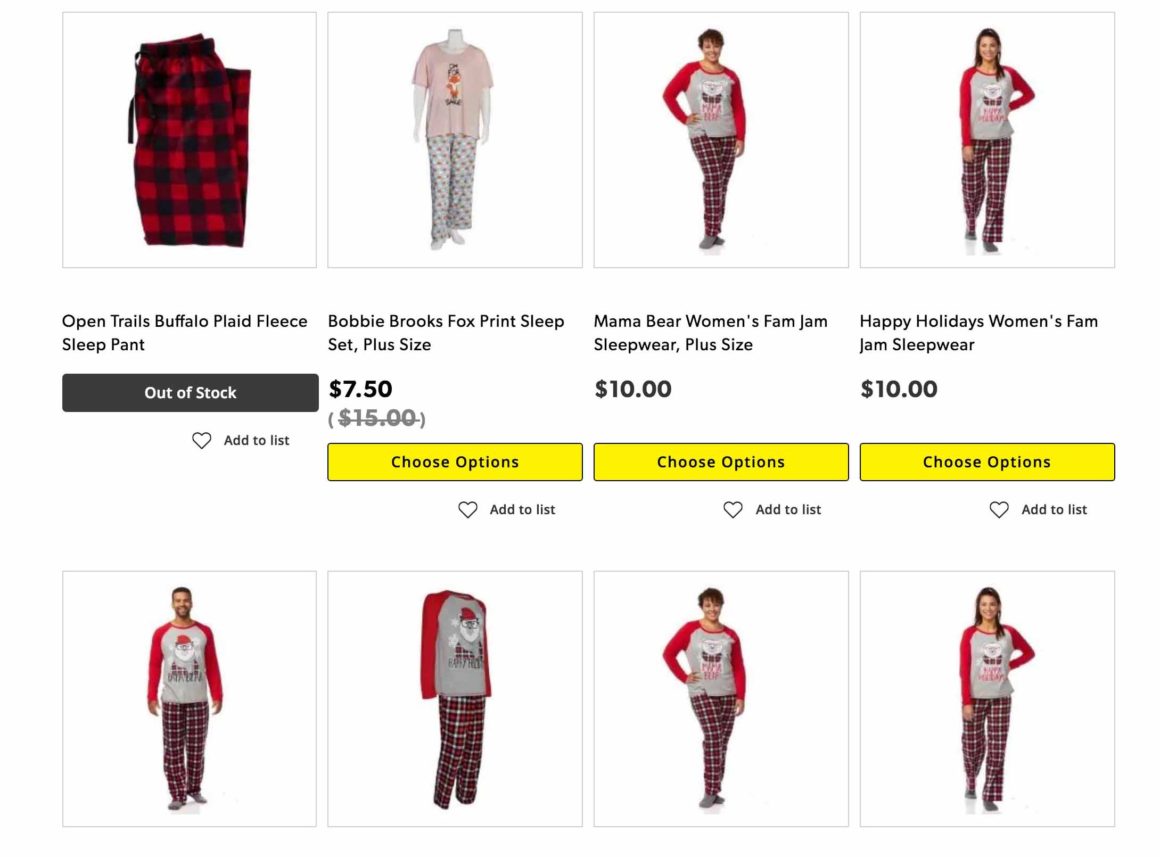 Happy Christmas PJ shopping! May you spend within your budget and stress out as little as possible. Merry Christmas.
-Sarah