Have you seen the prices of food lately? Inflation is getting out of hand. Luckily, there's a way to slash some of the costs associated with Turkey Day. Here's how to get a FREE Thanksgiving dinner from Ibotta! 
Ibotta, which is a cashback app that rewards you for scanning receipts. (Yours or others) They use this information to track purchasing trends and promote certain items with coupons, and give you a tiny cut of the profits. So don't toss those crumpled receipts!
They launched this promotion last year and tons of people took advantage, snagging a $30 haul of groceries, meant to feed 5 people a traditional Turkey day dinner, for FREE after the cash back.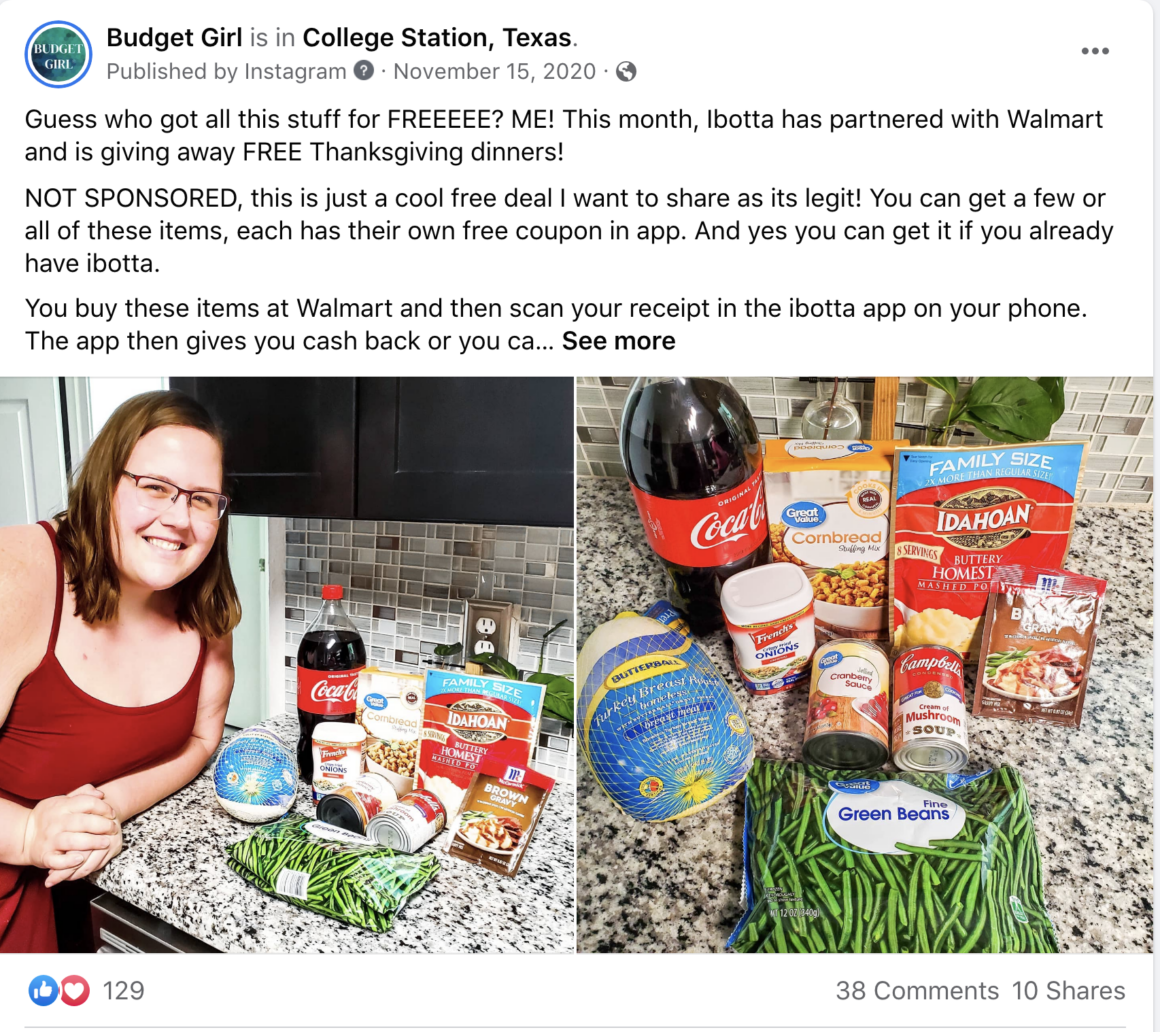 It's harder this year
Ibotta might have brought back this deal, but they've decided to make you jump through more hoops to take advantage of it:
New users can automatically take advantage of the offer
Existing Ibotta users will need to refer someone to unlock the offer
Are they trying to artificially inflate their user numbers or annoy current users? Either way, the answer is yes. 
But wait, there's more!
Once you accept the offer, you have a limited time to actually redeem it. In my case, I only had 6 days to redeem the offer for the soda, 4 days for the soup, and 3 days for the frozen vegetables.
How does it work?
Every year, Ibotta pairs with Wal-Mart to give you cash back on certain items. After you download the app, you scan your receipts and receive cash back on qualifying purchases.

Please note, this is not a voucher, gift card, or a guarantee. You have to find and purchase the items yourself in order to receive the cash back. Yes, that does mean that the stores might sell out of certain items. 
After making your purchases, you scan your receipt and will be given the money as an app credit, which you can transfer to your bank account. 
OR If you shop online, you use the app or website to link your card so they can verify the purchase. You can actually link your Walmart account to your Ibotta account so that it automatically sends your purchase for verification.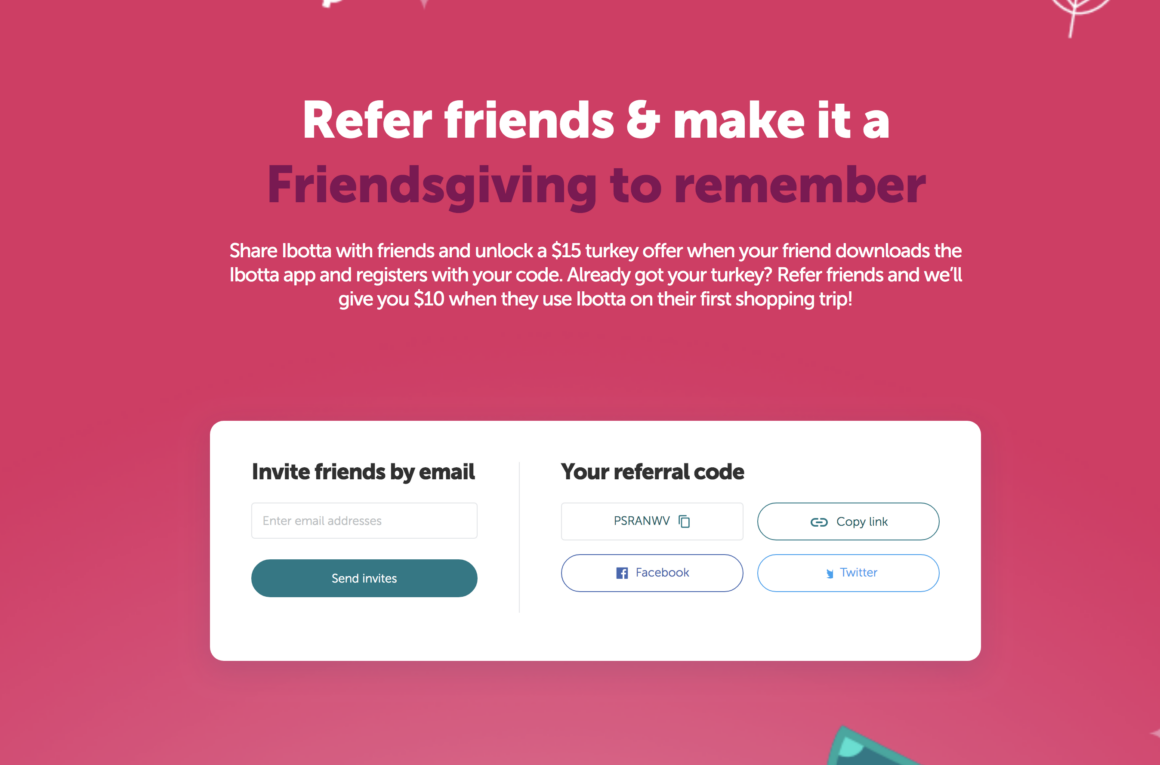 How do I take advantage of the offer?
Download the app, sign up, (feel free to use my promo code PSRANWV) and go shopping! 
Note: if you are an existing user, you have to refer someone (and they must download the app on their phone) to receive the turkey offer. 
If you get stuck, check Ibotta's help page.
Do I have to shop at Walmart for this deal?
Yes, they specifically partner with Walmart for this promotion, and you'll notice that some of the items are the Great Value brand. You can see the qualifying retailers for each deal in the app. 
What are the qualifying items?
Campbell's Condensed Cream of Mushroom Soup 10.5oz Can (limit 1) – free after cash back
Great Value French Fried Onions Fried Onions 6oz (limit 1) – free after cash back
McCormick Turkey Gravy Seasoning Mix 0.87oz (limit 1) – free after cash back
Birds Eye Frozen Vegetables 10oz or larger (limit 1) – free after cash back
Idahoan Mashed​ Potatoes 8oz (limit 1) – free after cash back
Great Value ​Canned Cranberry​ Sauce 14oz (limit 1) – free after cash back 
Great Value ​Stuffing 6oz (limit 1) – free after cash back
Jiffy Corn Muffin Mix 8.5oz (limit 1) – free after cash back
Coca-Cola 2 Liter Bottle (limit 1) – free after cash back
$15 off any Turkey (Ibotta referral requires) (limit 1, 3 pound minimum) – free after cash back
Note that it specifically has to be these items. If you place a grocery order and they substitute an item, it won't qualify. When in doubt, scan the item's barcode with the app. 
All offers are limited to one per Ibotta account. If you already have your family's meal planned, or just want to give back to your community during these trying times, consider donating these ingredients to your local food bank or to use your cash back to make a donation to a local charity.
TIP: If you order for grocery pickup, make sure to select "no substitutions" as the coupons will not work for those!
What happens if I can't find some of the items?
Supply chains are having a rough time of it. Some items might be hard to find. Ibotta also says that some items might sell out due to high demand, so don't sleep on this offer.
Do I still get the cash back if I can't find the items?
Yes, you can take advantage of any offers for items that you are able to find in the app and purchase.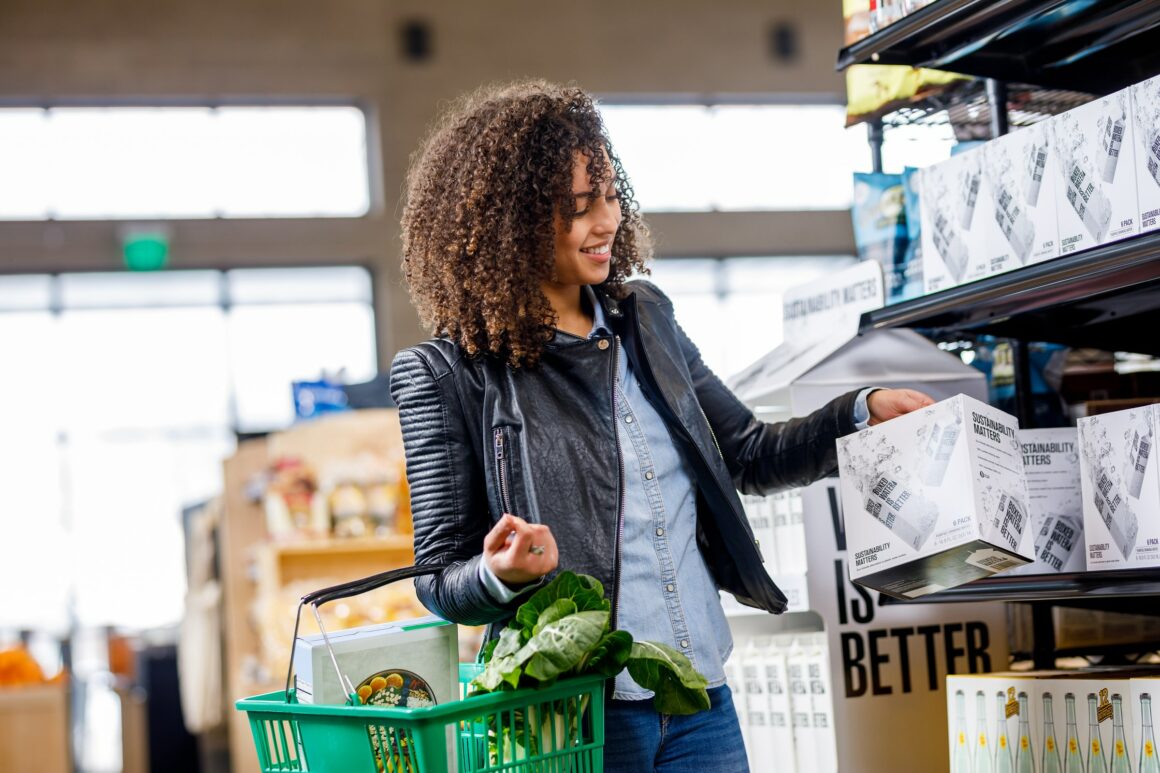 Budget Girl's take on this year's promotion
I'm still going to take advantage of this promotion. However, I'm not going to pretend that it's as good a deal as before. I don't like the extra hoops that you have to jump through to redeem this, and I'm really not a fan of these arbitrary time frames on some of the items. 
Ultimately, it's still savings, so I would recommend taking advantage of as much of the deal as you reasonably can, but don't inconvenience yourself.