I love holiday movies – but more accurately I love to hate on this crazy genre of flicks.
I find the low-budget, horribly written, plot-hole filled messes of cinema HILARIOUS and love to see all the cliches poorly acted over and over. And if it stars a person I kind-of remember from a childhood Disney or Nickelodeon show, all the better.
So how do you make overdecorated, red-and-green wardrobe-filled, secretly he's Santa/ royalty, non-copyright sound-laden experience better?

Drinking game —- joking. (kinda, I'm definitely not responsible if you use this as a drinking game.) May I present… Holiday Movie Bingo!
These make terrible holiday movies even MORE fun!
Perfect for family movie night, friends get together or even long distance movie night because pointing out the cliches can help you appreciate how wonderfully terrible these are. Get ready for laughs and the fun kind of arguments about if the crazy qualifies for the highly specific tropes.
Examples:
Actor was famous once
Wacky misunderstanding
She is a writer, baker, or photographer
He's secretly Santa/ Royalty
Weird local tradition
Can't leave because of the snow
Magic exists
Christmas cookies/ baking scene
Character has holiday-related name
Clumsy characters crash together
Wacky quest/ misunderstanding
Premise based on a fairy tale
Non-copyright Santa

Instructions:
Print out or download the bingo sheets below. Pick one of six cards, or fill out your own and play against friends or family to see who can get BINGO first!
If you're playing on your phone, use the markup function within your photos to mark your board.

I also highly recommend you make it a full theme night with your holiday pajamas and snacks.
Terrible movies I highly recommend for holiday bingo:

With descriptions only from my memory.
Falling For Christmas – Lindsey Lohan comeback movie where they spent all the money on flattering lighting design. Also Trouty mouth from Glee!
The Holiday Calendar – Witch girl from Vampire Diaries is charming but shocked when her things become sentient. Also she's a photographer of course.
A Christmas Prince (and sequels) – Short blonde izombie star somehow gets a trashy magazine to send her to a foreign country for a story, falls in love with prince played by a cardboard cutout.
Holiday in the Wild – Charlotte from Sex and the City goes to the outback. Westley from the Princess Bride dips his toe into holiday movies.
Holidate – Emma Roberts does the friends with benefits thing to keep toxic family off her back.
The Princess Switch (and sequels) – Vanessa Hudgens plays multiple characters with increasingly terrible accents.
The Christmas Chronicles – Your boomer family will love this. It stars people they like and therefore got a huge budget that was mostly spent on special effects.
The Knight Before Christmas – V. Hudge takes in a hot, mentally ill homeless man. Still better than most men on Tinder.

A Castle for Christmas – Grumpy Princess Bride gets woo'd by the lady from Baywatch I think? Empty nester mom fantasy.
Noelle – I genuinely love this movie. Anna Kendrick is a pip and I hate she has a reputation for being awful IRL.
Misletoe Mixup – The Lawrence Brothers from Disney star with an utterly and intentionally forgettable female love interest in a truly awful excuse to get all their family a paid vacation and IMDB credits.
What is your favorite holiday movie cliché and what would you add in on the build your own bingo sheet?
Get the Bingo sheets!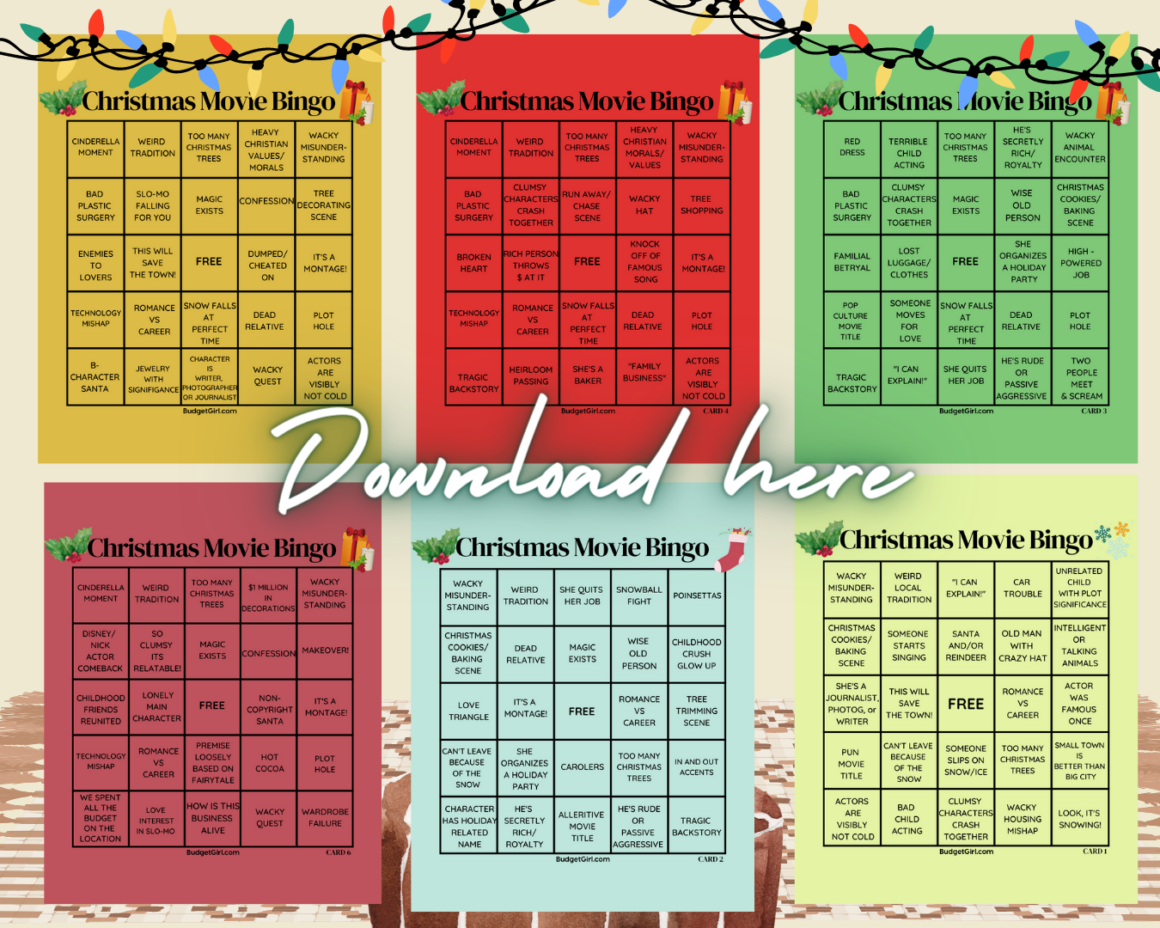 Happy Holidays!