The time has come for my little ladybug (a 2006 Kia Rio hatchback with 182k miles) to go – I've loved this car. I bought it for $3,000 cash and it's lasted almost four years with minimal maintenance. In fact, it's cost me less than $1,000 per year to drive, including the cost of the car. Want to know how and my top tips/rules for buying used at the best possible deal? Read on.
After I became debt free two years ago, I saved up a $10k emergency fund that made me fell SO MUCH more financially secure and prepared for emergencies. I also saved $5k for a new car when this one started to go out or get too expensive. That money has been just sitting for a while but is about to get used.
I've been asked a hundred times why I'm still driving a beater even though I'm debt free and could afford something better.
I'm not a car person, not in that I don't know about cars (but also that), but mostly in that I could not care less about what I drive. I just want the best deal – as in a car that will go and be as small of a cost as possible for the longest period of time. This car came out to about $700/year not including a few minor fixes including battery, tire replacements, a belt, liability-only insurance and gas. Add in all those and my car cost is still under $1k a year – LOVE THAT.
I'll also be able to sell Ladybug to a local dealer who will send her to auction for $1k spicy dollarinos. Deduct that from my overall car costs and its clear that I got my money's worth, especially when you compare it to more "normal" American car habits, where a person finances a $20k+ new or newish car, pays around $400-500 per month (most of which is interest), keeps it for five years and then trades it in for something newer. During that time they've also eaten thousands of dollars in depreciation.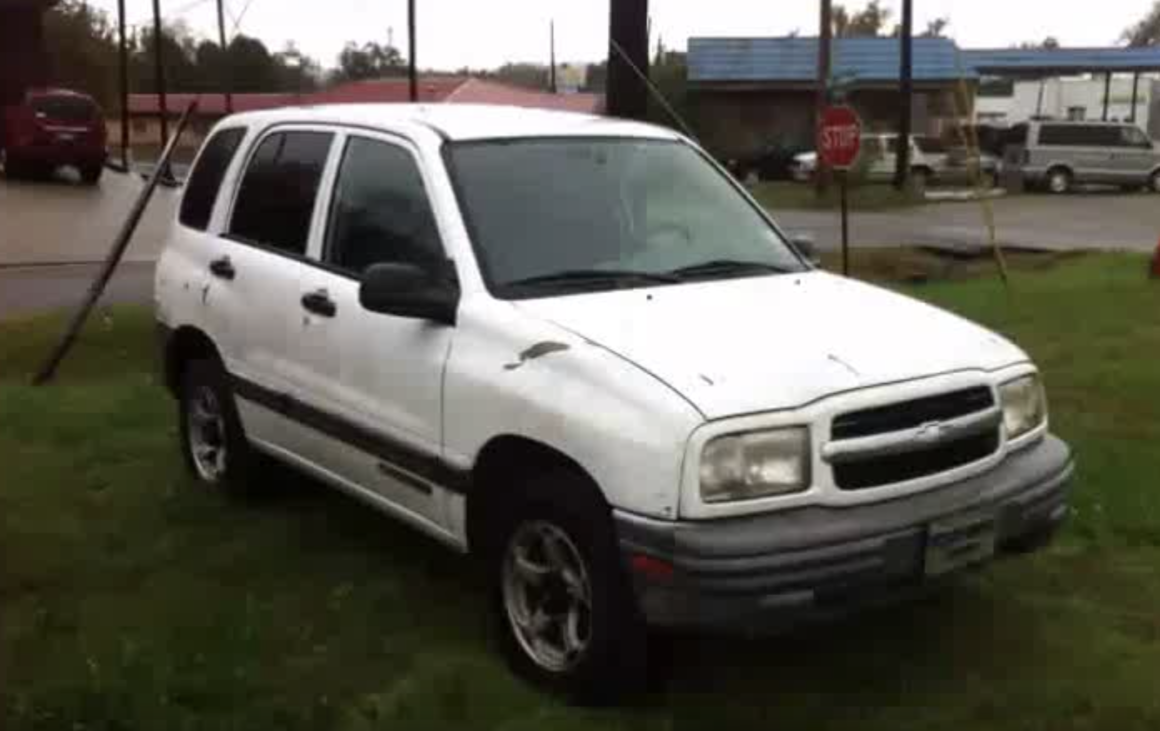 I did even better with the car I had before that. A Chevy Tracker of a now-forgotten year, I paid $2k cash and it also lasted about 4 years, though the A/C only lasted 3. It served as a $500 trade in towards the Kia when parts fell out that truly befuddled the inspecting mechanic.
The paint was peeling off and I got seriously judged by coworkers and even one boss, who was a car guy and knew I could afford better, but once again, by not caring what I was driving I was able save tons – which went to paying off my student loans. But I was driving for around $500 a year. Public transport fees will cost you more than that.
Where my mindset is different than most is that I don't consider my car an investment or an asset. I consider it only as an expense and try to keep the cost, like all my bills, as low as possible. I don't even count it toward my net worth.
When you think of your car as an asset, you worry about resale value, how much different features are worth, the popularity of the brand…. but in reality all of those are silly. Every car depreciates, every car costs money to maintain and run. When you consider it a bill/ expense it can free you to think about it like a tool that you need to do your job and live your life. When you're shopping for a tool, you're looking for something hearty enough to do the job and last. No one will care if your tool costs 3x what theirs did or the brand on it. I just want my tool to do its job.
Let's talk about how I know its time to let go of my beater.
Last weekend I was touring a house and my car wouldn't start after. Fortunately my real estate agent had already left (That would have been slightly embarrassing, but I'm putting all my savings toward a downpayment, so whatever). Unfortunately it was literally 110 degrees in Texas and I was stranded in a stranger's cul-de-sac in front of a wastewater treatment plant. (Which turned out to be why the duplex I toured was so cheap and also why I'm not interested in it. BIG SMELL)
I called my boyfriend Jacob to come jump start me, hoping for a bad battery as its the easiest and cheapest thing to fix. The car started and I took it straight to a AutoZone, where they tested the battery and alternator with their little robot machines. The robot decided it was my alternator, so I drove Ladybug to my mechanic, parked her and dropped her keys through the slot with a note.
The next day they called and said it was the battery, an easy $150 fix. But knowing the shape of the overall car, I asked them to do a full vehicle inspection to anticipate any upcoming repairs. (Free with a oil change for $40, which I also needed.)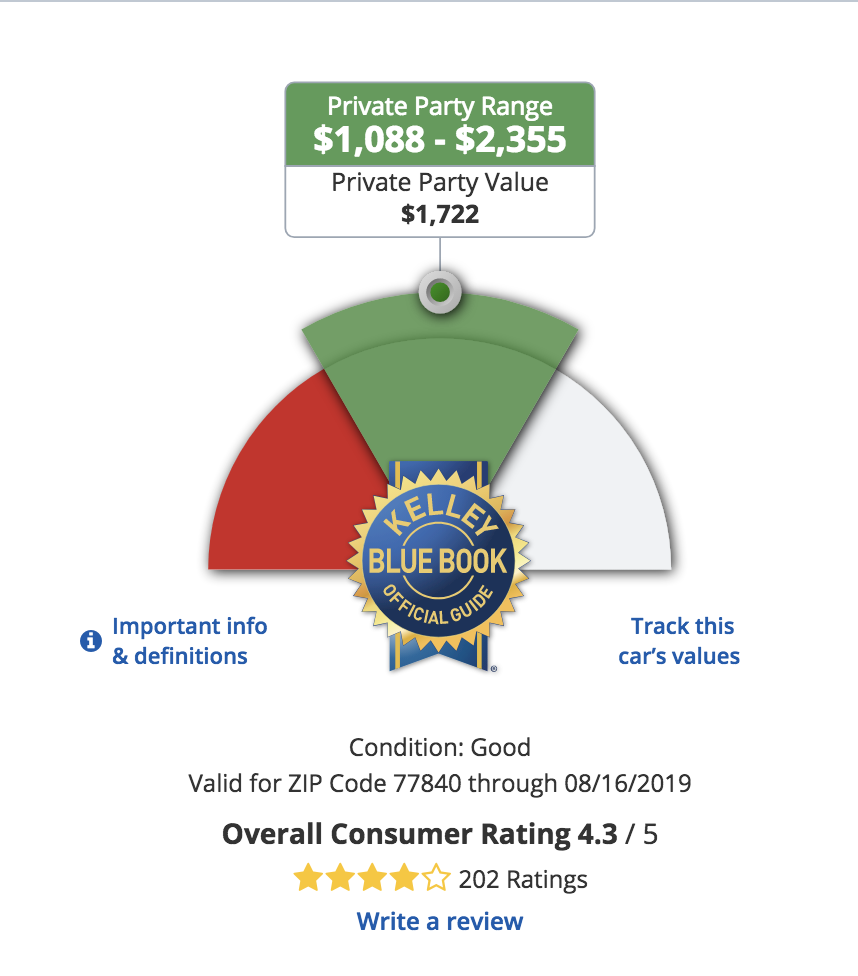 They came back with the news I was anticipating and prepared for. A funny noise they heard near the engine was determined to be a valve tray problem that would require extensive and expensive work a la around $2k. BAM. That's the worth of the car. They also said I was down to 25% on my brakes, which would cost another $300ish in a few months. They suggested I get rid of the car fast.
The Kelly Blue Book estimate for my car in "good condition," which it's not, is $1,088-$2k. Trade in they said $500, but a local dealer said he'd give me $1k.
I could sell Ladybug for more via FB Marketplace or Craigslist, but I know she's not going to last much longer without extensive, expensive work, and I'm just not willing to do that to someone else. (Though based on interactions trying to buy a car, I am very lonely on that moral island.)
It is not worth $2,300 to fix her. I already have to hit the dash to get the A/C to run. So time to trade up now, before she stops running entirely and the trade in value drops to about $250.
I'm very thankful for the mechanic's estimate. It made the choice easy. I had them do the same thing two years ago and they couldn't find any major issues, so I kept driving it. If I had traded up in car two years ago, I would have missed out on two more years of being able to drive VERY cheaply and save my money for other goals.
The New Car Plan
So with a car still chugging along (barely though), a deadline of a couple months in mind and my budget in cash available, I'm car shopping. After some research, I set my budget at $5-10k, the top of which I would rather not hit because I'd rather have that money for a downpayment. I'm hoping for a car or suv that is around or less than 10 years old, because at that point pretty much all of the depreciation has occurred and its also a lot cheaper to insure. I would also like to find a car with less than 125,000 miles on it. Beyond that, I'm up for the best deal and flexible as heck.
As a non-car person, I don't like this kind of shopping and its not fun for me. I prefer to take my time with deals and unfortunately, car shopping is a quickly moving thing. I've already had multiple cars sold out from under me and one person who straight up tried to screw me.
The first car I saw was a RAV4 which, while a good deal on paper, rode very roughly. The seller tried to tell me it needed to just be aligned and he would fix it, but I passed. The car also felt very big on the road and while I'm open to SUVs and sedans of any type, it wasn't super comfortable.
Next I found a 2012 MiniCooper Countryman about an hour away. Low mileage and just a couple minor cosmetic damages like dings and small dents, it seemed up my alley as most people who drive coopers are VERY into them and wouldn't like the scratches. Alas, I couldn't get out there for a couple days and it sold. No hard feelings on that.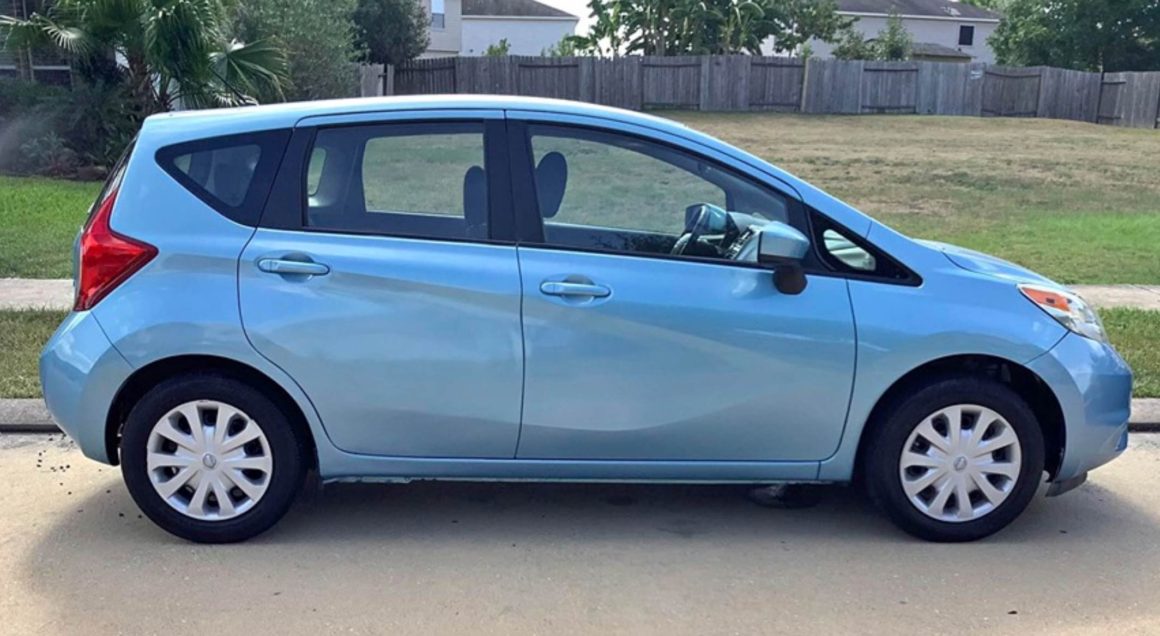 Next I found a 2012 Nissan Versa Note for $5,200, about $3k under what most of them were listed at. I messaged the owner and asked if there were any issues or problems I should know about and he said no. I looked up ratings of the car and even went to a local lot to test drive one (selling for $8,500), and liked it. I arranged to drive out the next afternoon and take off of work so I could get it inspected at a local mechanic shop. I even moved the cash from my sinking fund out.
Having lost a good deal on the MiniCooper because I wasn't fast enough, I wasn't willing to try to wait for the weekend to get it.
Before going out, I asked for the VIN so I could run a CarFax report on the vehicle. It costs $40, which ugh, but if there was something major on there, I figured I could save a trip.
CarFax came up and it had a salvage title. Meaning an accident had happened and the insurance company had decided the damages were too expensive to fix and totaled out the car.
Our conversation: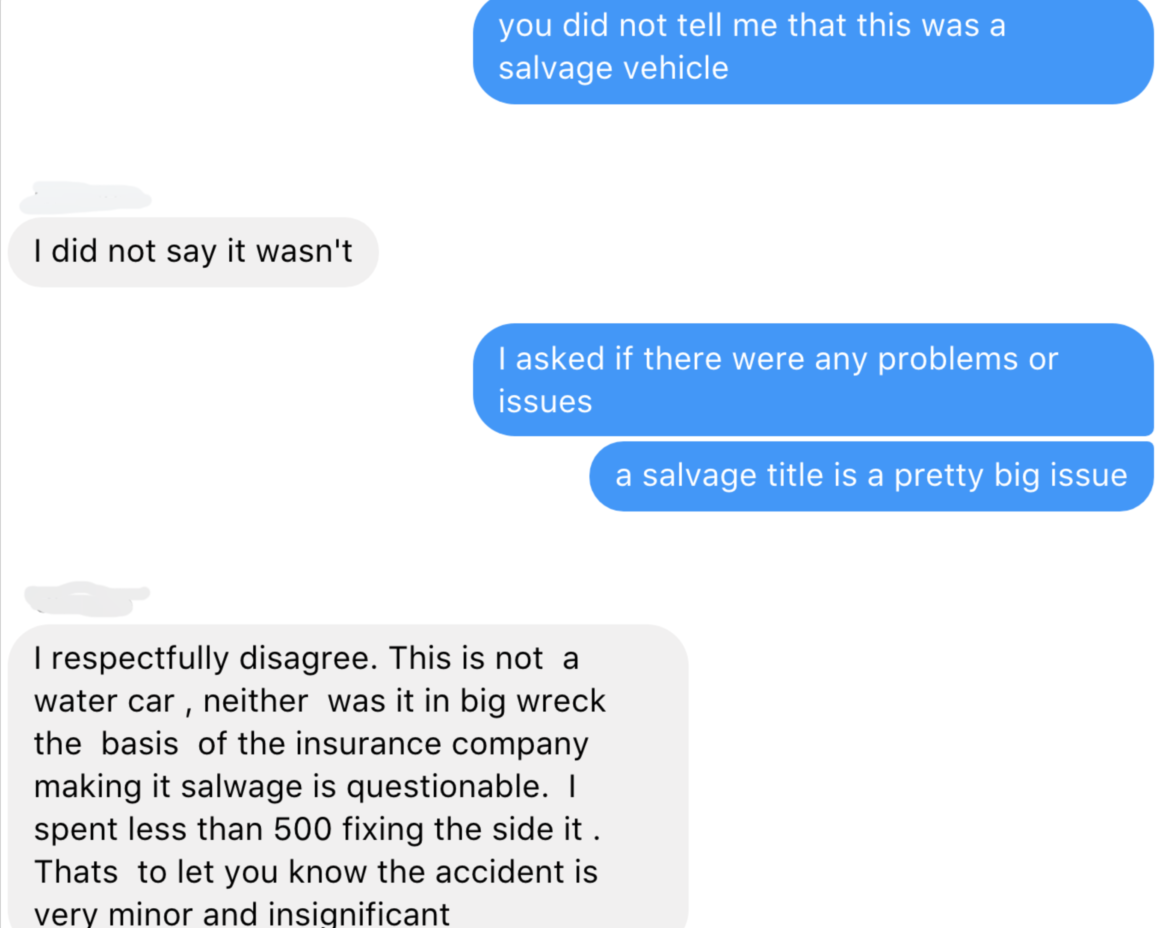 I've done my research on salvage cars and honestly hadn't completely ruled them out. I'm paying cash, so the fact that lenders won't do loans on salvage cars is moot. I don't care about resale value as I'll likely drive it into the ground, and I called my insurance company and they said they'll insure salvage cars for liability only, my preferred insurance, at a similar rate. Some car shops won't work on salvage titles, but I'm sure I could find someone.
I asked for the repair records on the $500 the seller supposedly spent to fix the minor damage and he went silent. And that's where I bow out. He had already proved untrustworthy by leaving out the info about the title, and then clammed up when asked for records. Maybe the insurance did make an error and total it out with low damages, but maybe the frame is bent and I wouldn't know until it went real bad. Not worth the risk.
So I'm still shopping, and still looking for a deal, but I have a couple of months and the money ready, so I'm in about as good of a position as I can be. I'm also certain that I'll get a good deal by following my own rules, which are time-tested and listed below.
2022 update:
I've since bought two fantastic salvage cars still using the tips above and below! Get a full inspection, look up the records and trust your gut.
My current car, a 2016 Nissan Versa Note is a salvage title and the best car I've ever owned. I paid $5k cash.
My Top Tips for buying a used car
PAY CASH – Car loans/ payments are a racket. If you currently cannot afford to buy the car you want with cash, buy a cheap car that will last a year or two and then save what you would be paying for a car payment. In a year, you'll be able to sell your car and pay cash for something way better. Continue until you're driving what your want.
BE FLEXIBLE – the more you care about the brand, model, features, etc, the more you are going to have to pay.
Immediately research reviews on the model you're looking at. Cars.com, KBB and Edmunds should all pop up with specific pros and cons of the exact model you're looking at and an overall rating on a scale of 5. Be aware that these reviews are written by the biggest car lovers and focus on info that is important to you. "Low quality seat material" is not a factor that I care about, but knocks off points on Edmunds. "Transmissions need to be replaced at 100k miles" is. So I weight that when considering.
When buying private, suck it up and buy the CarFax. It's $43 that could save you thousands.
Get the vehicle inspected at a local mechanic. Dealers will do this no prob. Private buyers are often annoyed. Who cares. Offer them a copy of the report. Ideally you bring it to your mechanic, but if shopping out of town, just call a local place nearby and ask if they do pre-purchase vehicle inspections. The cost will likely be about $100, but once again, it could save you thousands.
TRUST YOUR GUT – If a seller or car is skeeving you out or internally bells and flags and whistles are going off, walk away. There will always be another car and your intuition is telling you something, trust it.