The FinCon19 Smarter, Better, Faster, Stronger Resource List
Hello! And welcome to my website! If you are here for financial advice, this post is going to be a little different, but hang on and maybe you'll learn about how I run a profitable YouTube channel for less money, in less time and while still having a life.
If you are here from my session at FinCon19, I'm so glad you stopped by! This post will be packed with everything I talked about, the free resources I use, gear I or my friends recommend, and more.
Fair warning, this post WILL CONTAIN AFFLINKS – both for myself AND for other people. It costs you nothing and supports this whole videos game we're all trying to do. AFFLINKS are marked.
My Channels and Socials – See how I do the things 🙂
My Favorite Tools
First off, Probably the two best tools I use to YouTube and do social media SO MUCH BETTER are:
Canva.com and Tubebuddy.com
The best part? They both have FREE VERSIONS!
I use TubeBuddy Pro (lifetime membership was $32 on sale), and pay $13/ month for Canva Pro, but you can start with the free ones.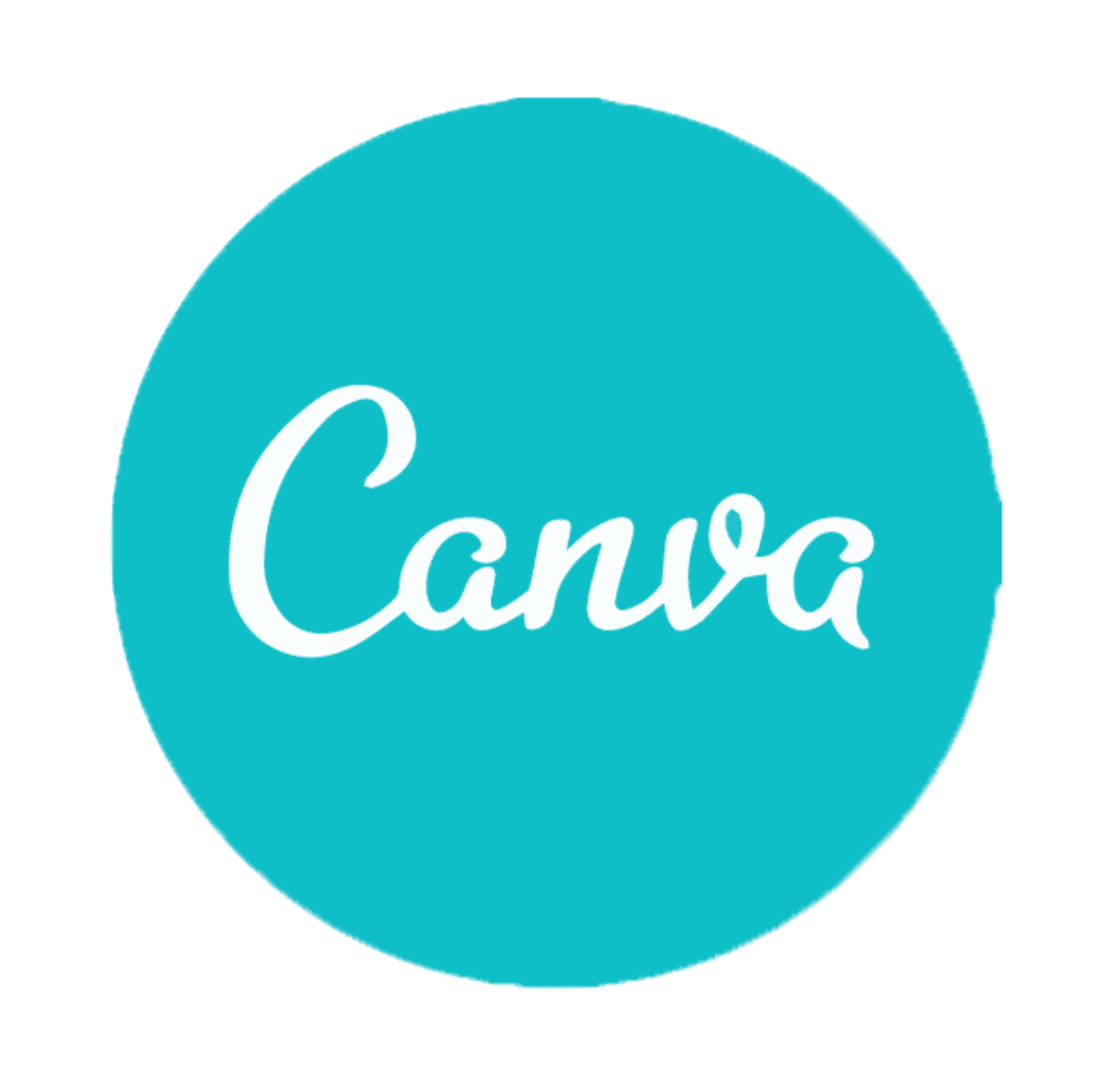 Graphic Design Resources
Canva: https://www.canva.com
I do 100% of my graphic design work in Canva and have made everything from my thumbnails to my media kit to my channel art and business cards in here.
Lightroom
I also use the free APP version of Lightroom to edit instagram photos. https://play.google.com/store/apps/details?id=com.adobe.lrmobile&hl=en_US
This is the tutorial I used to learn it: Very short and concise! https://www.youtube.com/watch?v=7xDrHUvI9j0
RemoveBG
For cutouts – www.removebg.com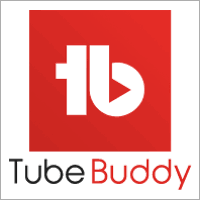 SEO Resources
TubeBuddy: https://www.tubebuddy.com/budgetgirl
It's the industry standard and helps you develop your tags, titles and other SEO the easy way.
You can also use:
Gear Lists
It's way too easy to spend a bundle outfitting your new channel with the latest and greatest in video technology. But especially when starting out, you don't need enough gear to shoot a movie. Here are my budget and slightly higher end recommendations for YouTube equipment.
Budget Girl's Gear
Other Recommended:
Cameras
Tripods
Friends' Gear!
Freedom In A Budget's equipment list: (HER AFFLINKS)
One Big Happy Life's gear (their AFFLINKS)
Graham Stephan's Gear
Wendy Valencia's Gear
Social Media Resources
IFTTT – for automated social media posts https://ifttt.com
Canva – www.canva.com

Media Kit Examples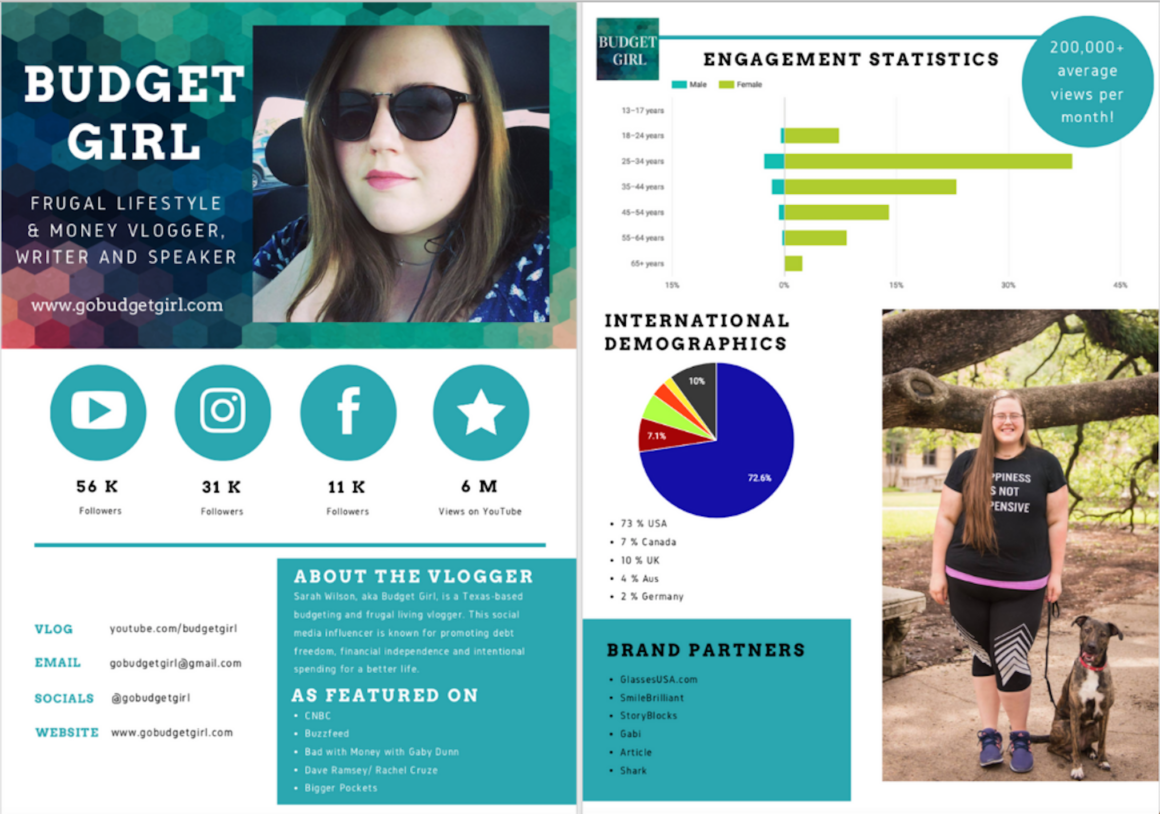 A media kit helps you put your best foot forward when approaching brands or doing any media or interviews. It's not hard to make and I did mine free in Canva. I also have some examples of other people's kits. Sometimes people include rate sheets (like PT.)
My Media Kit –
https://drive.google.com/file/d/1OslfVWkkrezTI73hixPlUlYxIJtb_nWV/view?usp=sharing
PT Money – https://www.dropbox.com/s/zr78bhdpt85b5s9/PTmoney%20MEDIA%20KIT_2019.pdf?dl=0
Freedom in a Budget – https://drive.google.com/file/d/14au4jD0B5StV_zKKHbpg32lFi_e51qbd/view?usp=sharing
Find Sponsorships
Don't be afraid to reach out to companies you already use and love. An honest recommendation is worth tons.
Even if you're new, you're probably not charging enough. Talk with other people in the space to help find a better range of what to charge.
I have a video where I am candid about how much money every sponsor I've ever worked with has paid me. Check it out here:
Want to know how much a dedicated video or post on your platform is worth? As much as you can sell it for…. But if you're a chronic sell-yourself-shorter, websites like https://socialbluebook.com will give you a range to go off of.
If you want to find other places for sponsorships, try these websites.
Revfluence
Upfluence.
NeoReach.
Mavcrk.
Traackr.
Speakr.
Famebit.
Webfluential.
Need even more help?
I don't personally have a course or book on how to improve your channel, but I have friends who do! Check out:
Crushing Youtube by Joseph Hogue: https://amzn.to/2MUkzht
FREE YouTube Quick-Start to Success Webinar: From 0 to 75,000 Subscribers Fast: https://simple-stress-free-investing-for-life.teachable.com/a/aff_r1517jmj/external?affcode=284379_wsv5alfz
Also check out these channels which are built to help you YouTube better