Today we explore exactly how much you can make dog walking and pet sitting or with platforms like Rover/ Wag or your own petsitting business.
Welcome to a new series exploring side hustles, small businesses and the people who run their money with them! We're getting deep into the money, the pros, cons and the things people generally don't tell you, so you can go in informed and ready.
Vee Weir is a 28-year-old Longmont, Colorado resident who, among other things, has a Rover/ pet sitting side hustle. She does an average of 7-14 walks with the app per month depending on the season, and she made over $6,000 last year.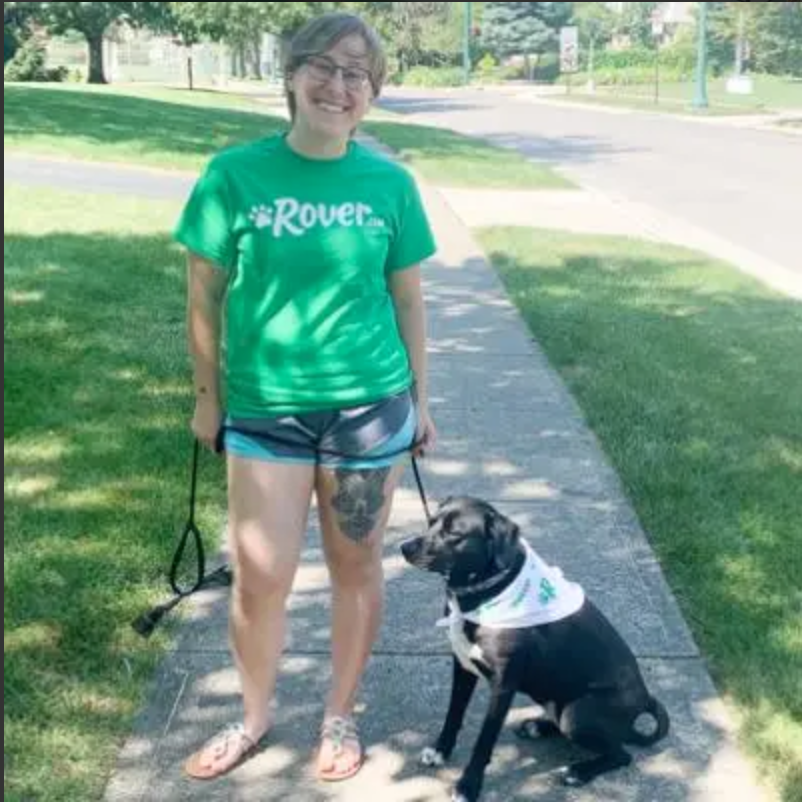 Let's hear more of the details from her:
How did you get into dog walking/ sitting?
My friend told me that she made a decent side income in Washington, DC Rover sitting — so, I decided to give it a try.
When I was let go from my former job and began my own business, Rover became a necessity and supplemented my beginning entrepreneur income (which was $0). Now, I do it as a side hustle and put the money towards debt, savings and investing.
Did you need any specific education/ courses/ training? If so, what?
Experience with animals helps when potential clients are looking at your profile. I also happen to have farm animal experience and in a rural area, people appreciate that I can take care of their chickens, plants, etc.
What is your favorite thing about your business?
I get to meet new dogs and typically I'm paid to stay in multi-million dollar houses.
How do you monetize it and how much do you charge?
I'm paid through the Rover app and get some clients by word of mouth.
My overnight rate is $50 per night plus $15 per additional animal. Rover takes a 20% cut and I save 30% for taxes.

-Vee Weir
I do pet sitting outside of Rover as well. My rates fluctuate depending on my relationship with the client and the other things they have me do around their house. I also get tips sometimes.
How often do you work?
Sometimes I work every weekend a month, so 12 days, other times it is full weeks, mostly in the summer. I do overnights because that is where the best money is outside of actually day boarding dogs at your home. I don't do that because of my dogs. It is varied, but at minimum, I work about 7 days per month on a slow month, up to 12-18.
How much do you make?
Last year I made a total of $6,317.40 post tax. My goal this year is to make $10k.
What expenses does your business have?
I usually buy dog treats and thank you cards for my clients. There have been special occasions where I will buy a Kong and peanut butter for puppies.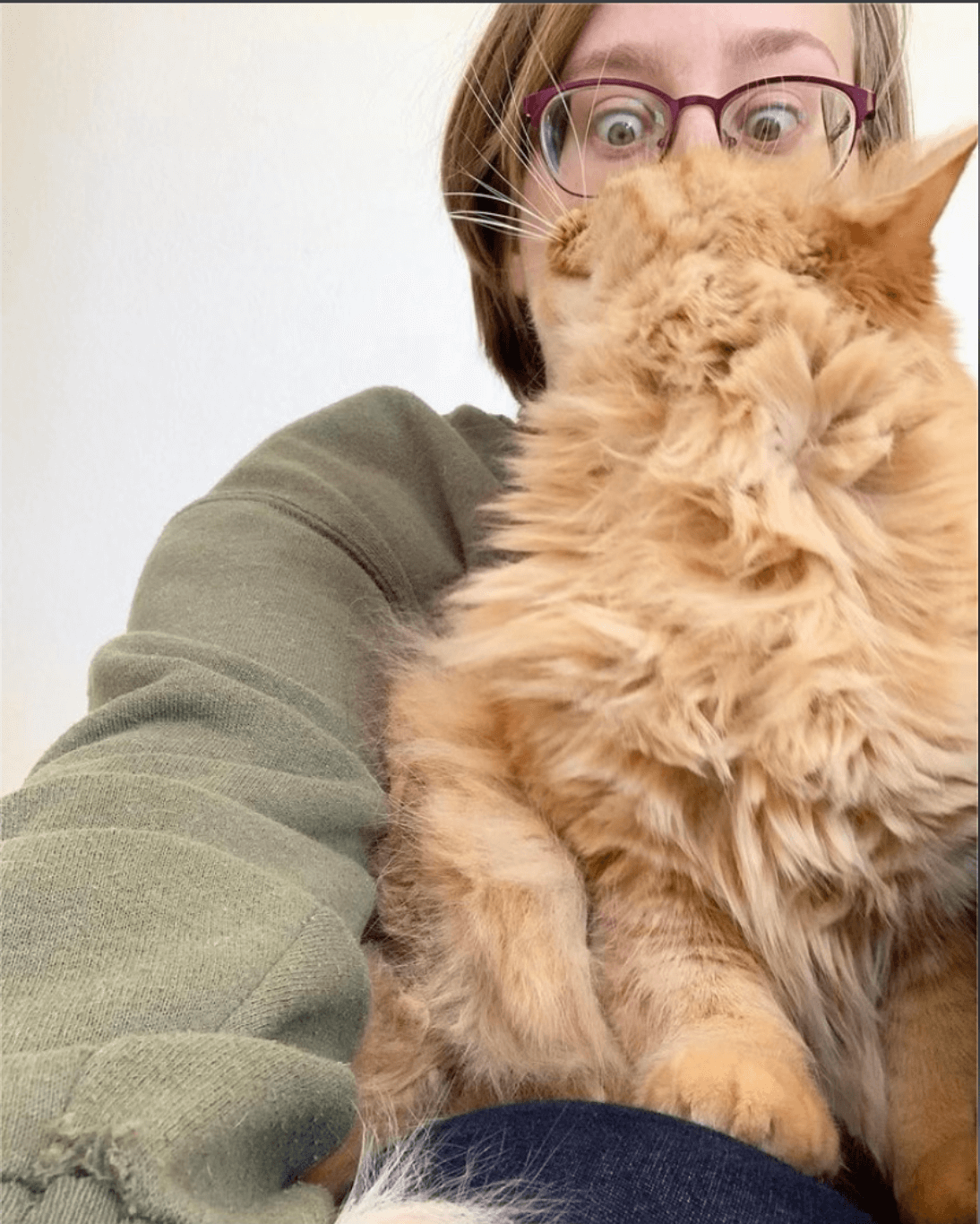 How did you set pricing structure/ set your business up?
I tax it as 1099 income. My pricing structure depends on my competition. At the beginning I beat out the buy box and priced myself lower than dirt so that I could get jobs, meaning I could get reviews. Once I established myself in my town, I raised my prices. Now I am the top Rover sitter in my area and not the cheapest.
How did you get word out about your business/ find customers/ followers?
It's all through Rover!
What is a behind the scenes task that takes more time than people would think?
Probably comforting the animal. Most pet parents underestimate the stress that their animals go through when their routine is disturbed. It doesn't bother me though!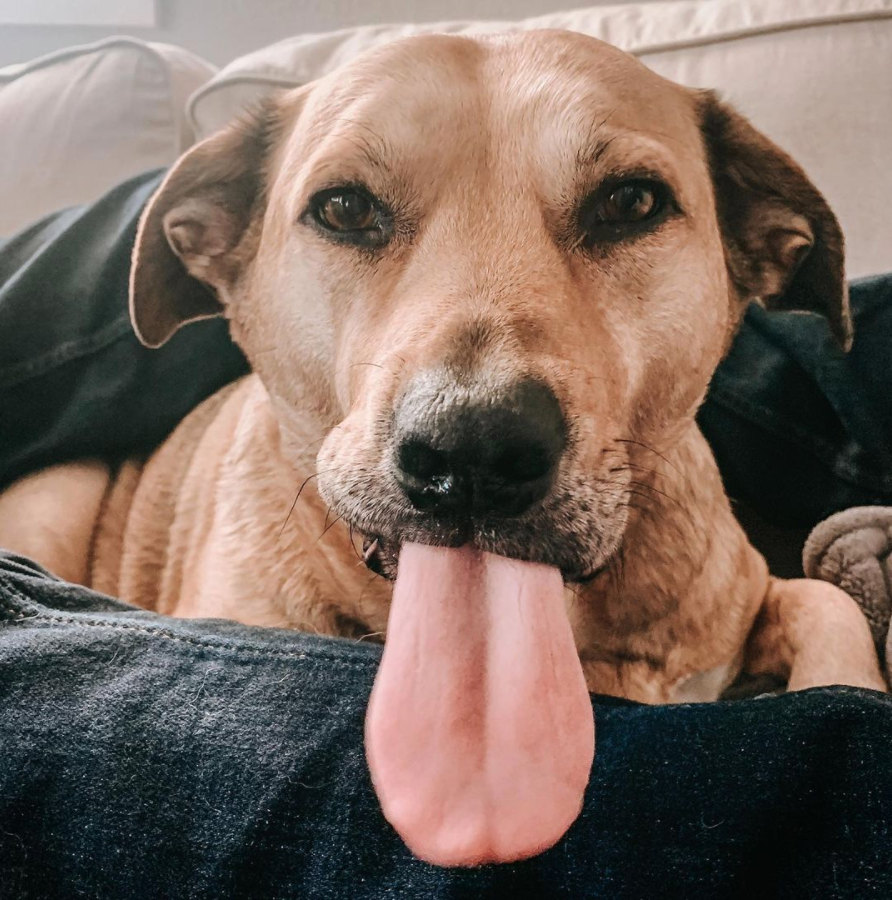 What is your favorite tool/ product/ service that has made your business easier?
I recommend having well-built sneakers, lots of poop bags and treats ,treats ,treats. Plus a heating blanket, because you don't know how other people keep their temperatures.
What is one thing you think you do really well in your side hustle?
I communicate with my clients on a daily basis – that is the most important thing!
What is one regret or thing you'd do differently?
Sometimes I am so eager to take a job that I don't consider the logistics. I have three dogs or my own, a husband and one car. Sometimes that gets a bit tricky when you have a job 45 minutes away.
What are your plans to scale your business/ grow it?
The best thing about Rover or dog sitting is that the more you do it, the more your network grows in your local area. I have several repeat clients (2/3 clients in January 2021 are repeat clients from 2020). That's really what I'd like to focus on.
What advice do you have for aspiring entrepreneurs/ side hustlers?
It's all trial and error. When you first start you have no idea what the hell you're doing and you can read, listen, buy worksheets and workbooks all day long, but until you actually put yourself out there, you won't know what to do. It takes hard work, determination and perseverance to succeed and thats with self employed people and just about any side hustle out there. You have to learn by doing.
I want people to know that it is totally possible to have a side hustle and make an extra $7-10k per year, but save for taxes!!

-Vee Weir
Anything else you'd like to add about your side hustle?
Rover is the best side hustle ever – I love, love, love what I do in my day job and my side hustle.
Where can people find you?
I'm on instagram here. If you need help with digital marketing, you can find my business here.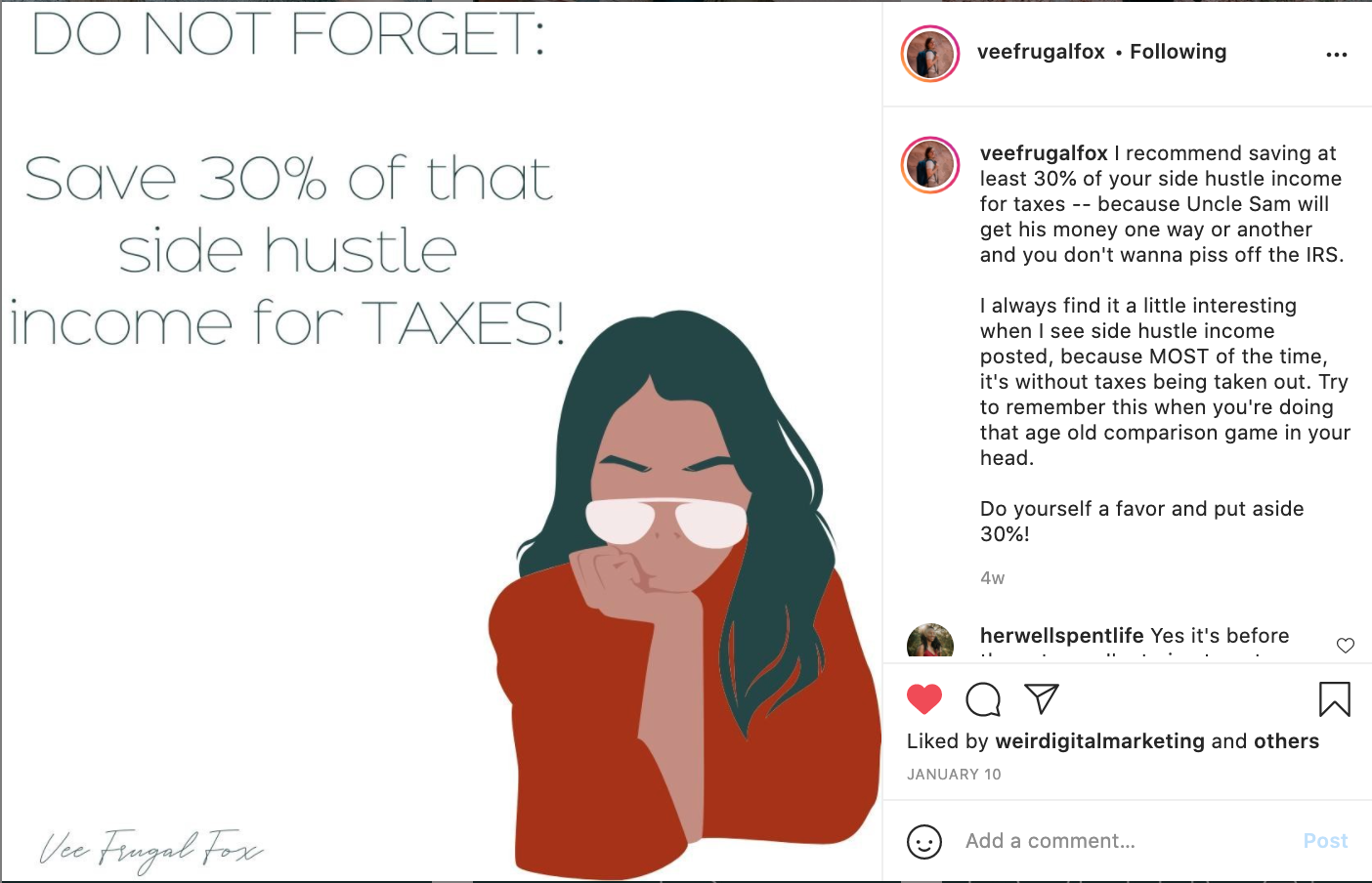 ________________________
Still interested in making money with pet walking or sitting?
Or
What a cool side hustle! Thanks so much to Vee for giving us the run down. Make sure to visit her at the links above. Vee actually does my Budget Girl newsletter and does a fantastic job with her ever-growing Weir Digital Marketing business. She may soon only do Rover for fun!
Do you have a cool or unique side business or hustle? Are you willing to talk about the rundown, warts and all? I'd love to hear from you and potentially feature your business here! Drop me a line at [email protected] with the subject line "Side hustle series." Hope I hear from you!
Let's talk! – Would you ever do dog walking/ pet sitting as a side hustle? Why or why not?