First, some boring backstory: I've loved vintage travel trailers since my college days. I dreamed of these perfect little spaces with everything you need – homes that you can take with you wherever you roam. The simplicity, colors and aesthetic was and is so appealing to me. I had Pinterest boards of Shasta's and Airstreams and particularly loved the shapes of the old models. (New RVs look like plastic boxes with too many branded labels on them to me, but if you love them I love them for you!)
Cut to my adulthood with three bedrooms, two baths, a shed of stuff, a boyfriend, two dogs and a million projects, I'm a bit of a maximalist now and I do love my home. I can't imagine paring down to 200 square feet, and am really into real estate now!
I own a duplex, which I house hack, and hope to own more properties one day as a wealth building venture. As a normal person on a middle class income, I can't be buying all the houses I love, I save a ton but I have to deal hunt and be painfully patient for the right investments to come along.
Enter travel trailers again. I also love vacation rentals and truly believe there is money to be made in the short term space. I also love decorating and shopping and had the idea to try to get a vintage travel trailer and turn it into a Aggie/ Texas-themed AirBnB for people who come to College Station to visit.
I'm great at finding deals and thrifting, and I'm proud to say I did both for this project, saving thousands and achieving what I believe is a really cool look and a very cozy camper. A huge bonus is that I could buy and renovate a camper for a pretty small cost compared to buying a full home. I could also move the trailer to land I'll eventually own when I have the money and the right spot comes along but in the meantime can make money by renting it out at an RV park. It's a very accessible way to get into this type of rental and I'm all for a hack.
I search Facebook Marketplace constantly and after one failed travel trailer purchase (which I learned a ton from, check it out here.), I found this partially renovated 1984 Holiday Rambler 24 foot travel trailer in Searcy, Arkansas. The worst work of gutting and sealing and rebuilding the walls had already been done by some very talented people, who just got burnt out on the project.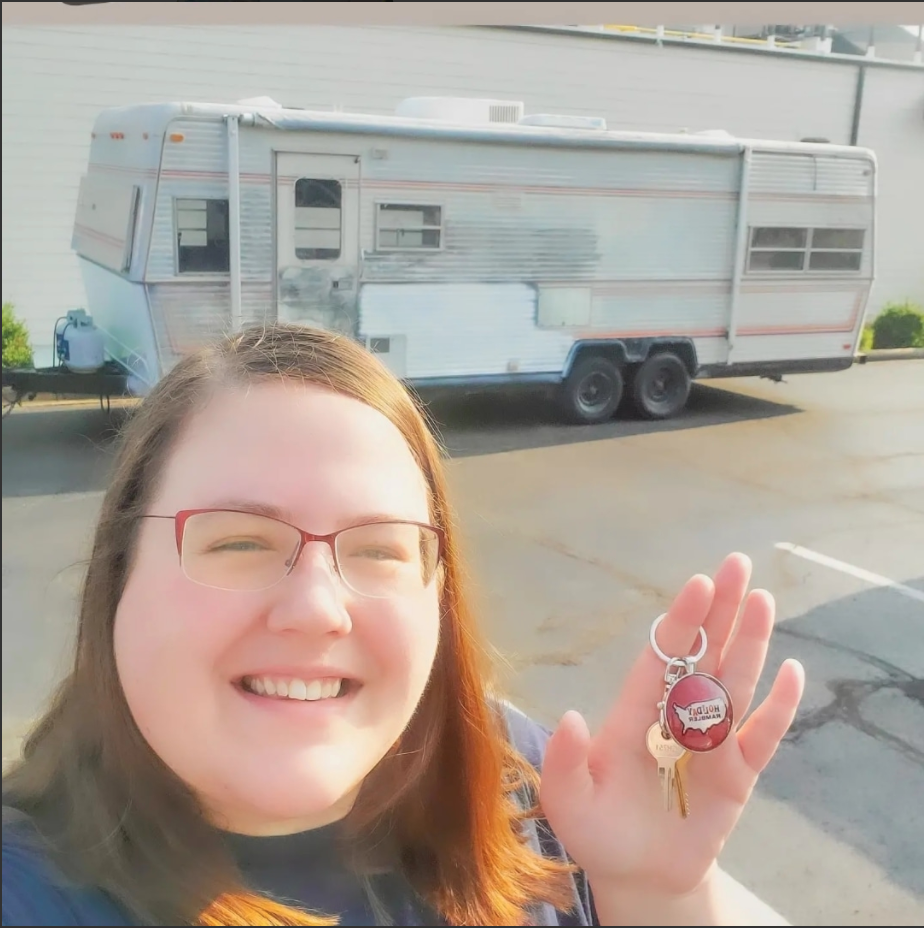 I paid a deposit towards the $4,200 I spent on it and drove up with Jacob and a truck to bring it home to finish, with a goal of three months and about $6-8,000 to turn it into a functioning rental.
See my road trip to buy the camper here, and the original tour below.
I had hoped to have it done by the last football game in November, but it needed a lot more work than I originally thought and issues inevitably come up. However, I'm proud to say that just shy of 4 months and $10,000, later, I'm completely booked out from Christmas Eve to New Year's after having the listing up for less than three days!
I'll have more videos soon on renovations, the full cost break downs and of course on how much I manage to make with this new stream of income, but in the meantime, check out my new camper tour here and see all the items bought for it below!
I'm also thrilled to have a place to host friends and family that come to the area. (and maybe even you!)
Allow me to officially introduce….
The Ag Wagon

Rent The Ag Wagon here: https://airbnb.com/h/theagwagon
Follow it on Instagram and Facebook.
Everything I bought for The Ag Wagon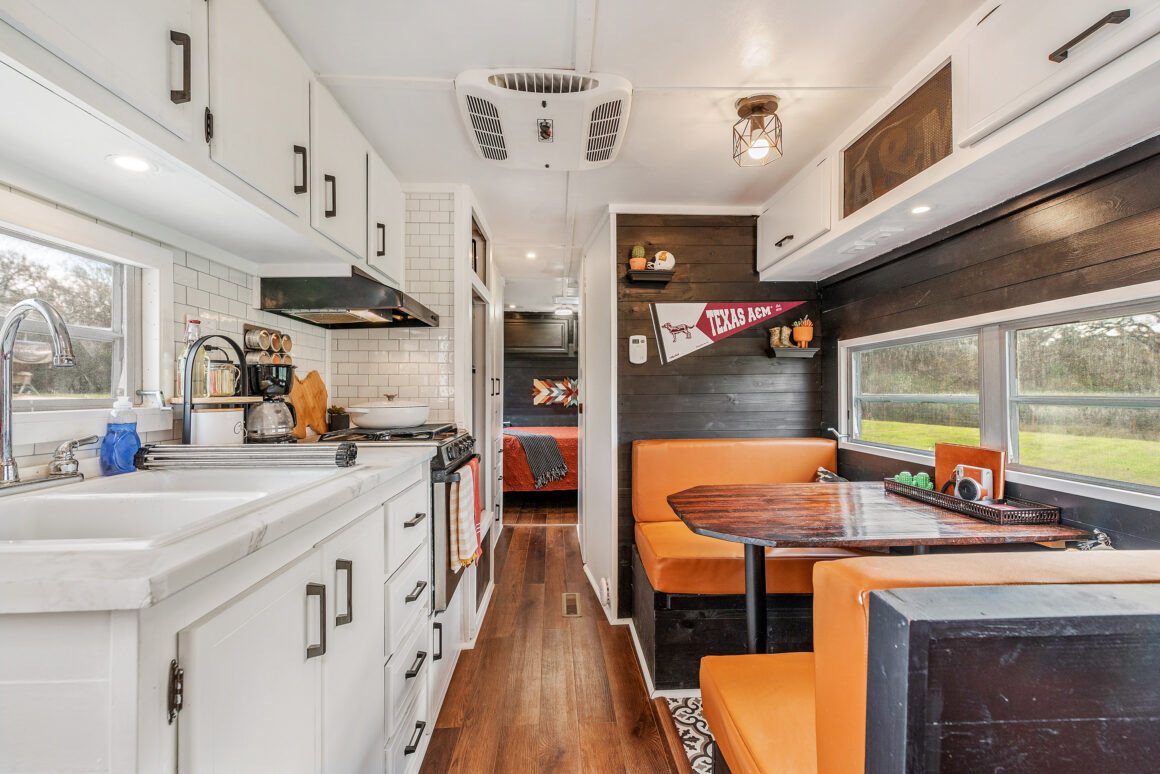 Bedroom
The most challenging room in the house by far, I spent by far the most money in this space. I hired multiple people to fix the electrical hidden in that cute little side table and spent about $2,000 to get it redone safely and nicely. We now have a 50 amp system and can run as much power as we want without any flickering or danger. Frustrating, but worth it!
The bed was also a fun challenge that I DIY'd. I didn't want to build out a bunk, so we welded together an Amazon bed frame with taller legs and bolted it in. But it worked and is sturdy as hell.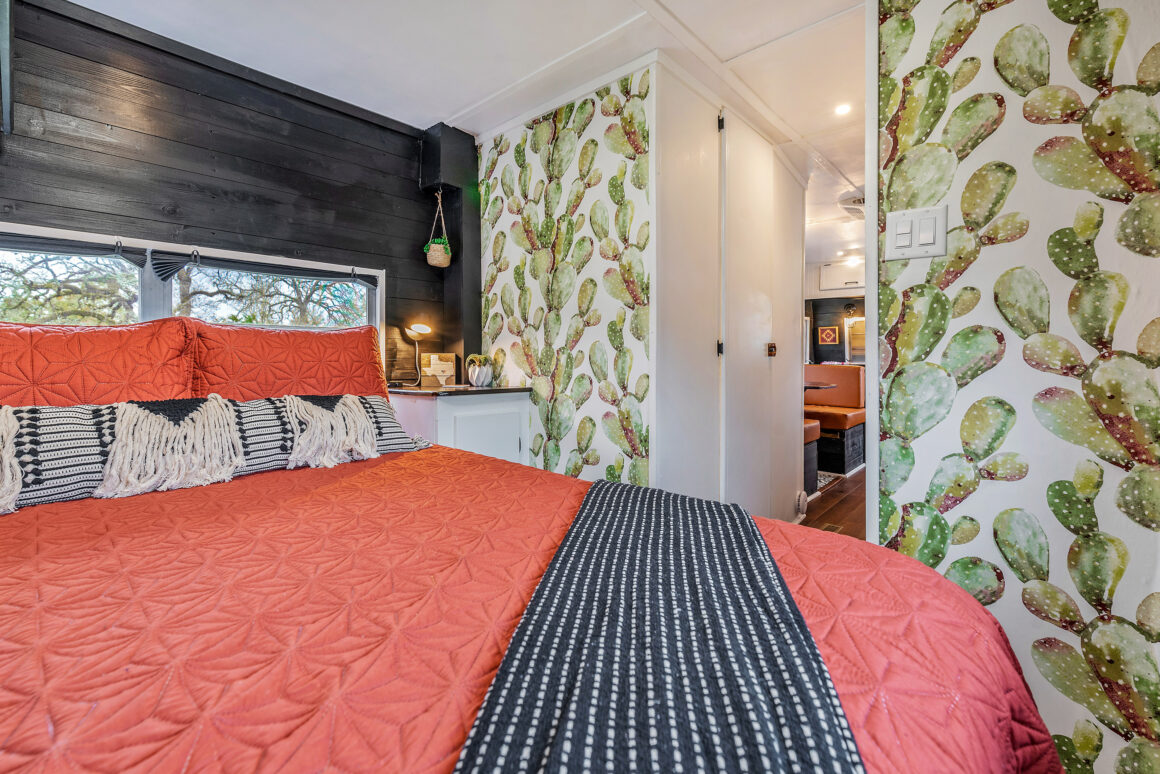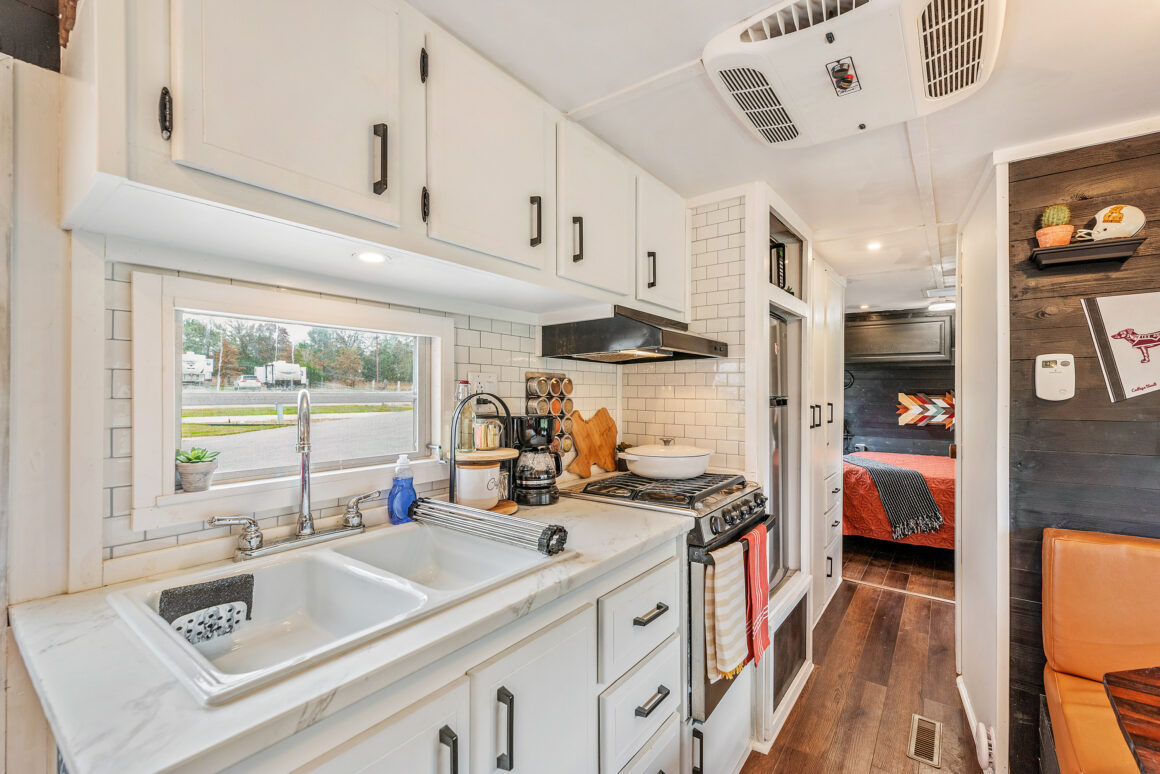 Kitchen
The kitchen was my favorite to put together. I've been collecting vintage Texas A&M and Texas oversize mugs for months and love the collection.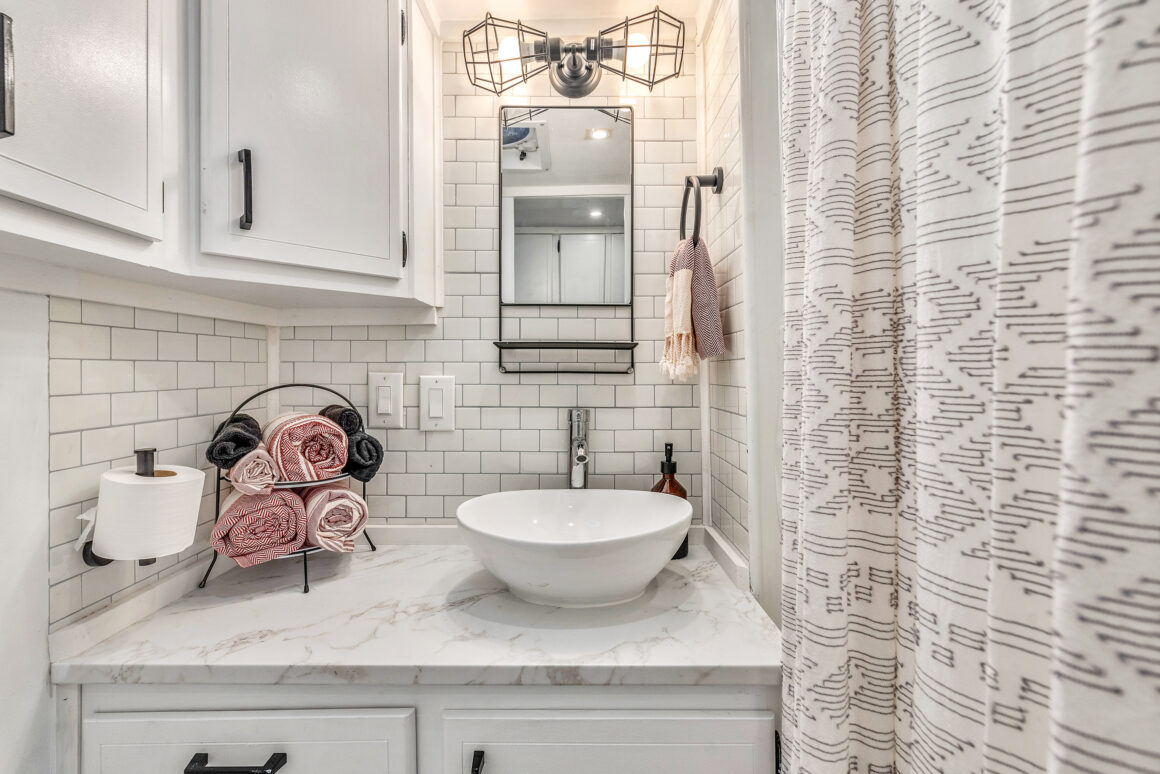 Bathroom
I was most terrified of learning about gray and black tanks and figuring out how to work an RV septic system with all the hookups. It's actually not that bad and we have it set up so it's basically like a home toilet and shower. Phew!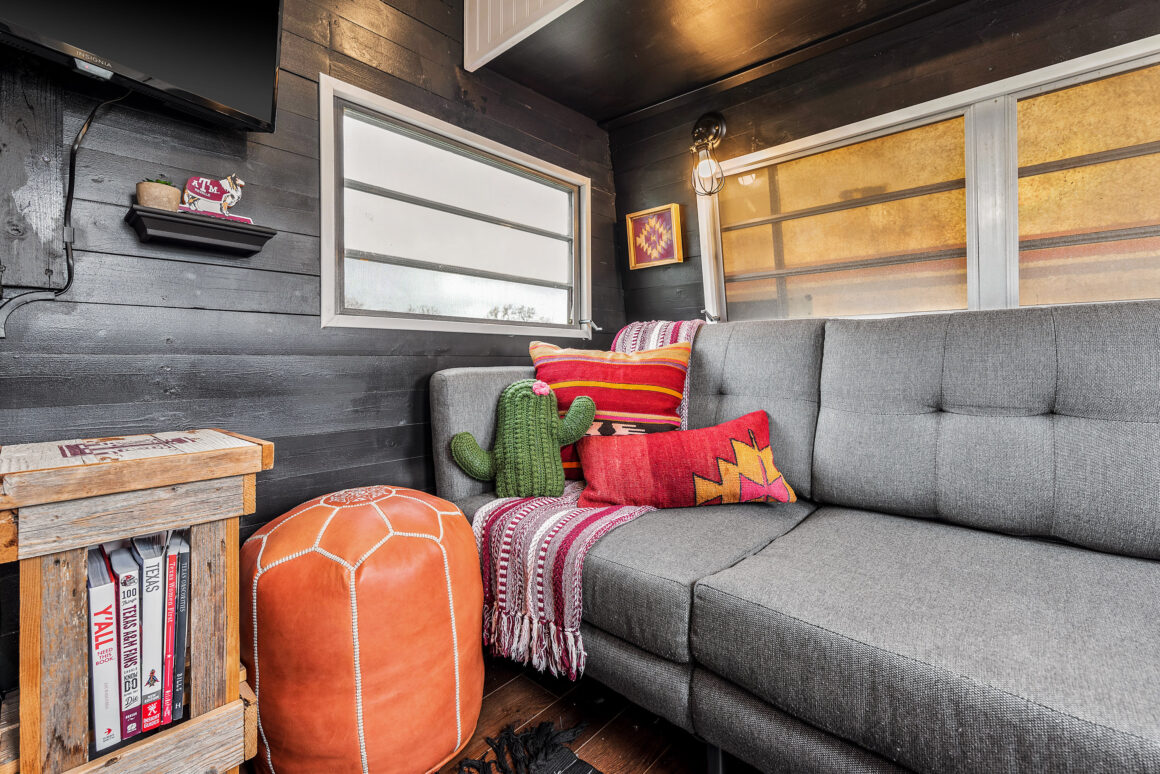 Living Room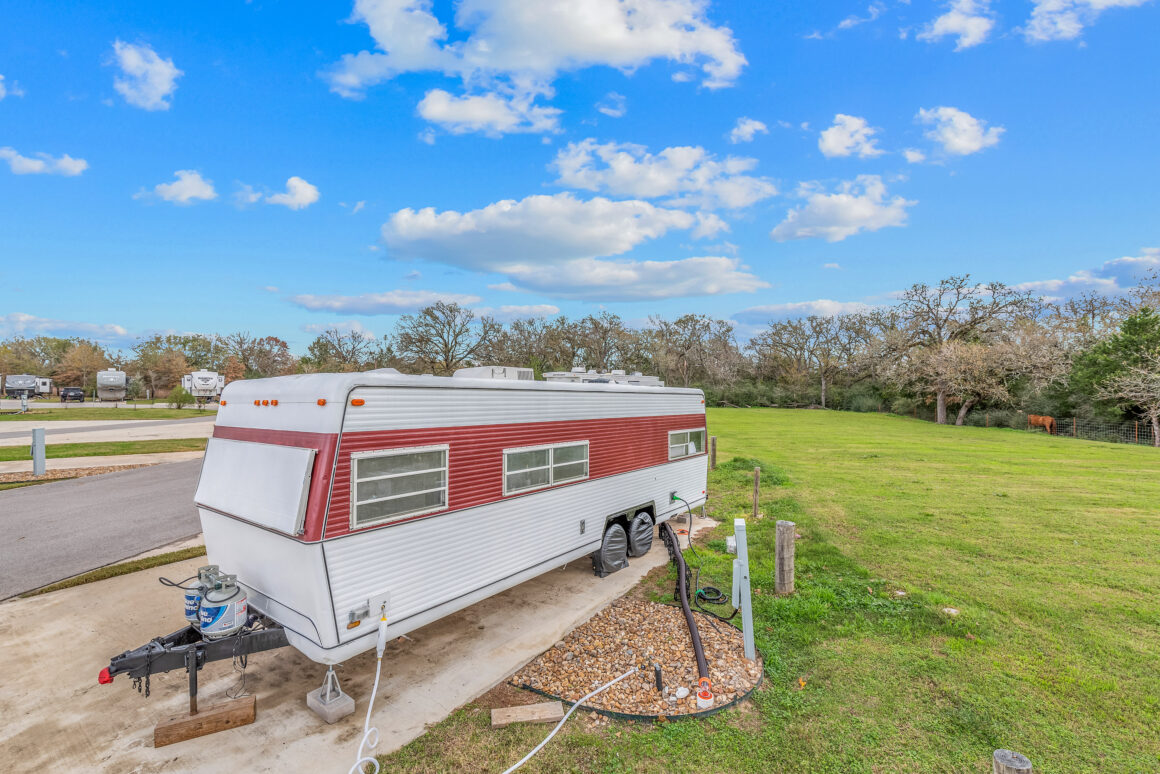 Outdoor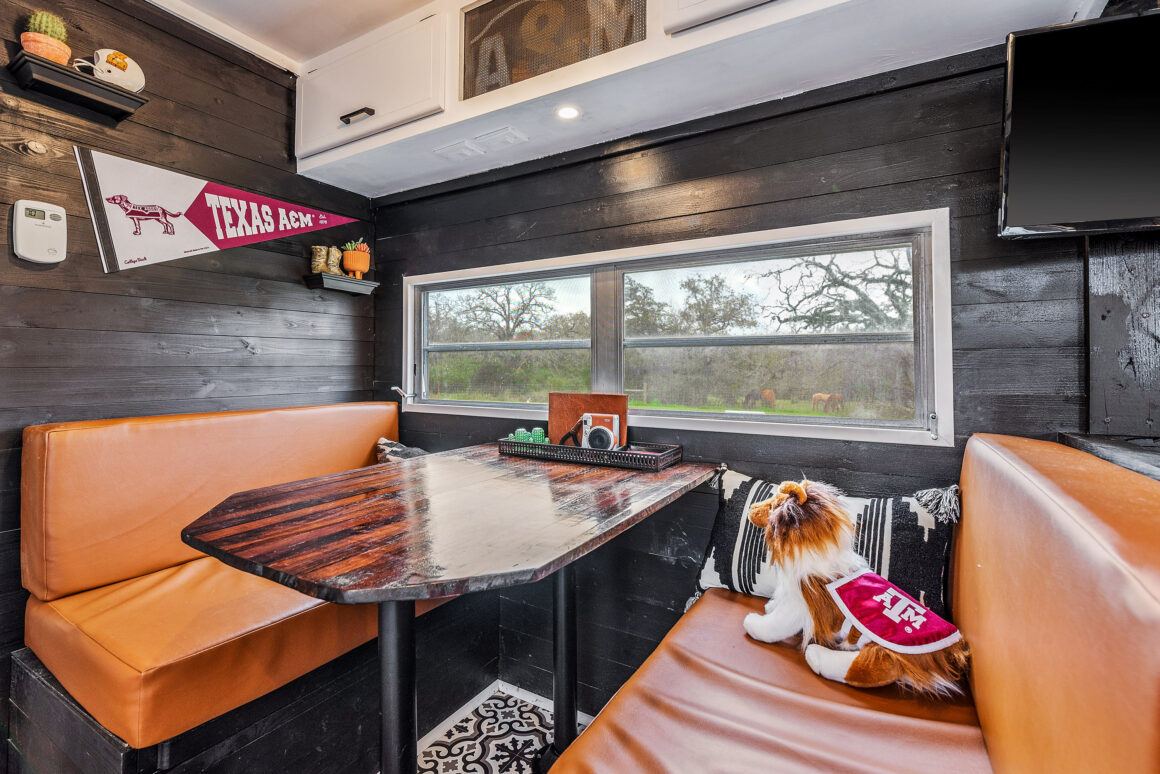 Misc.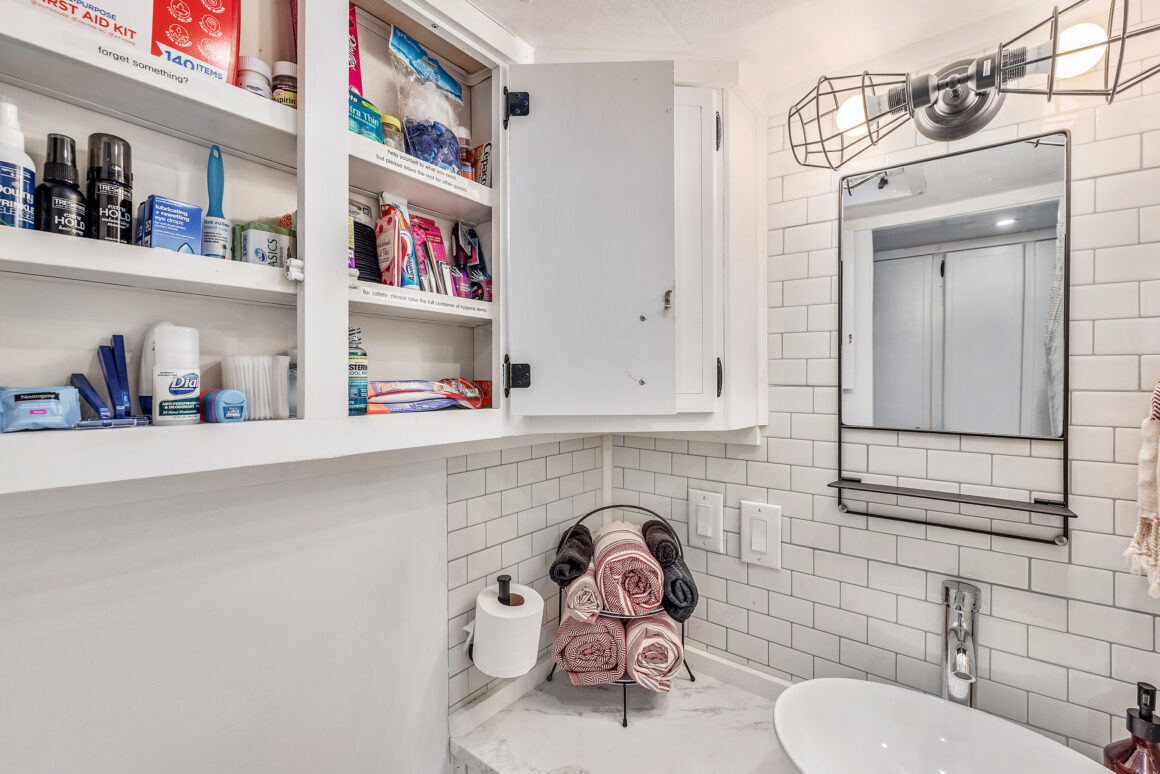 Guest amenities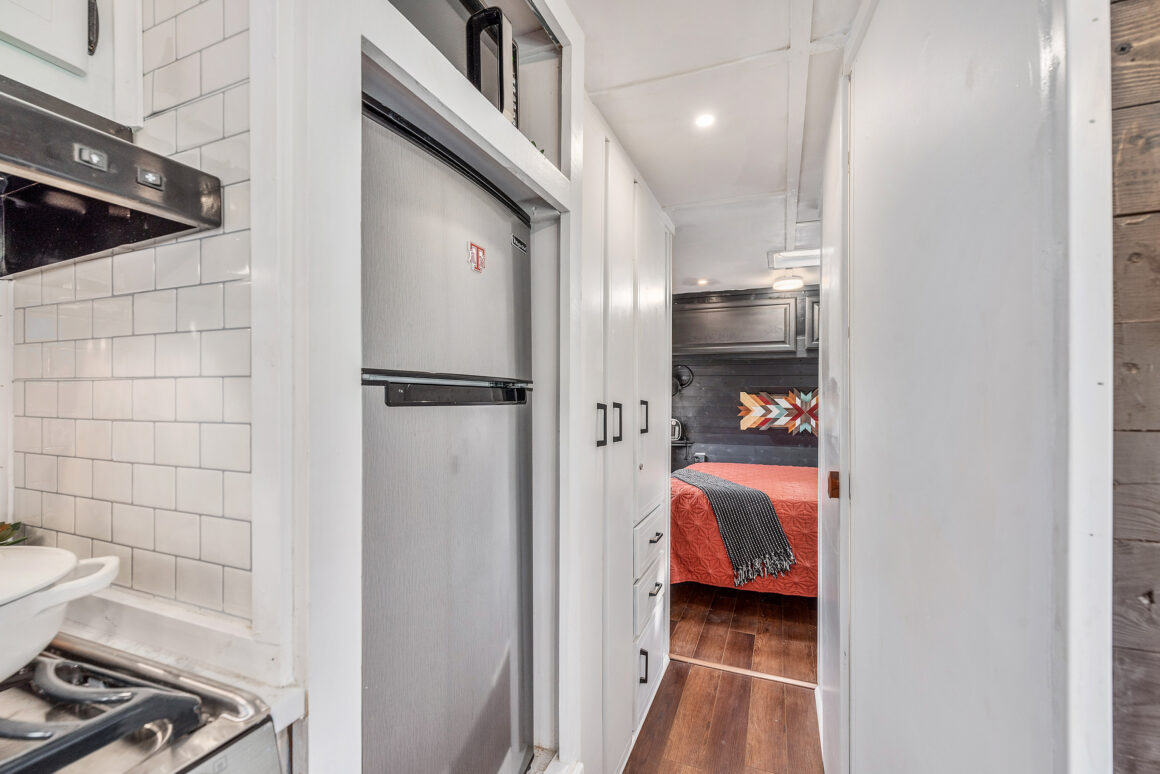 Tools, electrical, hardware
One of the largest costs of this renovation was replacing the tankless hot water heater. An outdoor one had been installed that vented directly to the metal sink. In the words of my RV handyman who helped me, "That's going to burn this thing down in five minutes."
Oof. So a $500 heater plus $300 labor for that. Thankfully I did all the painting myself and saved a lot there.
*anything not specifically mentioned was almost certainly thrifted or bought secondhand.
Continuing costs
I currently pay $465 monthly in lot rent plus electricity/ water for our spot at a local RV park.
The long term plan is to find land and set up connections for it (est. cost $10k), and build a deck/ roof to protect my investment. I'd love to have multiple small homes on the property and essentially create a little vacation tiny house village where you could stay or even rent multiple homes with friends!
See the full tour here: