I woke up yesterday to find I couldn't log in to Instagram. It wasn't a violation or restriction, there was no note or explanation, my account was just gone.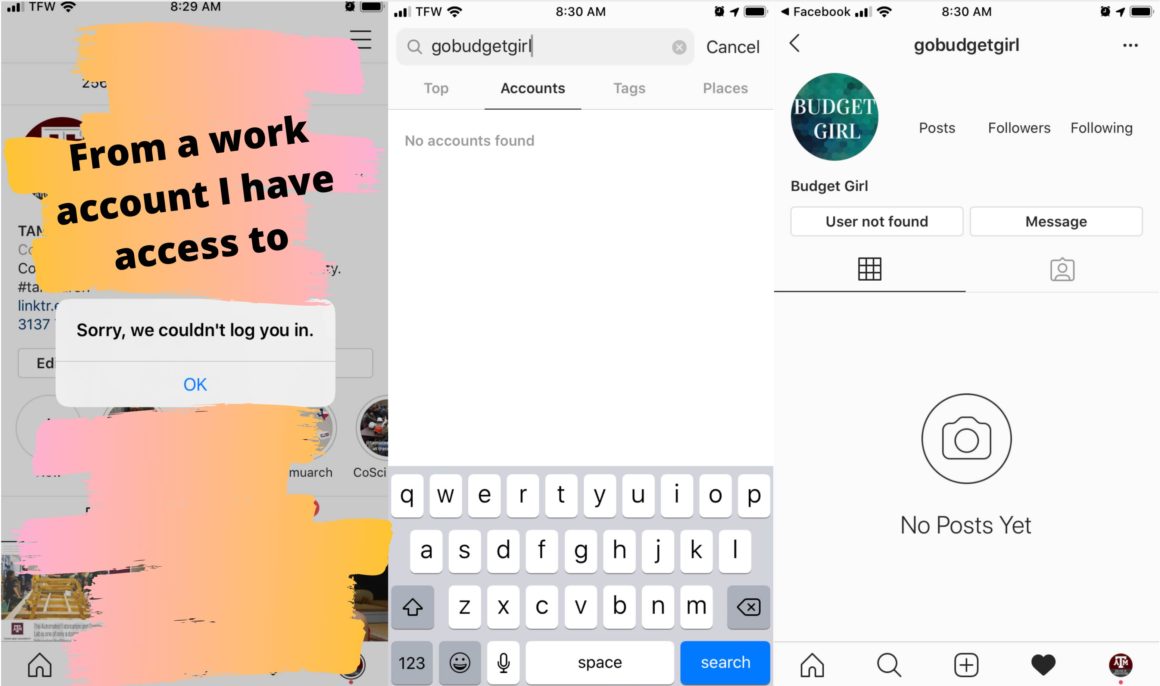 Why I was panicking
I have more than 35k followers and have been using instagram for about 4 years. It is my favorite platform and I spend a lot of time and effort in that space and with that community. I felt cut off. Wronged. I'd never misused my account and all the memories and messages could not be replaced.
From a business aspect, I sometimes have contracts with companies that require me to post X number of times on Instagram or in Stories as part of my deliverables. Those contracts are negotiated with my reach in mind, and without access to that Instagram, I'd be in trouble.
My friend Amanda from DebtFreeinSunnyCA got locked out once and was able to get back in and she wrote a great post about it, so that is where I started.
In her post, (read in full here) she suggested reaching out to Facebook through the Business Manager, available to people who have bought ads on their pages before. I found support requests and got into a help chat with a nice representative Stef, who was extremely understanding of my situation.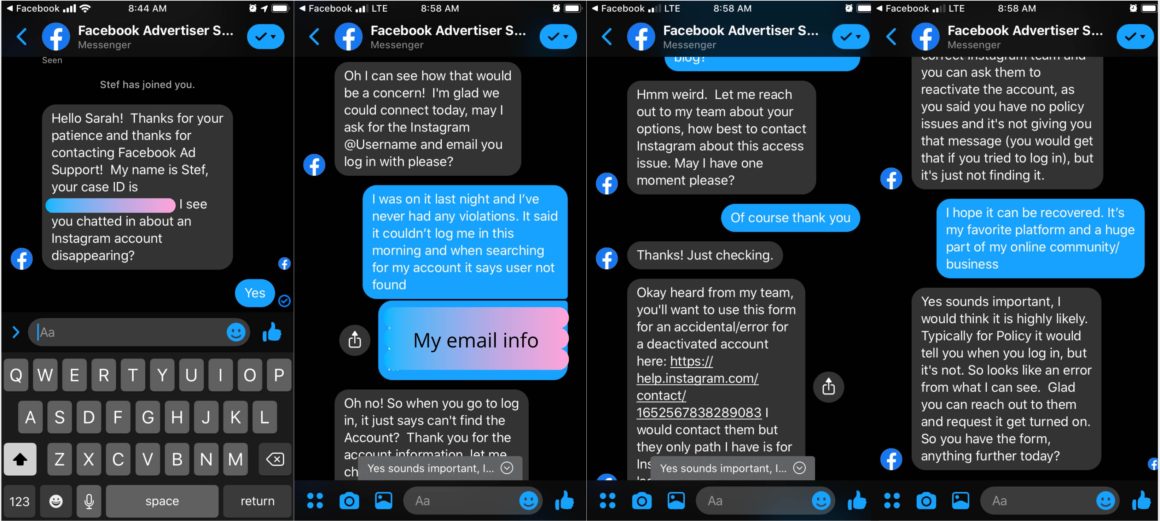 She confirmed that I didn't have any account violations and I gave her screenshots of what showed up when I tried to login/ search for my account. She assured me it was likely a bug or error and that my account could likely be restored though this link (here) – which required me to explain my situation and submit tax documents, website ownership, utility bills or other proof of business ownership. I pulled those and attempted to submit the request, but it said there was no account with my username (the hacker had changed it), so I could go no further.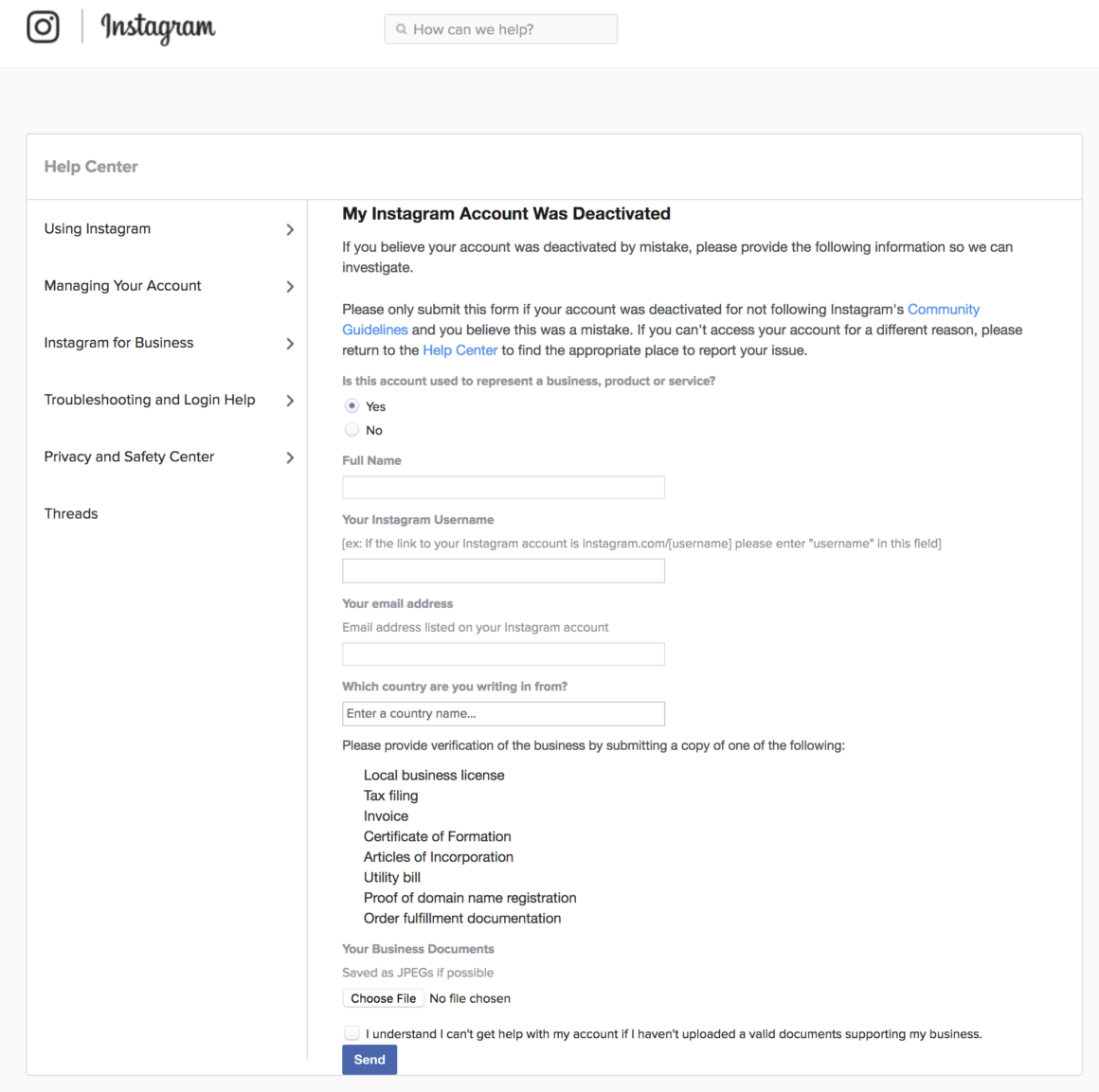 Frustrating. I then checked my email and found an email from Instagram from 2 a.m. saying I had changed my email for the account. Obviously I didn't do that. There was a link to dispute it that would not go through, probably because by 9 a.m., they had already changed it again.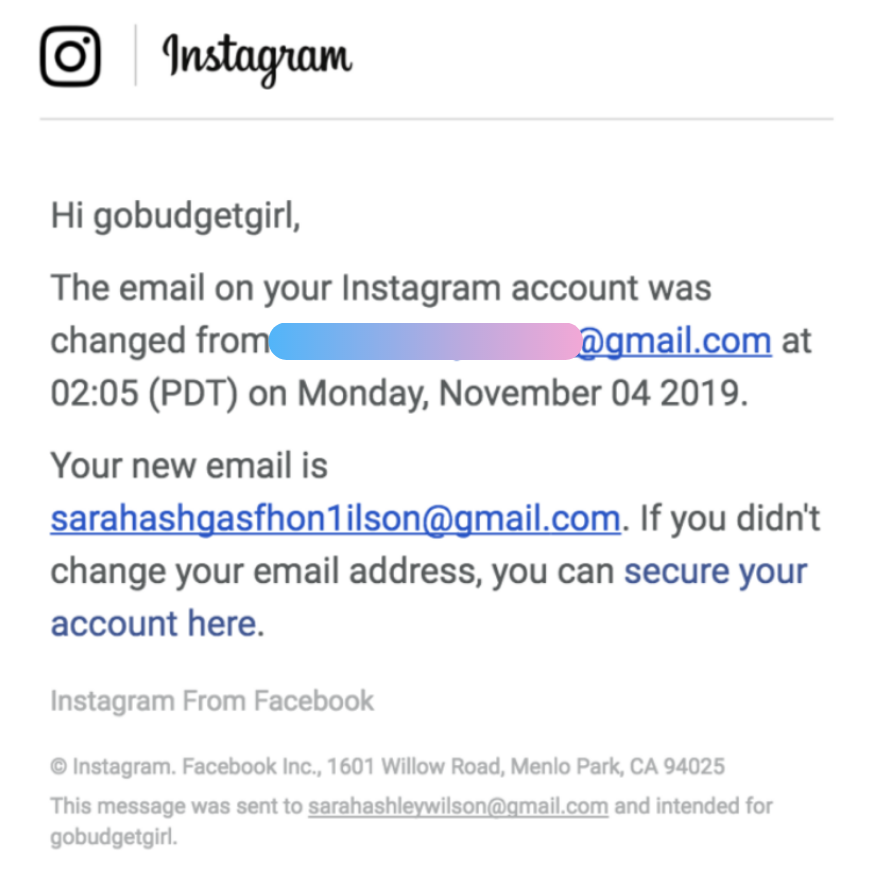 And then I saw an email from "Hack Ins" with the title "Hacked Instagram Account!"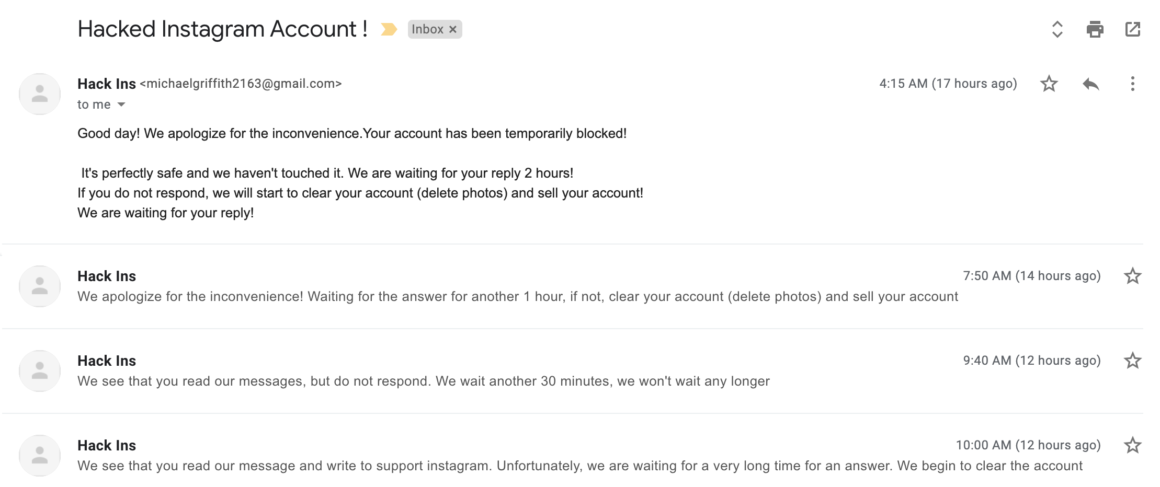 They threatened to delete the content and sell the account and had emailed four times, so I responded.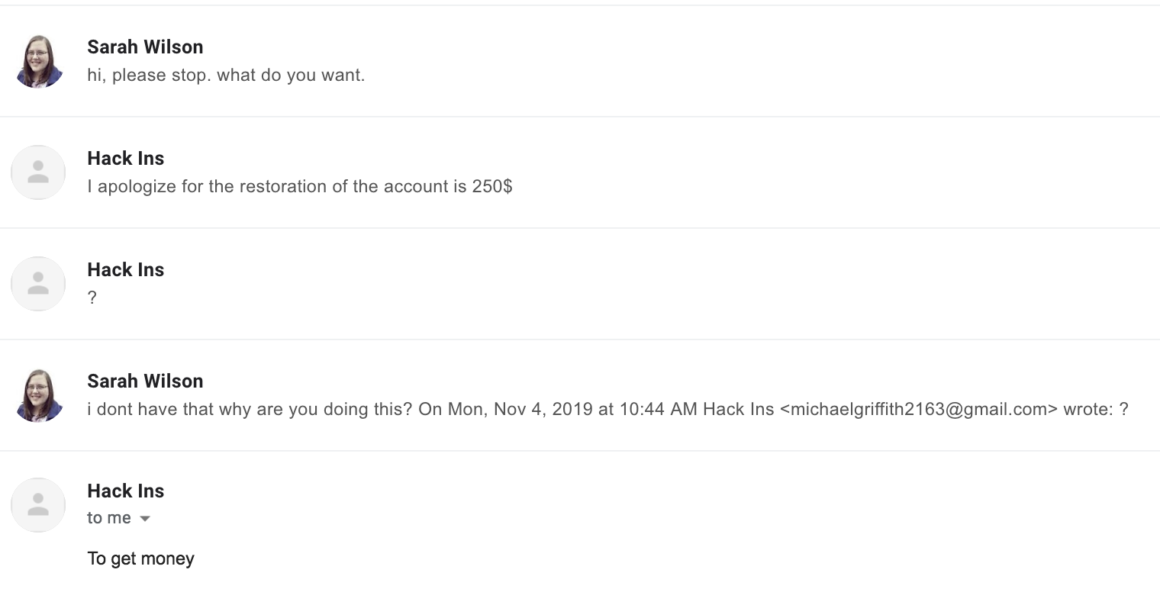 $250 to get my account back. Obviously they want money but that didn't seem like that much. My theory is they only asked for that in the hopes that it was a low enough amount that some people would just pay it to get it back, knowing that Facebook and Instagram are notoriously bad at customer service or account recovery.
I was doing so much internet research at that point, and I'd already read about people who had paid and the hackers deleted their accounts anyway – or worse, it set them up as a target to be extorted across their other accounts. I wasn't going to trust that this guy would return my account and I definitely would not give him money. If I had to start over, I would.
What didn't work – Going through Facebook
I reached out through the facebook link again and got another person who tried to walk me through that form using what the hackers had changed my name to – gfashel1dgetgirl (This took about a dozen tries with various versions of that info – some with the website, some without.)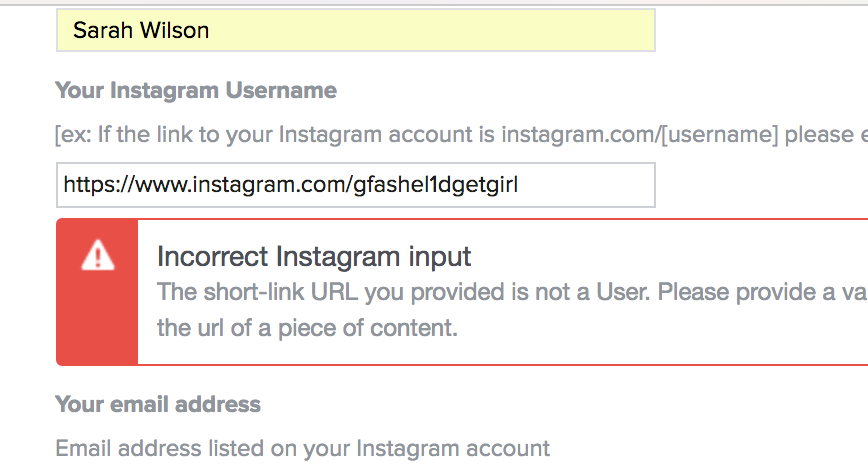 I got that form submitted but the representative said it would be a long process – involving getting signed and NOTARIZED paperwork and including info on the current account owner (who was definitely using a fake account and name). This process seems to be made for companies who fire a social media person and can't get into their corporate accounts.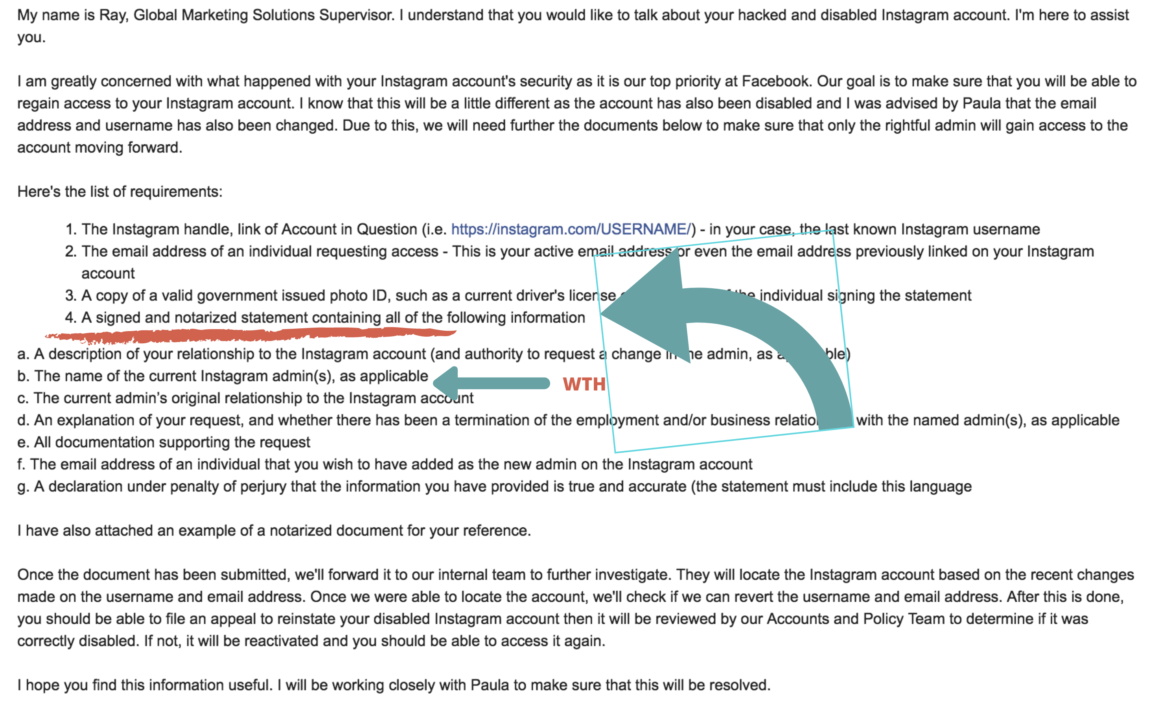 This seems like it might work, but fortunately, I found another way. I'm thankful I didn't have to go down that path (and find a freaking notary).
I also emailed 4-5 generic help@instagram emails but none of those got back to me either.
How I fixed it – via Instagram
I found some tutorials online on how to submit a problem to instagram through the app itself. Instagram infuriatingly does not have any sort of help line phone number, chat, email NOTHING! Which is why most people try to go through Facebook (which owns insta).
First I had to sign out of and remove each account from my phone. I have access to several accounts for my job, and will have to reinstall those later (annoying.) But you can't get to this screen without having any signed in accounts.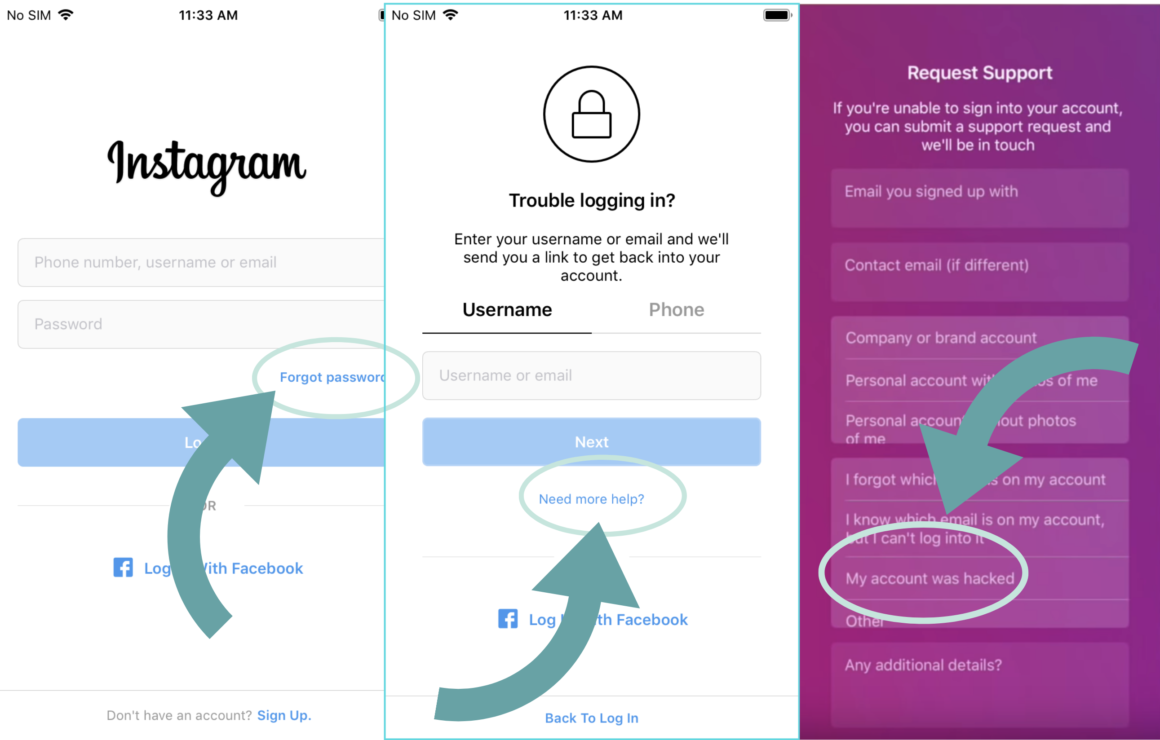 Then select Forgot Password. On the next screen select Need More Help. And then "My account was hacked" on the purple screen.
On the purple screen, fill in the sign up email, contact email, type of account (I selected personal account with photos of me to avoid having to prove my business), and then fill in the "additional details."
Pro tip – save this on your phone. To get instagram to fix your account, you're going to have to submit this form several times.
Here's the text I sent in as "additional details." I submitted three times, but read that other people online have used this method a few times a day until they got a response from instagram.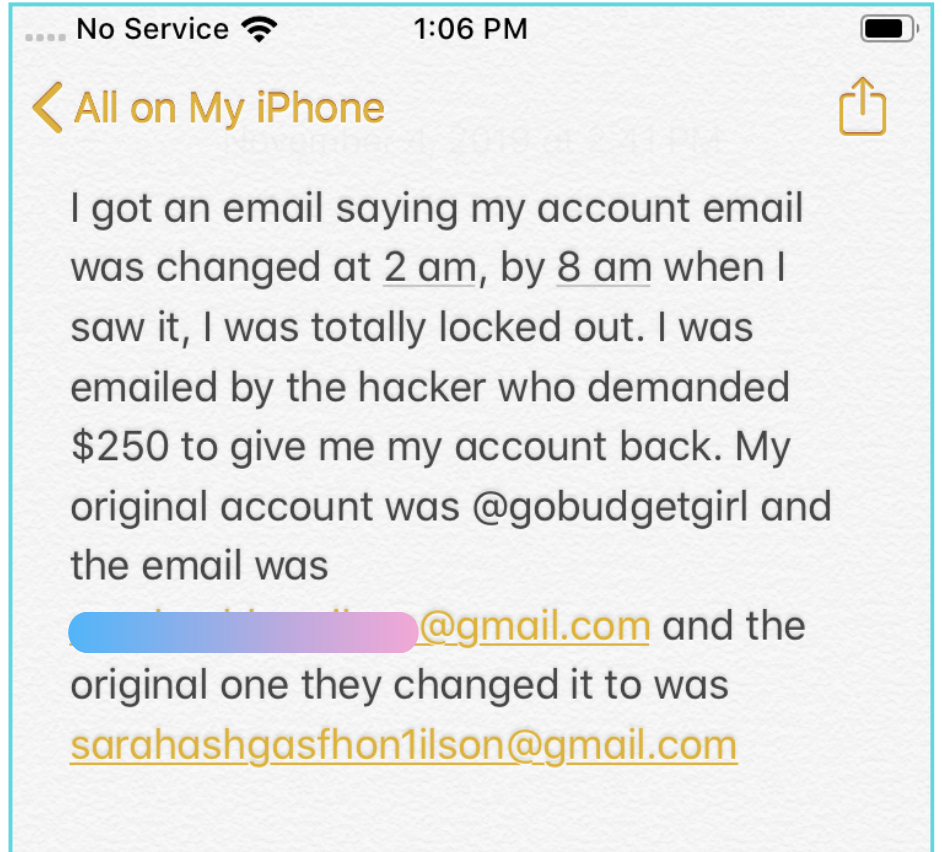 The first response from instagram was not good.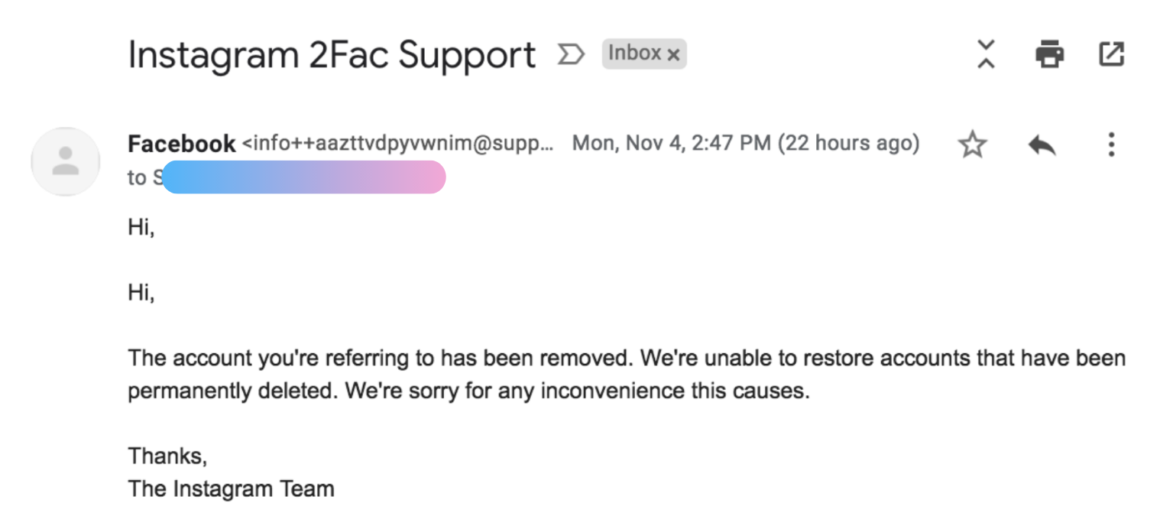 DO NOT GIVE UP. KEEP SUBMITTING. The next one I got had me do a "selfie verification," where they compare you in a photo with a code they give you to the photos on your instagram account. This will only work if you post photos of your face on your insta.

Less than half an hour later – my account was restored!!!!!
They sent me a link with pages to change/ verify what info was mine. I changed back my handle, email, phone number and password of course. Then they had me select which login attempts were me or not me.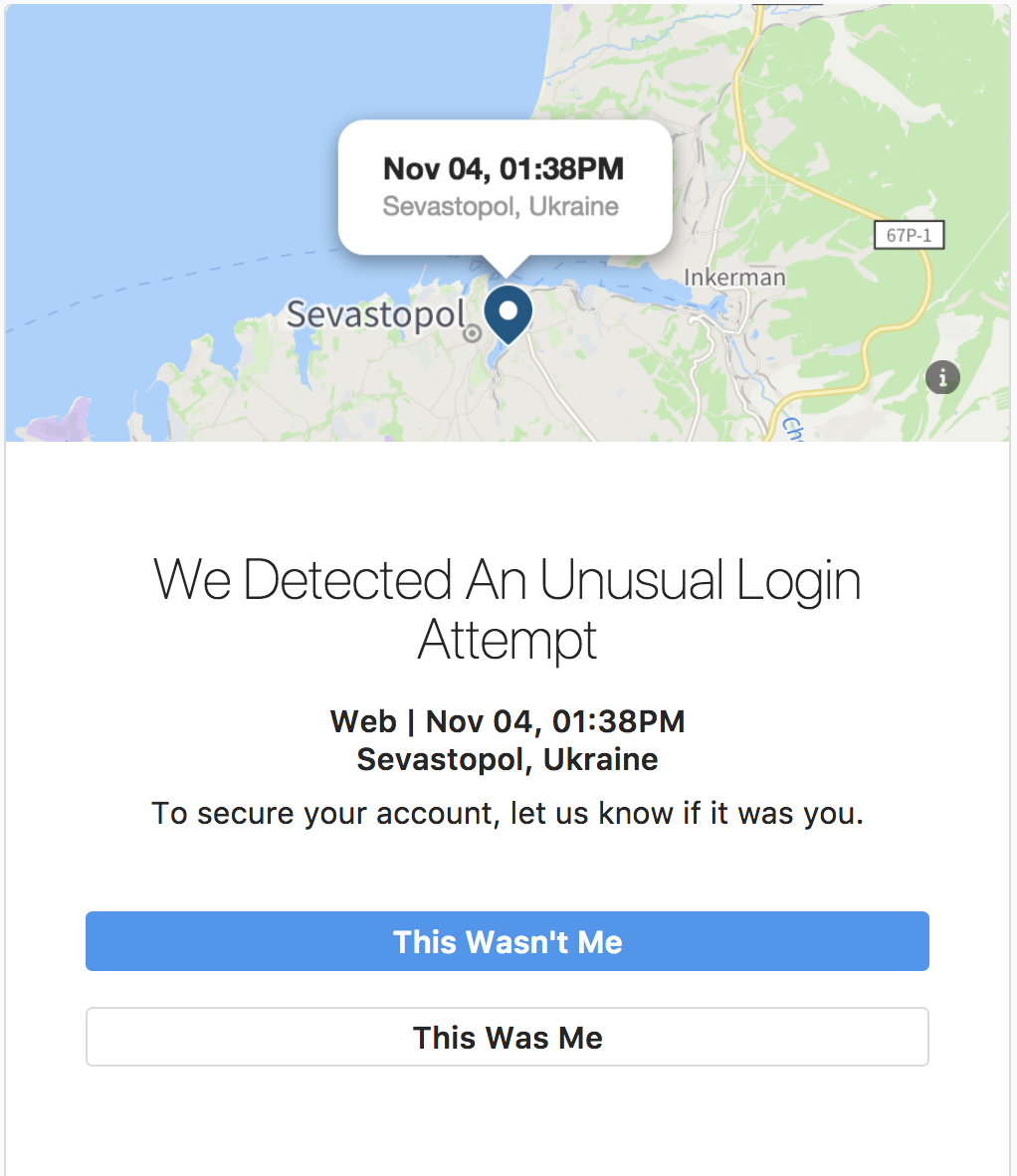 My hacker came from Ukraine. I did not respond back to the hacker, who had emailed me several more times demanding I tell them if I would pay or not.
Thankfully all of my content was still in my account and no weird or spam messages were sent out from my account.
During all of this I also submitted a police report, mostly for official record should I not be able to get the account back and anything illegal was done with it, and also in case any contracts couldn't be fulfilled for Budget Girl. The police officer was not at all prepared for this type of crime (he said he's never used "the instagram") and I have no hope that the hacker will be caught. It's probably worth it to file the report anyway, just to cover your own booty.
Takeaways
I'm very thankful and so relived to get my account back, for no money and for the lesson to better secure my shiz. It could, and likely will, in this day and age, happen to you eventually.
I don't know how they got access. I didn't click any weird emails or give any strange programs access, but I did learn a lesson on doing better about security online.
My top tips
1: ALL of your social media platforms offer two factor authentication. USE IT. Yes it's annoying to get a text and code to log in. But that one step would have stopped this hacker from getting to me.
2: Update all your passwords at least quarterly. Make them hard and don't use the same one for everything. It would have been FAR, FAR worse for me had the hacker been able to access my Facebook, Gmail or Youtube.
3: Review your account logins. Look in your security and login information and see what devices and where you're getting logins from. Delete any authorized apps you don't need. If they get hacked, you can too.
4: Get a password manager – To be honest, these intimidate me. Setting it up sounds not fun at all. Plus there is always the chance of that company being breeched. But straight up, these guys are 1000% better at making up passwords than me, and I'm safer with them.
LastPass* is the most widely recommended and used from my circle of financial friends. There is a free and a paid version which costs $3 a month. Honestly I'd pay way more than $36 a year to never have to go through this again. I've signed up for it and look forward to being that much safer online. (*affiliate link)
I hope this helped you if your account was hacked and I also hope it inspires you to ramp up your online security. This issue and danger isn't going away and I don't think we can ignore it any longer.
Let's chat!
Have you ever had issues with hackers or getting locked out of your accounts? How did you fix it?
-Budget Girl
Pin it: