Discount books, menstrual cups, everything you need for pet care, YouTube and more, these are my favorite things from Amazon. The internet can be an amazing tool for finding the lowest price and saving you money, and while Amazon doesn't always have the best deal, they often have a better selection than you can find locally and save you time when shopping.
I'm all about saving time and money, so here are the things that I've personally used and found worthwhile! I'll make notes for items that I know can be found elsewhere cheaper, or if its the best deal I've found.
Everything in my Amazon Store is an affiliate link, which pays me a small percentage as a commission, at no cost to you. I use those payments to keep this site and my YouTube channel running and providing frugal tips and free advice to you!
Some of my favorite kitchen and food items include a 16 slice apple slicer and corer that makes thin, dippable, snackable apple slices in one cut. I've used this for years and it is infinitely better than a 6-8 piece slicer.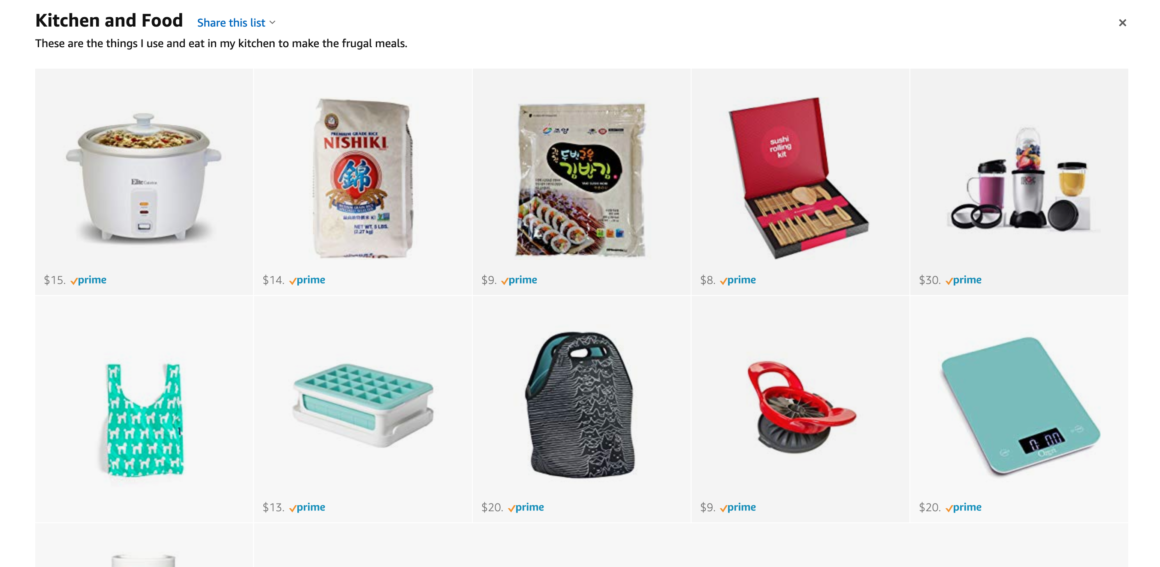 Also favs: a magic bullet (I make everything from salsa to smoothies in it), a crock pot (duh) and these amazing Baggu reusable bags for my weekly grocery shop and everything else carry-able.
This chop wizard is one of those kitchen tools that you probably think you can do without, after all it's just a bunch of knives, but it saves SO MUCH TIME. I HATE cutting onions… and also celery, peppers, and other stuff that must be diced. It makes me cry and its hard to get everything similarly sized.
This thing chops perfectly and oh-so-aesthetically pleasing little cubes that are perfect for cooking evenly and also hiding veggies from yourself/ your loved ones. I can cut a whole bag of onions in about 10 minutes, and then freeze what I don't need then for future dishes, ensuring that I don't have to go through onion-chopping any more often than I absolutely have to. The only downside is cleaning the little push-through pieces on the chopper lid, but the little forked cleaner bit that comes with it works perfectly. Don't lose that thing!
What's in the list but you shouldn't get from Amazon – DIY sushi making materials are far cheaper locally in general and if you have an Asian food market, you're golden. Get a basic mat, sushi rice and nori and then watch my DIY Sushi video to save SO MUCH MONEY making it at home.
All my kitchen and food picks here.
These organization items are well and often used in my home, many for years and years. These hangers are really good quality, far superior to flimsy ones I've bought at big box stores. I use these ikea-esque boxes to organize inside my drawers and this bathroom stuff (bidet, showerhead and squatty potty was seriously life-upgrading.) *My rainfall showerhead was bought cheaply at TJ Maxx for around $15.*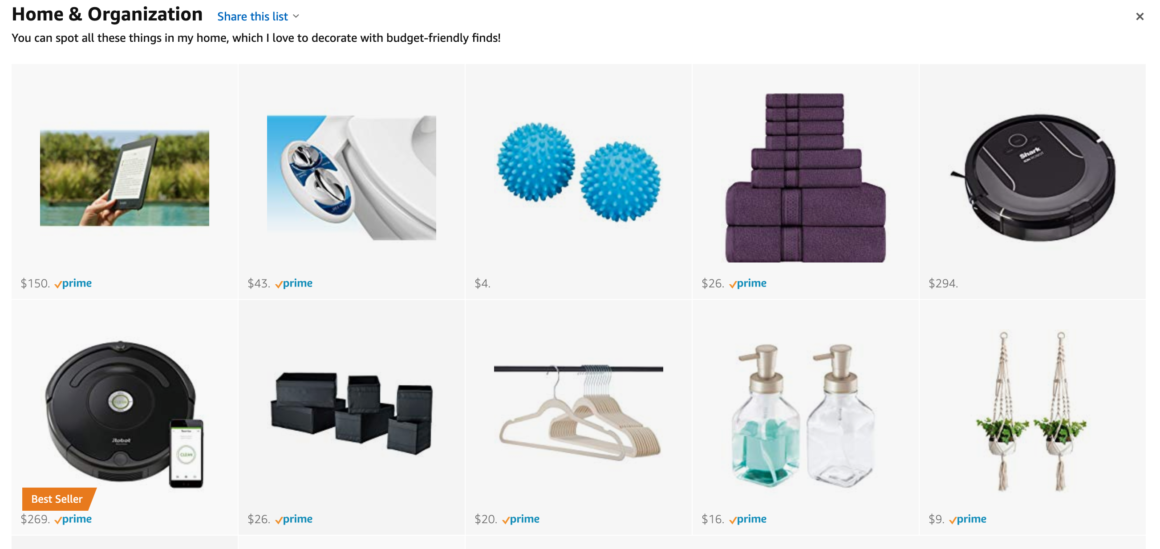 Vacuuming is the worst, so I use my Roomba daily (and recommend it over the Shark model) .
I use my kindle and dryer balls daily/ weekly and can't recommend them enough. I pay $10 a month for KindleUnlimited, which saves me money on my 100+ books a year reading habit.
Check out my reading challenge here:
All my home and organization picks here.
Let's be honest here – clothing on Amazon is a total crap-shot. Especially for plus sizes, but really for everyone. This list includes a few clothing items that have been killer deals and also amazing additions to my wardrobe – especially this $12 bralette that I wish I had 100 of and this soft dress with pockets!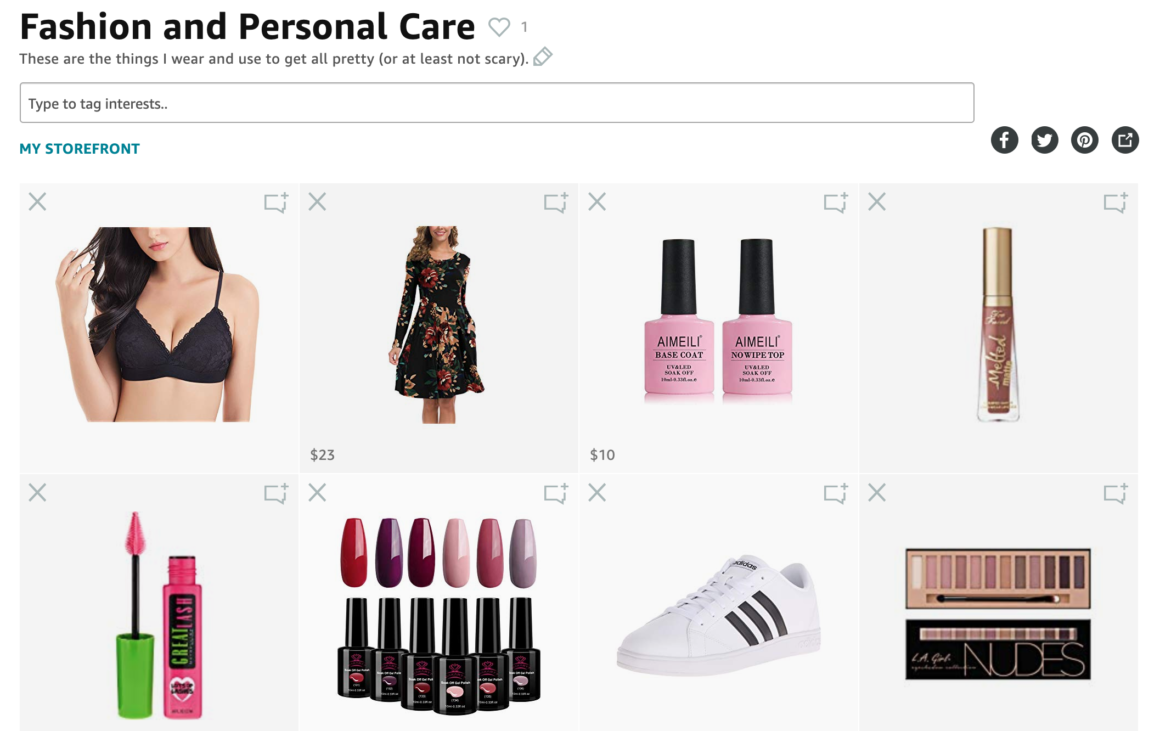 Manicures are generally a once or twice a year thing for me, but I like the look and feel of gel nails, so I often do them myself at home. With a little practice, and these specific Amazon tools, I can make a gel manicure last a week or more for a fraction of the cost of the salon.
I've added in the drugstore makeup I buy (may be cheaper at grocery stores), the Too Faced Lipstick I wear in every video and am constantly asked about, some of the shoes I've used and loved and even a piece of jewelry I like.
See the full list of picks here.
I take Rory to PetSmart or Petco every couple months to get her nails trimmed, because that was the FIRST thing I started spending on once I got out of debt. She and I both hate the process and it was taking years off my life, so I spend on it! #noregrets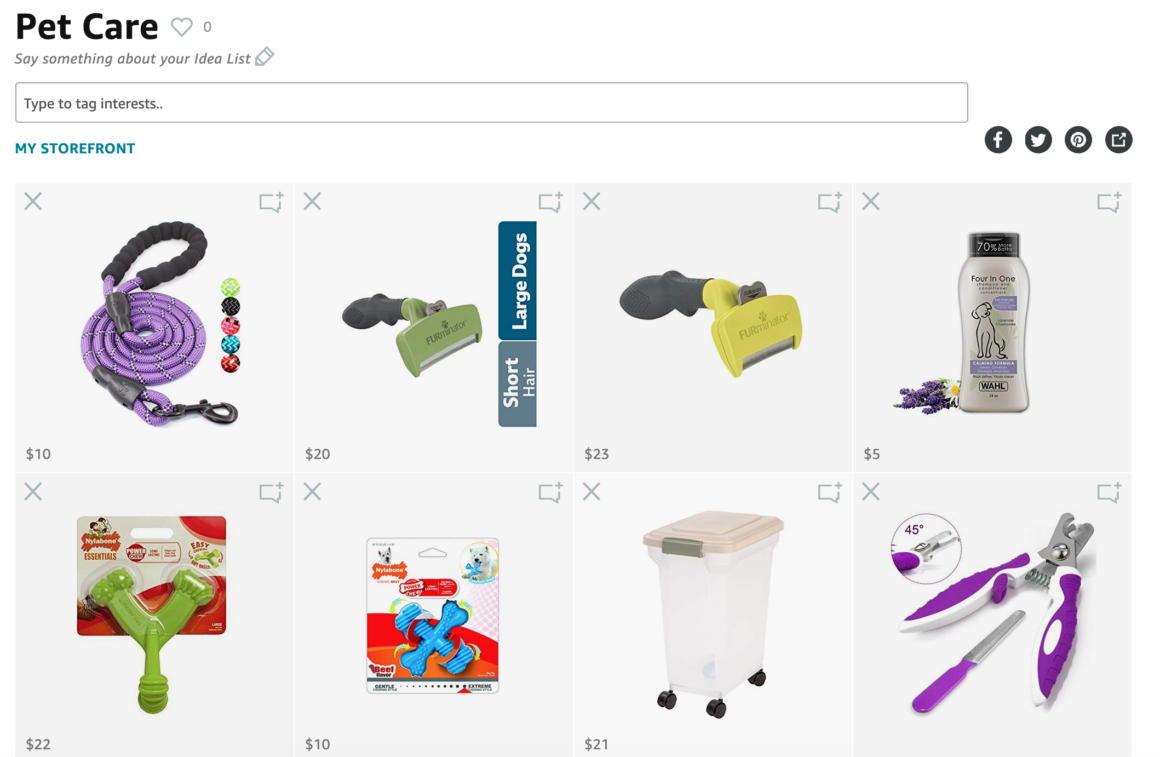 But aside from grooming, I NEVER buy anything at the pet store. Their prices are OUTRAGEOUS. Especially for toys, leashes, accessories and care items like Furminators – which are a lifesaver for a shedder like her. PetSmart charges $40-50 for a Furminator and you can get one on Amazon for around $25, a huge savings. The same goes for leashes, harnesses, dog food bins, etc. A plastic dog food bin at Petsmart is $48 – on Amazon its $22. HALF OFF.
Check out all my pet picks here .
To find out how I save on every facet of care for my two dogs, from medical care to clippers for grooming to annual shots and treats – check out my Ultimate Guide to Saving on Pet Care.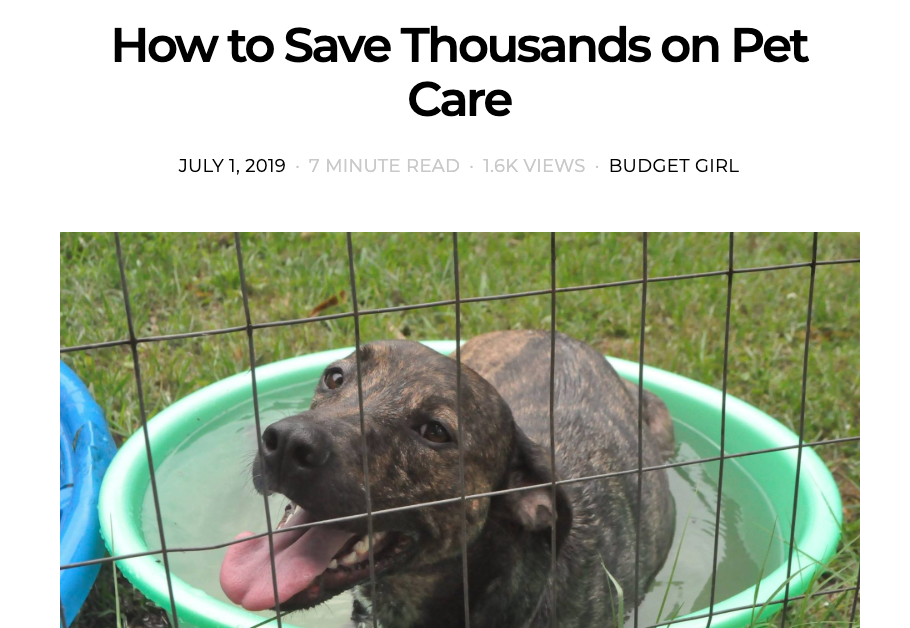 Ever wonder what I use to create my videos? Well I started out shooting with an iPhone 4, but I've upgraded a little since, with a mind still to quality and affordable gear that will last.
Everything from my computer to lights to camera to sound is in my list.
Also check out this post I did for a recent financial convention (FinCon) outlining how to start on YouTube and what resources (free and paid) which I've found helpful and recommend. The full presentation isn't publicly available, but the resource list is!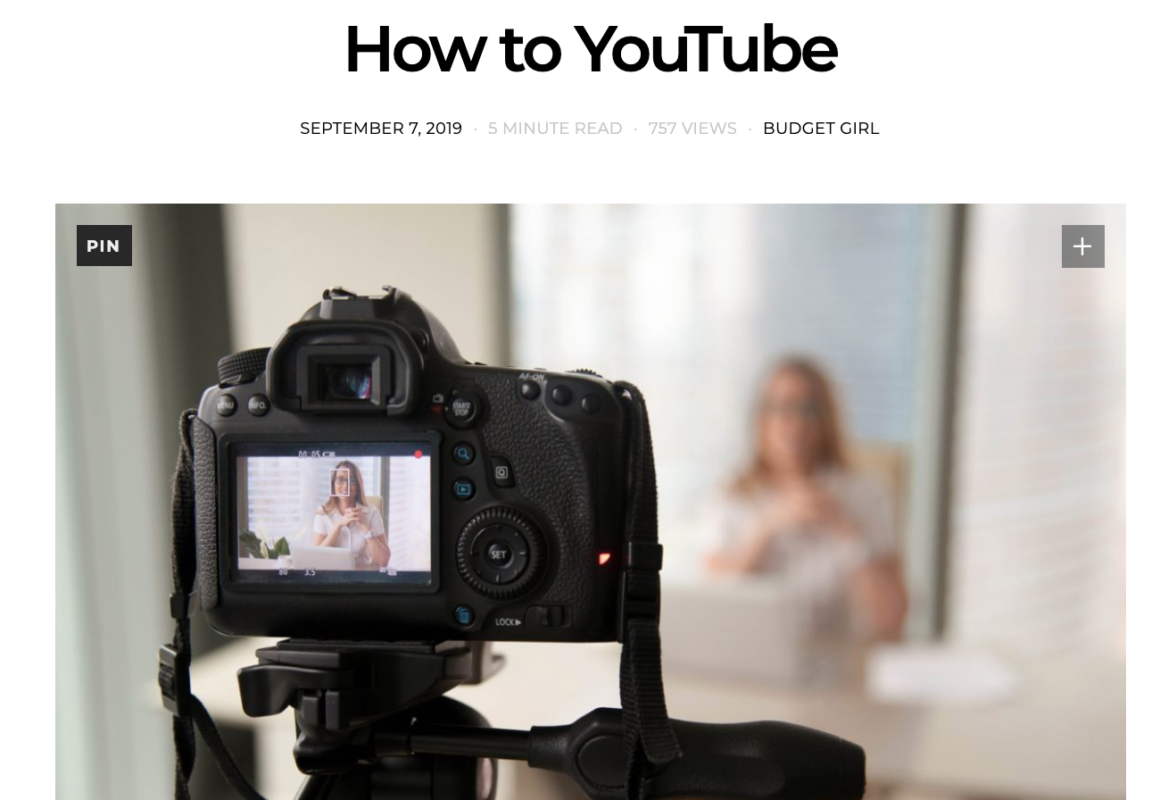 And if you've ever wondered how much money I've made on YouTube over the past 5 years, check out this video:
As I've mentioned, I'm a huge reader. These are specifically the finance, money and business books that I've loved while trying to get my personal finances in order and become a more successful human. I'd love to hear what your favorite personal development books are!
What are your favorite things on Amazon? What do you NEVER buy there because it's a terrible deal? Comment below and let's chat about it! I hope some of my picks save you some money!
-BG