I've talked a lot about setting up multiple income streams on my channel Here's how I make money off my seven income streams.
Why do you need multiple streams?
A single stream of income isn't as reliable as it once was. I've worked at multiple newspapers that eventually went defunct, and regardless of if you were fired, laid off or quit, no one enjoys the scramble and stress of suddenly needing to find another job.
This doesn't just apply to formal employment. It can be dangerous to count on any platform long term.
You might remember the various iterations of the adpocalypse over the years. The financial content I create has largely been safe from some of the sweeping demonetization waves. However, there's still the possibility of ad revenue changes that might drastically affect how much you make. All creators who publish or perform on these sites can be subject to changes – for better or worse.
I've been on YouTube for 7 years now and have made as much as $3,000 in a month and I've made just $300 a month (in the same year). The algorithm is a fickle b*tch and I can't imagine relying on just that or any other stream of income for my livelihood.
And you shouldn't either. (Sorry, not sorry. The world has changed!)
1: Salary job
As you're currently on Budgetgirl.com (thanks!), you may or may not know that my MAIN source of income is from a regular 'ole day job. For 40 hours a week, I'm a Communications Coordinator at Texas A&M University and I love it. Former day jobs include being editor-in-chief, lifestyles editor, and reporter for a variety of newspapers across the south.
I've had formal W-2 employment since the shortly after the start of my personal finance journey, which was inspired by a layoff from one of those newspapers and the subsequent stress/anxiety/financial insecurity that came with being suddenly unemployed. I remember the suffocating feeling of having all this debt and no job, being unsure of if I'd be able to afford rent and groceries. It was terrifying and I don't wish that on anyone. When I finally got a reporter job in Louisiana for a whole $26,000 a year, I swore I'd do anything to never have to be scared about money again.
Then-me thought that meant paying off debt at all costs. Now-me knows that getting rid of debt is only one piece of the puzzle. A HUGE additional piece is creating ways to make money without trading your on-going time for it. Now I have income streams that work to make me money while i'm sleeping, on vacation or yes, at work at my day job.
Additionally, my day job provides stability and great benefits, like my retirement and health insurance plans.
2: Personal Business – Budget Girl
I make content for different platforms on the web (YouTube, Facebook, Instagram, Twitter and TikTok) and make money from it. The vast majority of this is ad revenue from YouTube, which pays me a portion of the revenue they collect from ads they run on my videos.
See how much I've made on youtube here: 
Updated for 2020 How much i've made on youtube:
Additionally, I sometimes partner with companies I like and believe in for sponsored videos or posts on social media, which can be more profitable than a whole month of AdSense (see adpocalypse and algorithm talk above.)
See how much sponsors have paid me here:
3: Etsy
I created BudgetGirlGoods, my Etsy shop, after much demand for my personal budget templates. I've given away thousands of free rudimentary templates here on my site, but some people want a version with more instructions, fancier colors, etc. I've also listed a net worth tracker, inspirational fill-in charts to track savings and debt payoff and more!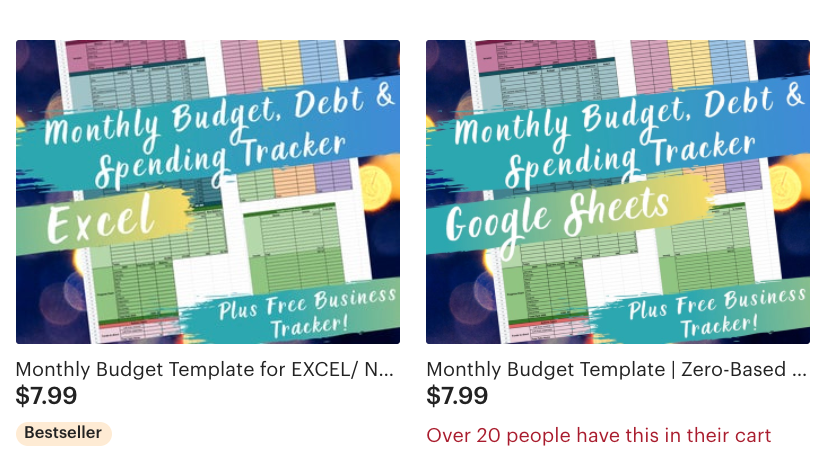 While similar in name, I list this income stream separately from Budget Girl as a whole because it's a near-totally passive income stream.
Once I do the work to create the digital product, make the listing and graphics, I'm mostly home free. I do have to respond occasionally to inquiries and provide occasional tech support, but this is largely a hands-off income stream, which is quickly becoming my favorite way to build wealth.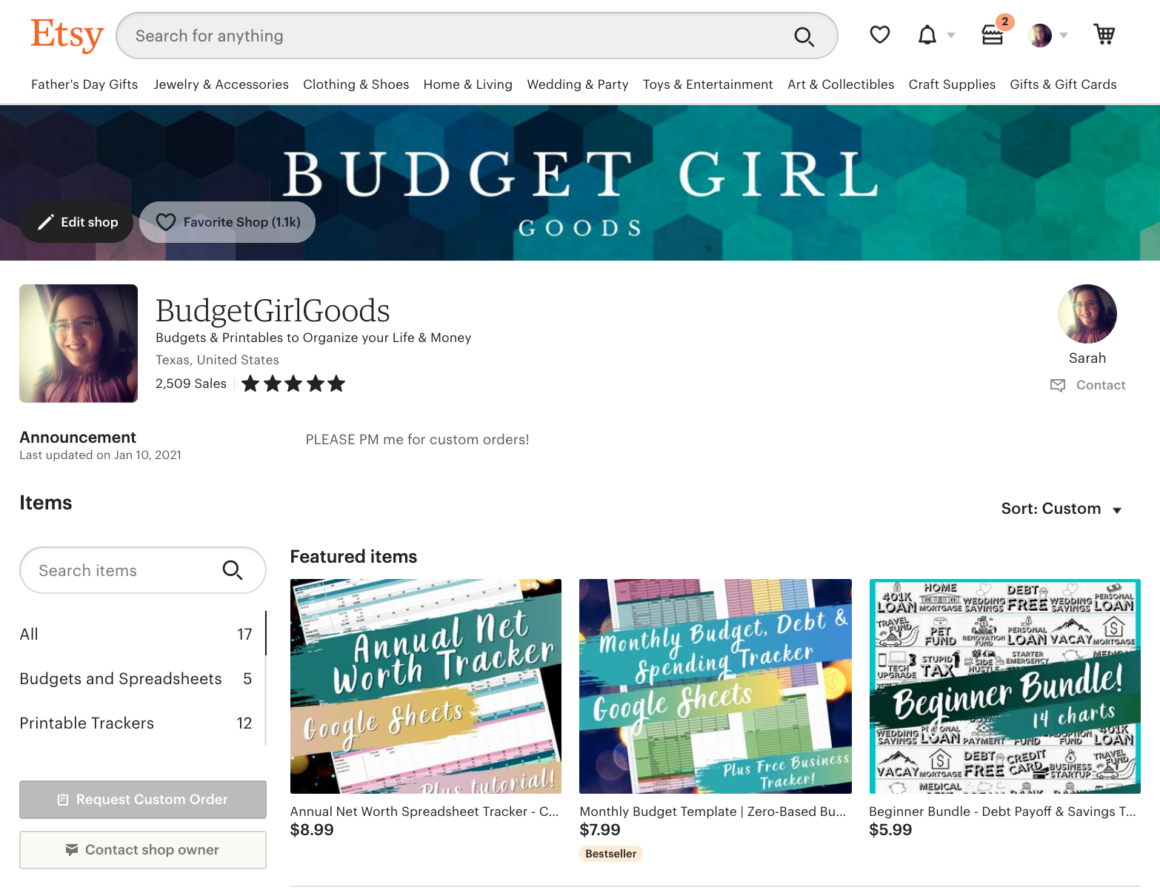 4: Rental Income
Did you know that real estate can be an accessible way for low and middle income people to build another stream of income and wealth? I sure didn't when I started all this, but I'm a huge fan of it now.
Now I'm not talking about buying a single family home as a way to escape renting and "throwing your money away" — this is such a myth. It can actually be a far better use of your money to rent and funnel the money you would have spent on taxes, maintenance, selling costs, etc. into investments.
"Opportunity cost" can fall in favor of renters, especially for people who move every few years, or aren't sure where they plan to live long term. Real estate has a great track record of increasing in value over time, but study after study has shown that renters and owners of single family homes come out near even.
So what's the alternative?
Multifamily homes or rental properties.
How?
If you purchase a duplex, triplex or quadplex instead of a single family home, you can live in one unit and rent out the others to offset, cover or even make you money off your home while you're living in it!
I currently live in one side of a duplex that I own, and I rent out the other side – this is known as house hacking. 
Learn more about house hacking and what I've learned about real estate with this playlist:
It has eliminated my personal housing costs while allowing me to build equity. It's definitely been a learning process, and I've had to take on additional responsibilities, like landlording, but my return on investment has been huge.
For about $13k (FHA downpayment and closing costs) and a couple grand in renovations, I've been able to get other people to pay my full mortgage, while also living in a property for free, making money monthly off of it and watching it gain in value as housing prices continually go up.
See more on my deal here: 
Eventually, I plan on acquiring more properties and expanding my little real estate portfolio. Househacking my current place has been a great way to get started on that. 
Have you been following the Duplex Diaries? See me renovate and move into my first home and start my landlording duties!
5: Investments
In addition to my retirement accounts, I invest in index funds and some single stocks (just for fun). I see dividends (which I reinvest) from my portfolio and prioritize long term growth.
Investing is an essential factor in long term wealth building and it's really unfortunate that most low and middle income people find it intimidating. The good news is, it doesn't have to be! 
The shortest, easiest investing tutorial EVER
Open a brokerage account with one of the big guys (Vanguard, M1 Finance, Fidelity, etc.) and then buy an index fund (I recommend VTSAX or the equivalent of the total stock market fund at your institution.) An index fund is a like a bucket of stocks. Buying a total stock market index fund is like buying a tiny piece of the entire stock market. Some businesses may fail or soar, but you've got a piece of 'em all. 
You can expect to see 8-11% returns any given year (not guaranteed!), but the stock market has always gone up over time. The trick is to invest and FORGET about it.
6: My Website (You are here!)
Right now my website is still in its neophyte stages. I'm still working on growing my traffic so that I make more money off of ads, but it's gotten to the point where it pays for its own hosting, and I'm seeing gains on clicks and pageviews. The goal here is to get to where I can qualify for better, more lucrative ads.
Some people make thousands of dollars a month off their websites and I'd love to be in that class one day by providing valuable and free content to you!
7: Affiliate links
When you click certain links that I post with my videos or here on my website, then I make a little bit off of your purchase, at no extra cost to you. Just a reminder, any affiliate links I use will be clearly marked!
See my favorite aff companies and brands here: 

Which is my favorite?
I love getting the notifications from Etsy that someone has bought one of my spreadsheets or printables. It's like a little happy ding that tells me that I just got paid. I use the same spreadsheet I sell, and you may have seen me coloring some of the printables that I have hanging up.
Watch this video to see HOW MUCH I make on each income stream!
I want to foster and build my more passive income streams more and potentially create some new ones! Regardless, if one of these dries up, I have the others to fall back on. And that helps me sleep better, feel less stress and be more financially secure.