We've all been there, bought something that we thought would either make our life easier or become our new hobby. Unfortunately, not all purchases end up being worth the money and we're left with some buyer's remorse and regrets. That's why I posed the question to the Budget Girl Facebook page to find out what everyone's most regrettable purchases are.
The answers ranged from surprising to hilarious and everything in between. Today I'm sharing the most common answers and the lessons that we can all learn from these money mishaps. Be sure to follow me on Facebook so that you can join in on the fun next time!
Don't always believe the hype
Social media hype isn't always the best indicator that a product is of good quality or worth your money. Products mentioned that we're not worth the hype included a Ruggable rug, trendy makeup, designer clothes, and an electric bike.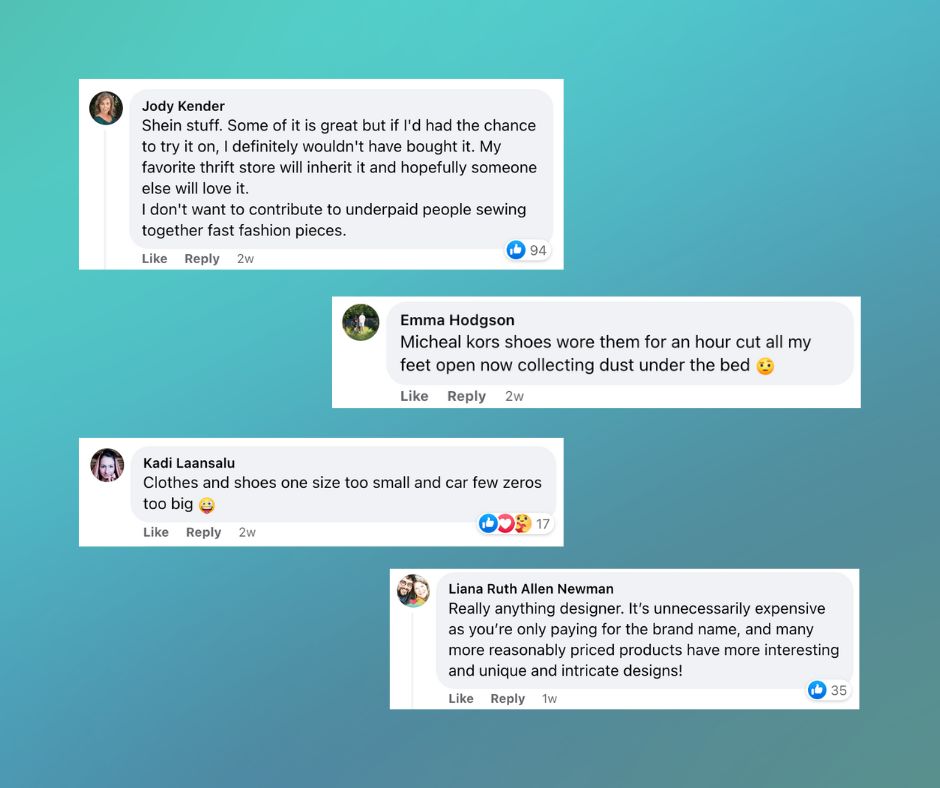 Know the difference between a bargain vs. cheap when it comes to clothes
Over 100 people wrote that they regret buying from fast fashion websites like Shein for new clothes and shoes. Commentators noted that these clothes either didn't match the online photos or only lasted a few washes. Also, be wary of websites like these because their ethics and working conditions can often be sketchy.
Similarly, people regret buying either designer clothes or items that didn't fit them in the hopes they would one day. However, it's more likely that that dress in the wrong size will forever hang in your closet, untouched.

There is no magic pill or product to lose weight
When it comes to exercise and weight loss there's, unfortunately, no guarantee that the pills, fitness programs, or machines that worked for someone else mean it will give you the same results. Before dropping money on a Peloton that could end up becoming a clothes hanger, take a spin class to make sure you even like using a stationary bike.
Convenience might be what's ruining your budget
If you've made a habit of using UberEats, Skip The Dishes, Doordash, or any other food delivery service then make sure you know just how much money you're spending on those seemingly small orders. Comments revealed people regretted spending their money on that rather than meal planning and cooking at home.

Don't invest all your coin into a new hobby without trying it first
There was a large number of commentators who regretted their quarantine purchase of Cricut machines that have barely been used because of their steep learning curve, and bulky design. Similarly, another person regrets buying the most expensive camera to learn photography. Always research and evaluate if your lifestyle is set up for a new time-consuming hobby or start with a cheap basic to start.
Babies/kids will play with almost anything
More than 40 people agreed that we underestimate how much fun babies and kids can have with a cardboard box that the new fancy toy you bought for them came in.

Be prepared for never-ending repairs and upgrades when buying an older home
Becoming a homeowner will probably be one of the most expensive purchases you'll make in your life, so make sure that you know all the hidden costs that it comes with. Commenters agreed that although they fell in love with their old home, had they known just how much work it would be to repair and maintain they would've made a different choice. An extra caveat: don't buy furniture for a house you have yet to purchase!

Kitchen appliances can often become counter-space wasters
There was an overwhelming amount of people that regretted buying, pasta makers, air fryers, instant pots, a Vitamix or Thermomix, and countless other kitchen appliances and gadgets. Make sure you know how often you'll actually use an appliance before spending the money on one.
That new car smell doesn't last forever
Over 50 people agreed they regretted buying or financing a new car. Either the car was not what they expected, always needed repairs or simply cost too much for the amount it was being used.

Finally, here's a quick list of things that either drew in lots of likes or comments
Marriage license
Swimming pool
Hot tub
Timeshare
RV
Tattoos
Land

Do you agree with any of these answers and if so which ones? Let me know what you'd add to the list of regrettable purchases and the lessons that you learned from these money mishaps in the comments and don't forget to join my Facebook community!
Want more Budget Girl? Head this way…
What to remember to budget for in August
5 Easy Ways to reduce FINANCIAL STRESS!
How to Find the Best Budgeting Method That Works for You